As a result, families are at the behest of their workplace to determine how much time off they'll get with their new baby, if any, before they have to go back to work. In a system that depends on employer generosity, the results leave much to be desired: Only 12 percent of private-sector workers have paid family leave.
When parents don't have paid family leave, the outcomes are devastating: 1 in 4 working moms return to work less than two weeks after giving birth. They suffer higher rates of depression and stress, and their babies experience more health risks as they are breastfed less and brought to fewer medical appointments.
Families as a whole suffer without paid leave, as parents are forced to take unpaid time off to be with their new child, causing some families to fall into poverty.
The Huffington Post spoke to eight families across the country to see how they brought their babies into the world without assured paid time off. These are their stories:
The following interviews were edited for clarity, length and content.
1. When You Only Have Two Weeks At Home With Your Premature Baby
Katie and William Rock live in Iowa with their two sons, Ronan and Malcolm.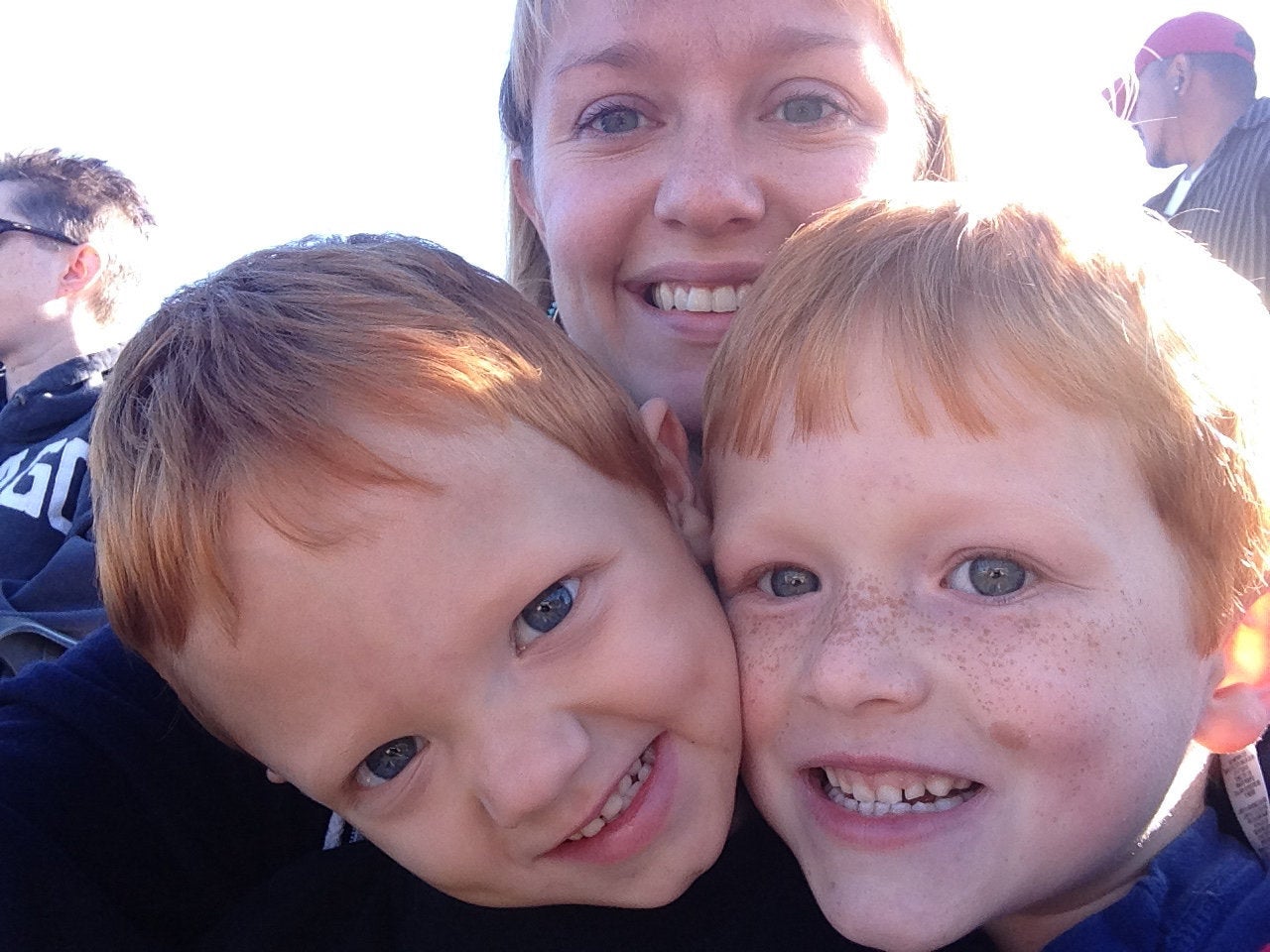 Katie: When Malcolm, my second, was born, I was really looking forward to it. I was planning to do the whole 12 weeks of government-assured unpaid leave, including six weeks of paid leave after his birth. I had been saving up paid time off at my work so that we could afford to take any unpaid time. But then all of that changed.
I had complications. I was 23 weeks pregnant when I went in for an ultrasound. I learned that I was on the verge of delivering, and the odds weren't good that he would survive. They didn't use the word "miscarriage," but that was what was going on. I was admitted to the hospital and placed on severe bedrest for the remainder of my pregnancy. When Malcolm was born -- two months early -- he was just under four pounds. He was in the intensive care unit for a month. By the time he was released, I had already run through my leave time, and I only had two weeks at home with him. It was a really stressful time.
"Just to not have to deal with pumping at work... I mean, God, that's awful."
I kind of lost motivation for a while. I was just surviving the work-family juggle. It's so hard to work when you're not sleeping. I don't know how they can expect you to perform. Some days I felt like I shouldn't even be driving, never mind working. I had one coworker especially. I didn't expect it. We had just gone through this whole hard experience, and instead of them trying to help me, it was like I was supposed to help them cope with how my time away affected them. So that definitely affected my relationship with my coworkers. I don't work there anymore, so it probably affected me even more than I realized.
Six months as a mom would be good. I never breastfed for longer than six months. Just to not have to deal with pumping at work... I mean, God, that's awful. And to have that time when they're so tiny and fragile -- six months would be ideal.

I had planned to have everything in a row, you know? And you just can't. There's nothing that can be done when you don't have the support of a family workplace policy.
2. When You're A Dad, And You Don't Get Enough Time To Be There For Your Wife
Eric Eddings and Carla Bruce-Eddings live in New York with their daughter, Eve.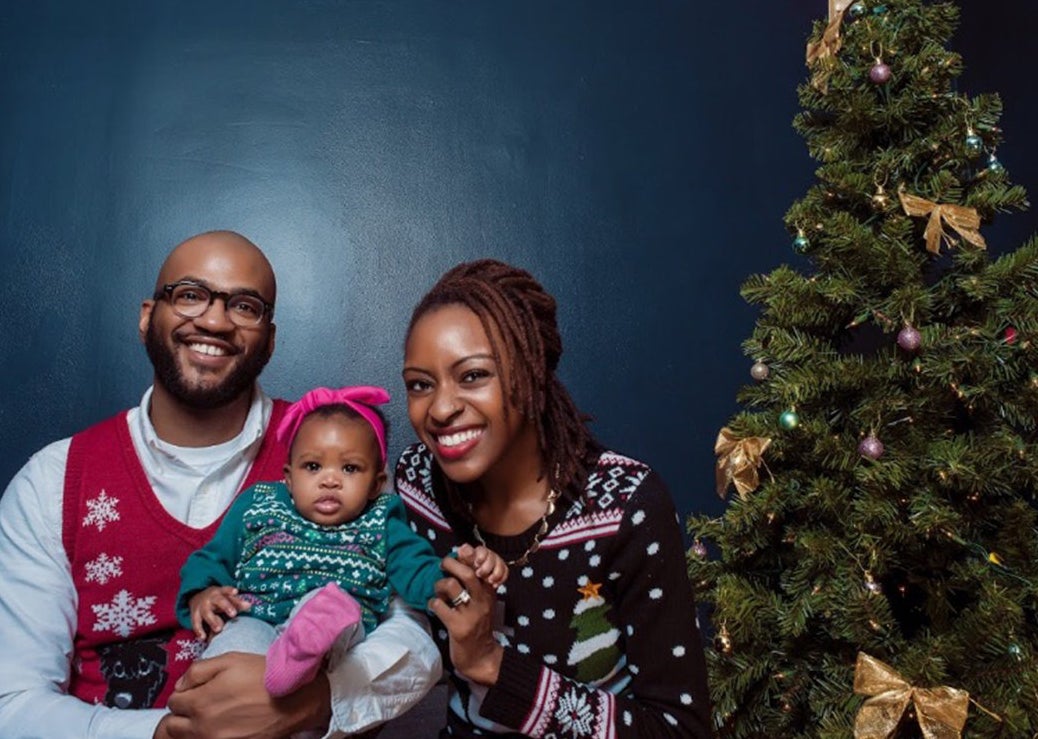 Eric: I was only given two weeks paid. Luckily when I negotiated my salary, I asked for three weeks vacation, so I took an additional two weeks of vacation -- a month in total.
I was pretty disappointed with my leave. I was working at a progressive company, and I came across a write-up that said parents would get six weeks of paid time -- it was written in a gender-neutral fashion. But later, they clarified that it was only for the mother. Just because I wasn't recovering, that doesn't mean that Carla didn't need me.
They say the first couple weeks of being a parent is madness -- but that actually wasn't bad. It was those first weeks of going back to work -- they were probably the worst I've ever experienced. Carla was more stressed, I was more stressed, we both were more tired -- it took us out of sync. We do a lot of things together, we're very much a team -- so when we went back to work we had to alternate taking care of Eve. That created a lot of distance between us.
"Just because I wasn't recovering, that doesn't mean that Carla didn't need me."
The men in the office didn't really take vacation -- they just didn't. It was very much a work, work, work scenario. So it was odd that I was taking a month. I had to explain over and over again when I would be coming back. And even then, preparing for the leave, to make sure people understood that when I'm gone, I'm actually not available, was a tough thing. When I got back, because our culture was like, "You stay until the work is done," the first few weeks it was very awkward. At six o'clock I would be like: "Okay, I gotta go..." It was definitely awkward.
Honestly, two weeks was a blessing -- a lot of people don't get that. That month we spent at home with Eve, as much as we were bonding with our kid, we were also bonding with each other. I'm obviously upset I only got a month, but also I'm really grateful for that month, because the value of bonding with your partner -- that's so much realer than I ever anticipated.
Eric's former workplace, Spearhead Digital, declined to comment. The company that owned Spearhead at the time and set their parental leave policy, Hilltop Public Solutions, did not respond to requests to comment.
3. When You're Back To Work Three Days After Giving Birth
Denise Cawley and Anne Hefter live in Wisconsin with their son, Aiden.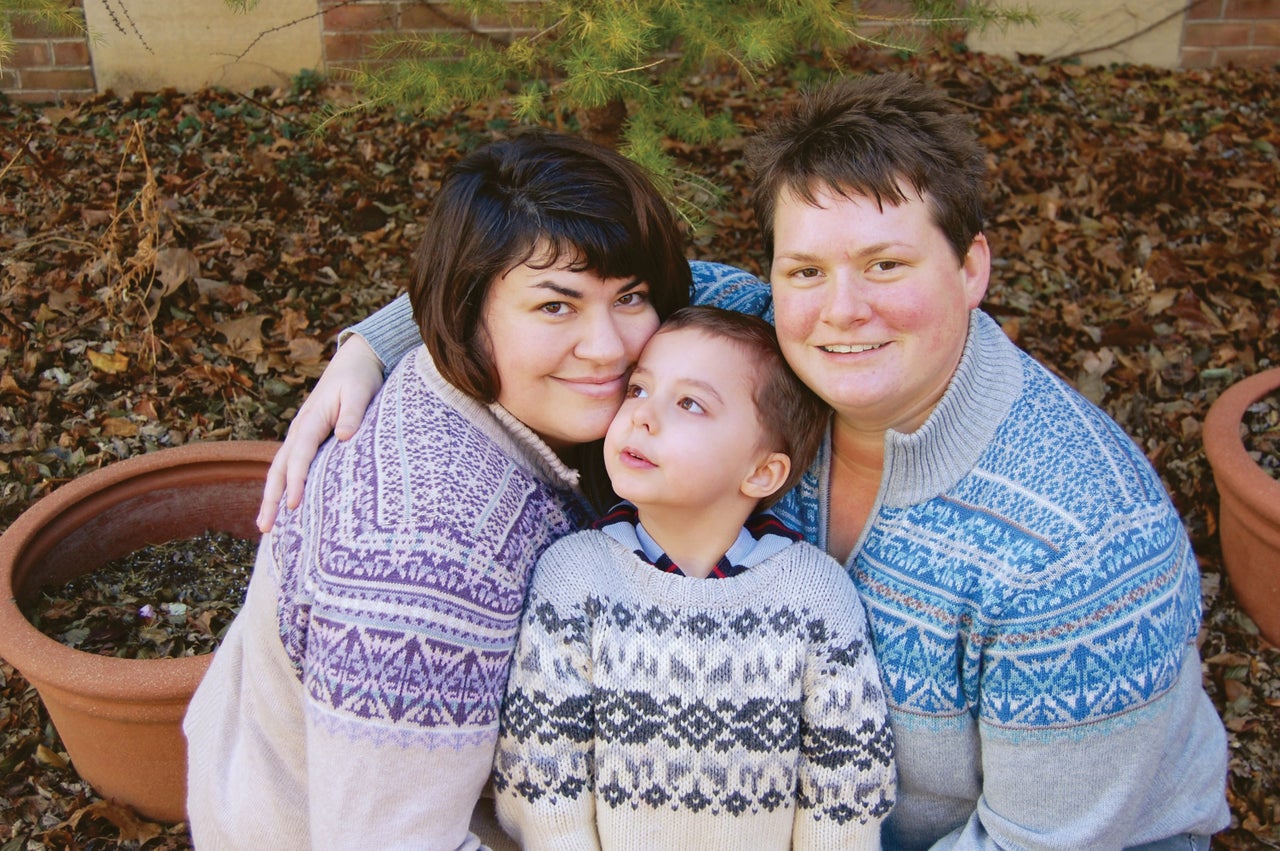 Denise: I worked for myself, so there was no leave at all. I gave birth to Aiden, and I worked all the way through: I worked in labor, Anne drove me to my last meeting, and I worked three days after having him.
Anne: Denise just worked with the baby. She just wore the baby.
Denise: I would figure out the timing for a conference call, so that I could put the baby on my boob, so he would be quiet.
Anne: This was pre-Skyping…
Denise: In terms of a good policy, it's one thing to say we all want paid protected leave, but we really have to be specific. We want paid leave, at a living wage, for the time someone needs to actually heal.
As gay parents, policies have just never fit us. We were always the ones changing the policies -- at a company, at school. We're always the ones making them re-write things so that they're inclusive.
"There needs to be consideration for families of any kind."
Anne: For example, Denise was at the doctor last week, and they wanted an emergency contact. She gives them my name, and they're like, "Oh, that's your daughter, right?" -- and I know "spouse" is an available option.
There needs to be consideration for families of any kind. The initial time you are with your baby, it's a really precious time. I don't think it should be for just birth parents -- you have foster parents, dads, the other mother. I don't know if dads are doing what I did. I was doing all the cooking, the cleaning, the laundry, making the meals. When she breastfed, I was giving her gigantic glasses of water. And it's not just moms who are not sleeping at night -- the other moms, or the fathers, are up at night too. You need three months at least.
Denise: And just know: you're not alone.
4. When Only Having Two Weeks Off Makes You Want To Be A Stay-At-Home Mom
Gulia and Akpo Omene live in Pennsylvania with their daughters, Elodie and Fowve.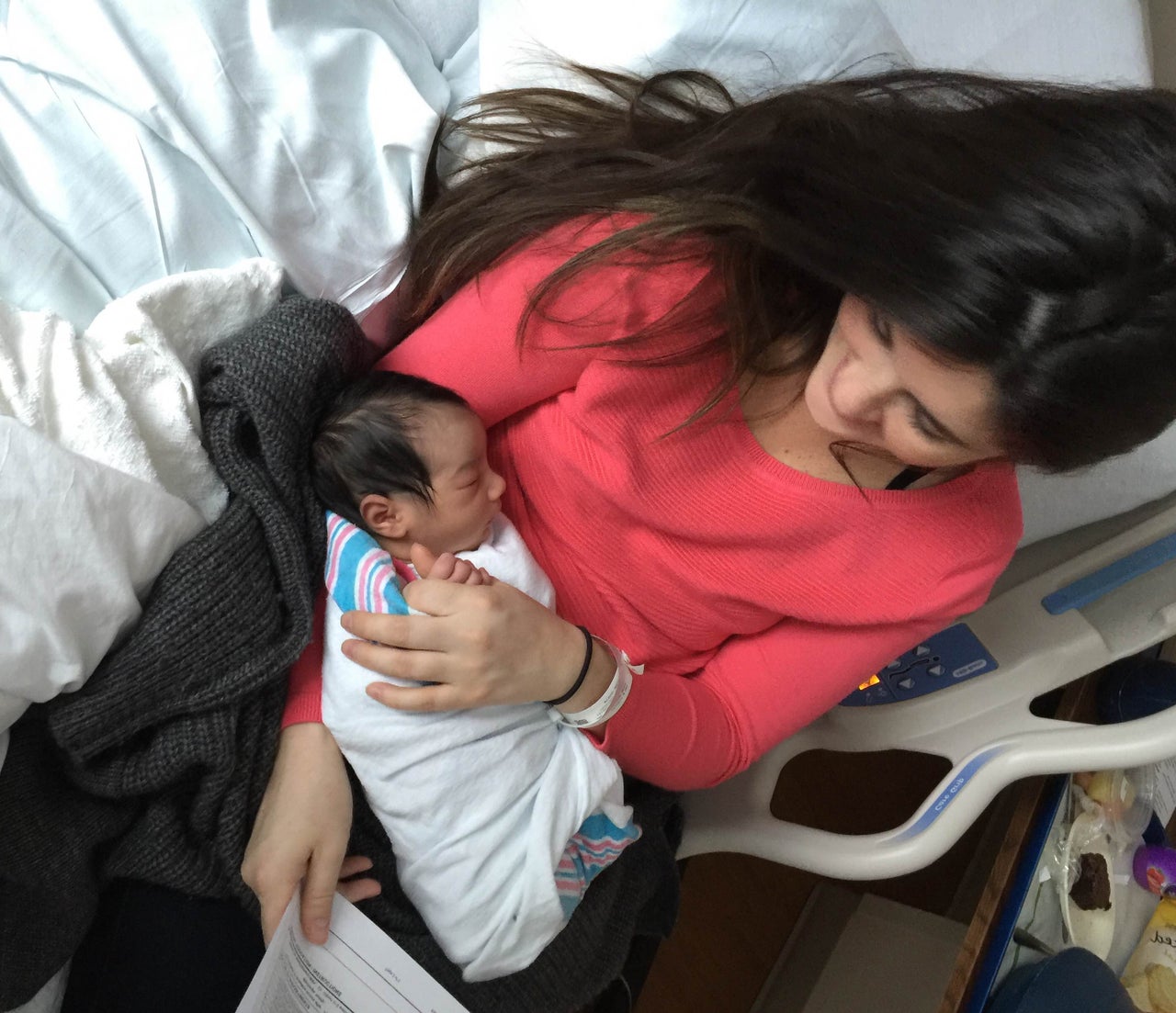 Gulia: I'm a dentist. We have our own practice, and I'm the only dentist here, so I only took two weeks off. We're a small business, and if I didn't come back, the whole staff wouldn't be able to work either. It really didn't give me a lot of options.
I would get from people like, "Oh you're going back that soon?" or "Oh, that was quick." And it was quick, I can't deny them that. But it made me feel badly, like I had to justify myself. I would love to be home with them for longer, but this was a decision we had to make -- it doesn't just affect us, it affects the whole practice. Other people, on the other hand, would say, "That's awesome -- you're a rockstar." I think I probably took the negative more to heart.
"I never thought that I would want to be a stay-at-home mom, but having such a short time with her almost made me wish for that."
I wasn't even a week into being home with her, and I got so sad about leaving her. I love my job and I love our office and I love being a dentist. I never thought that I would want to be a stay-at-home mom, but having such a short time with her almost made me wish for that, for the first time.
Akpo: Once you have kids, there's no way to explain the emotional attachment you feel for them. It's an incredible feeling -- but with that also comes the anxiety, pain and stress of not being around them. You would hope that there's an alternative to it -- but we're not quite sure what that alternative would be. Gulia is just powering through. If there was some sort of support for new parents from the government, that would be wonderful.
There's a very clear disconnect between work and parenting. It doesn't change the love you have for what you do, and it doesn't make you feel like less of a parent… Well, actually it kind of does.
Gulia: Your heart is in two places all of the time.
5. When Being A New Parent Isn't The Hard Part -- Going Back To Work Is
Jessica and Tucker Shuler live in Oregon with their son, Cameron.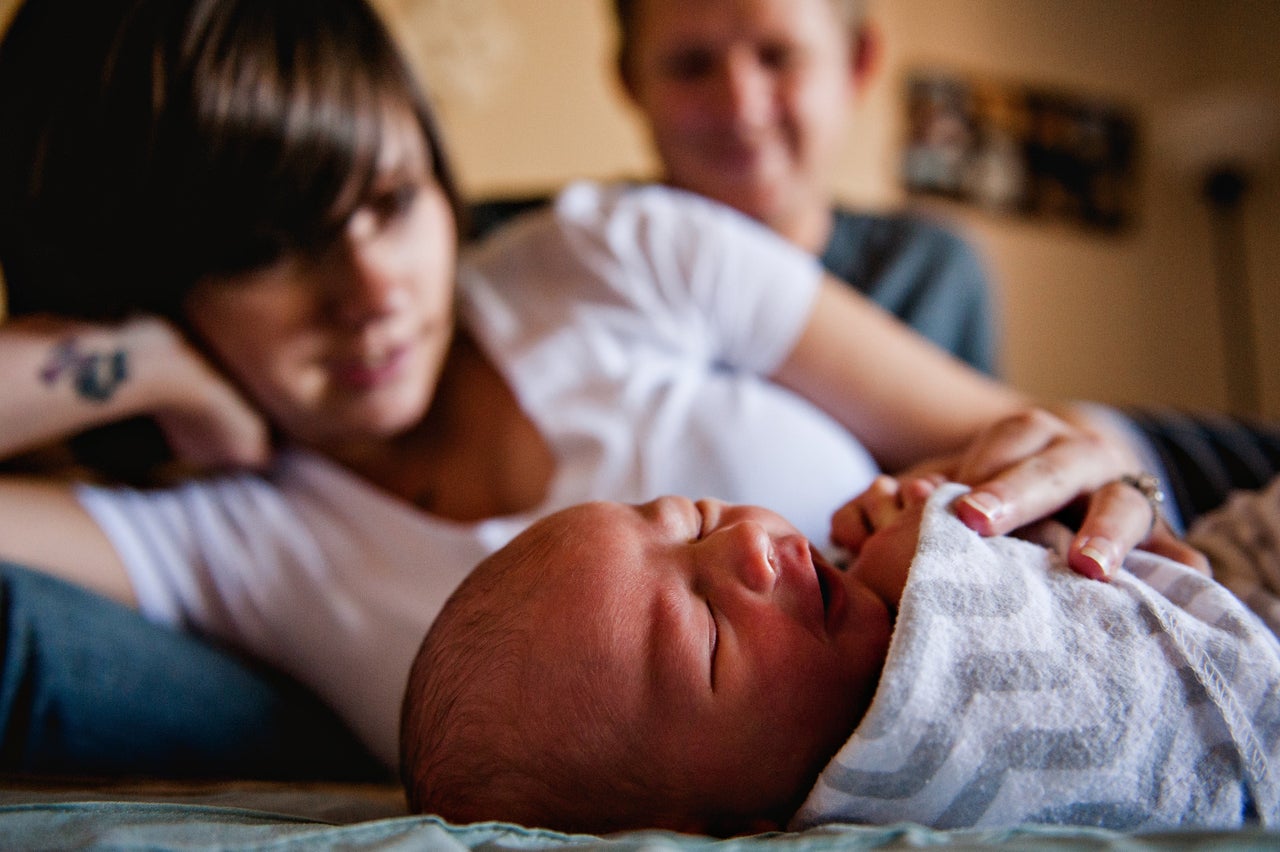 Jessica: I worked at Chase Bank and they gave me three months paid leave. It was a good length of time. I would have liked to have longer, but it did make me more comfortable to know that I could stay at home and adjust, without worrying about whether I was bringing in any money.
Well, it did make me worry a bit. I was getting my full pay -- but the issue is, I earn the bulk of my salary through incentives, based on accounts that I open and things like that. So if I'm not there to produce it, I don't get paid. What I was used to getting paid each month -- that was cut at least in half, if not more. It was like I was missing a full paycheck each month.
"Not only was I adjusting to staying away from my son for the first time, but I also had to deal with them throwing all the work at me in the first days."
I was a little bit regretful that I had to go back to work -- I wanted to stay longer. When I went back, I was bombarded and overwhelmed. It was like: You've been out for the last three months, so now you have to play catch up -- and they didn't really give me time for that. Not only was I adjusting to staying away from my son for the first time, which is stressful, but I also had to deal with them throwing all the work at me in the first days. I'm still picking up the slack from it.
In the branch that I worked in, four different women had babies. Management would make a big deal about scheduling for the other women, like "What are we going to do when there's not someone here?" Having been in that work setting when someone was out, and then knowing that I was going out, I actually felt a lot of stress, like I was doing something wrong by taking that time. I know that it put my manager in a bind, and she kind of made it feel like it was putting more stress on everybody. That shouldn't be something that someone who is about to come into a blessing in their life has to think about.
Jess' former workplace, JPMorgan Chase, has since updated their policy from 12 weeks to 16 weeks paid leave, as of January 1, 2016. "Supporting employees during critical life events is a key part of JPMorgan Chase's culture," said a spokesperson via email to HuffPost. "The firm is committed to providing benefit programs and policies that support the needs of its employees."
6. When You Get Back To Work And Your Coworkers Act Like You Were Away On Vacation
Nikki Coleman lives in Texas with her daughter, Asha.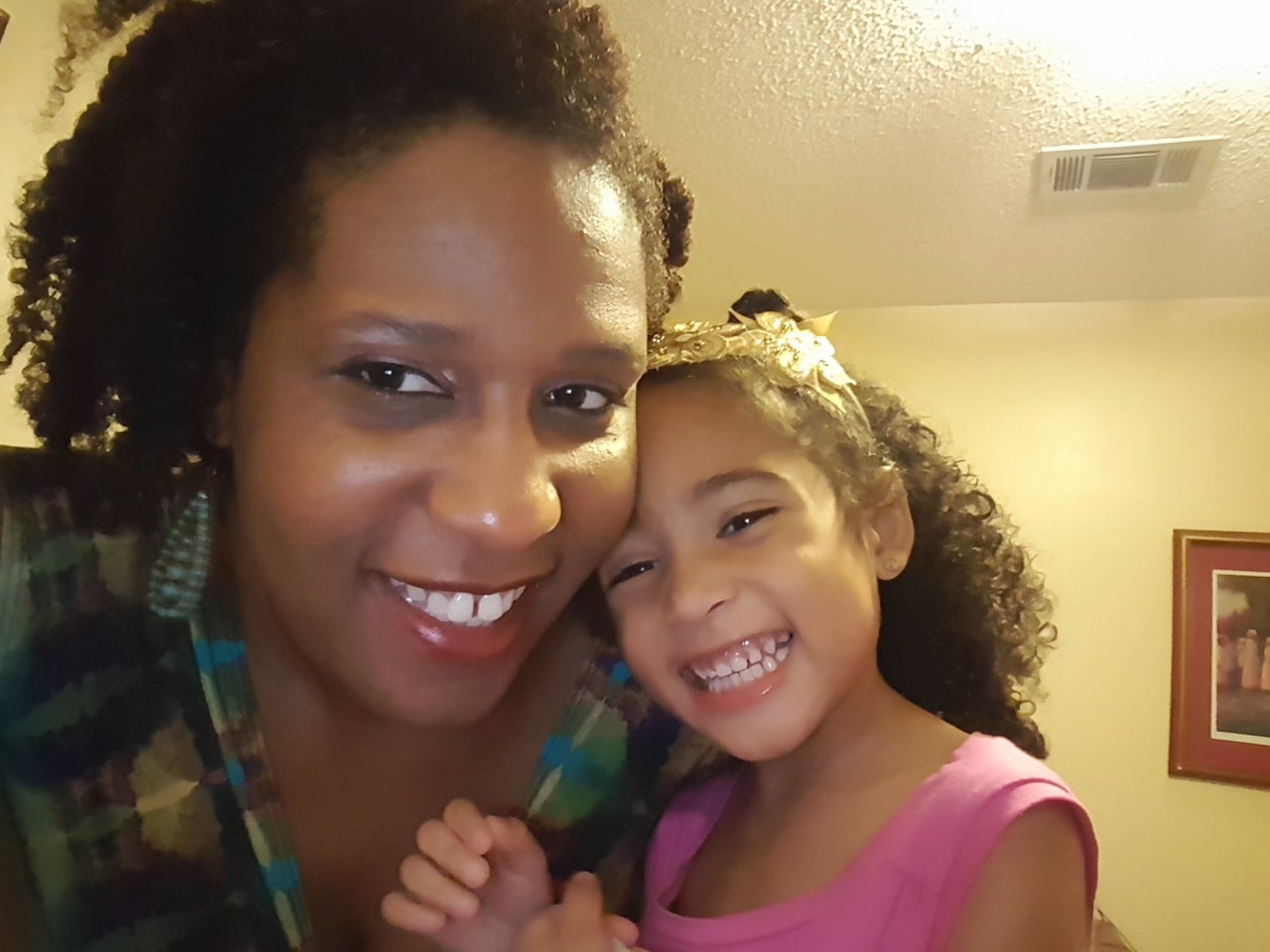 Nikki: I had 12 weeks unpaid leave. I had to deplete my sick balance to cover the cost of being out. I had assumed that because I was a professional, with a PhD, working at a major university, that they were going to accommodate me. I didn't have a clue. When I read the policy, I thought, "This can't be right." I went to human resources, and they were like, "No, that's it." I was devastated. I remember walking back from the office feeling pure panic.
My daughter ended up spending a month in the intensive care unit. By the time she came home, I had about two weeks with her before I had to go back to work. I was not ready.
At first, when I returned, people were warm -- but then there were all of these insinuations that my being on leave had been a burden on them. "Well, when you were out I took on your advisees," or "I have to go look at my notes, because you were out." As if I was out on vacation.
"It's just infuriating. Other industrialized countries do so much better than we do."
Whatever people think leave looks like -- that was not my situation. The first four weeks, I was in the neonatal intensive care unit. The concept of being home, getting settled and bonding with your child -- that just didn't happen. And I am a single mother by choice, so I was doing it all on my own.
It's just infuriating. Other industrialized countries do so much better than we do on parental leave. We have to do better. Everybody that has a newborn come into their life -- whether it's adoption, childbirth or surrogacy -- should get six months of their life to focus on that. Six months, paid leave, with job security guaranteed? That would be a game changer.
Nikki's workplace, the University of Houston, continues to provide 12 weeks of unpaid leave. "UH provides benefits to faculty beyond what is required by the state of Texas," read a statement from the University, via email to HuffPost. "The University continues to focus on building infrastructure [to] address work-life integration challenges."
7. When You Want To Be A Man And Take Care Of Your Kids -- But You Can't
Ryan and Ashley Rogers live in Connecticut with their daughter, Mackenzie.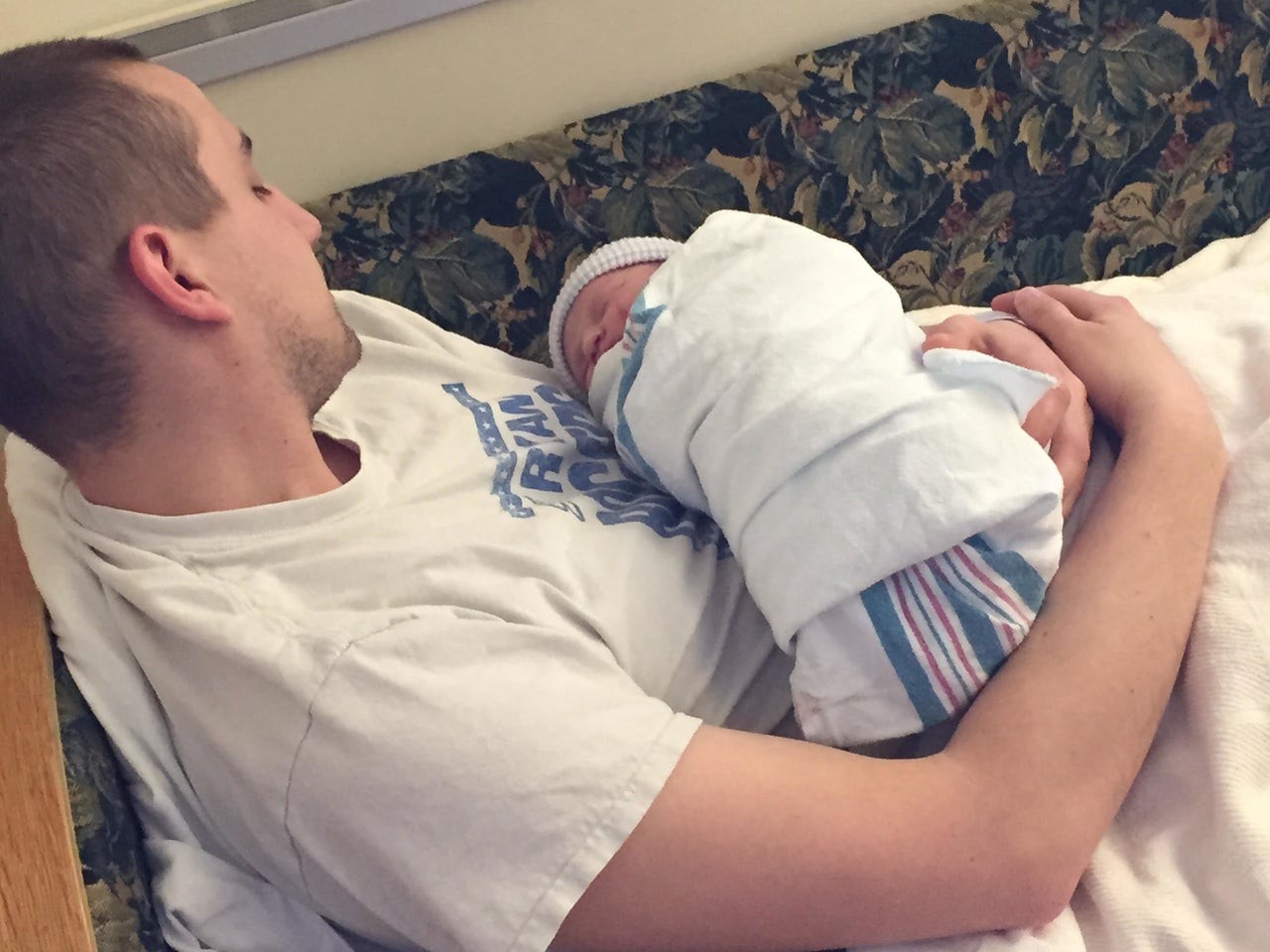 Ryan: I took the 12 weeks of leave assured by the government -- that's unpaid. I was lucky in part because I had accrued a couple weeks of paid time off at work at the time she was born, so I took about five weeks total -- a good portion of that was unpaid. I basically took as long as I could before I had to go back and start paying the bills. I didn't want to go back to work -- I wanted to spend as much time with my new baby as possible.
We needed to put her in daycare early -- she was only two or three months old. The problem is, when you're that young, you take home everything that comes into the daycare. I don't think I'd gotten sick in the last few years -- but now I've gotten everything under the sun this year. And then I was short on leave, so I get sick and I'm forced to decide: Do I stay home or try to make the money we need? If something were to happen to a family member, I'd be out in the dark.
"You have to be a man and take care of your children, help them grow and further your fathering skills by learning first-hand."
I'm one of the more fortunate cases. It's a story of what if's: What if right after my child was born, someone in my family became ill -- what would I have done then?
I wish I had more time altogether. I honestly think both parents should be home as much as possible in the first months. Not only is your child learning and developing critical things, but you're learning parenting skills as well. The stigma out there is probably that the mother is the one that has to be home, but the father has to do more than provide. You have to be a man and take care of your children, help them grow and further your fathering skills by learning first-hand.
Twelve weeks guaranteed, and separate from any sick time -- that would be a life changer.
Ryan's former workplace, the Hartford, has since updated its policy from zero paid leave for fathers to two weeks paid leave for all parents, as of January 1, 2016. For birth mothers, this is in addition to any short-term disability leave.
8. When You're One Of The Lucky Ones
Sunny Gettinger and Tray Csar live in Florida with their sons, Cort and Max.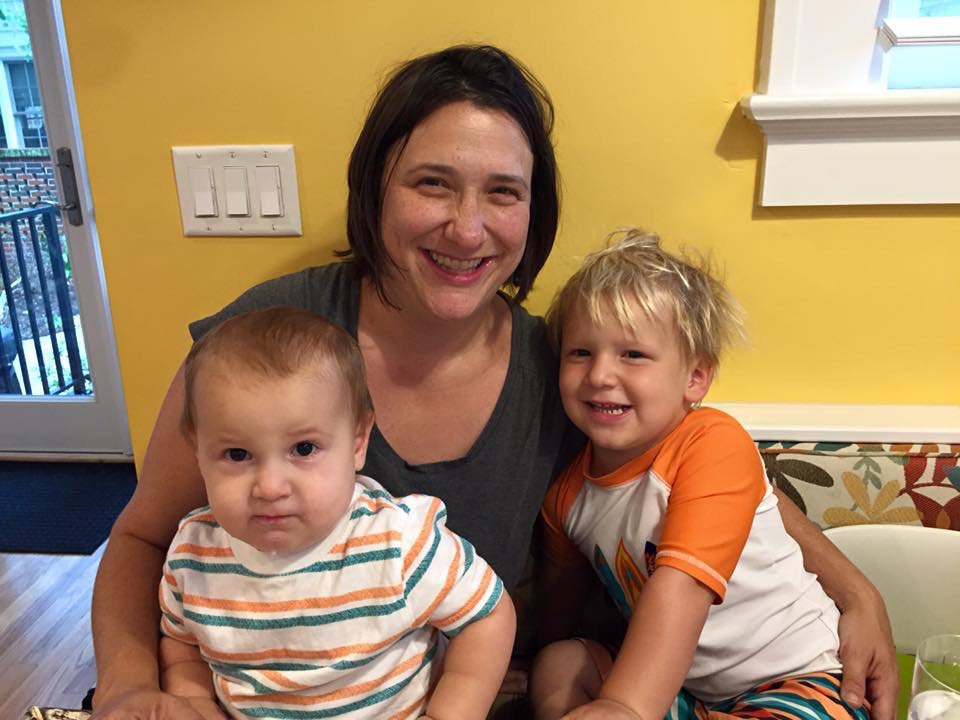 Sunny: I was at Google for both of my leaves. I took six months. I took a full four weeks before they were born, as both of my kids were emergency C-sections, so it was a 20-week leave.
At Google, the expectation is 100 percent that you will take your leave. There's never a question. And it's encouraged that you take the four weeks before you give birth to get ready. There's a recognition that it's physically hard to grow a human -- and that your life is going to change. People are excited, want to see pictures. At Google we really bring our full selves to work.
"I'm of the ilk of: I love my kids, but I also love my job."
To be quite frank, I couldn't have taken that time off if it was unpaid. My husband works for a nonprofit, and I'm very much a contributor to the household, monetarily.
Reentry was quite difficult -- I had some serious baby withdrawal. There are things you don't even think about: How do I get myself to work, and two kids to daycare? There are a lot of logistical realities to being a parent you don't think about. The length made it so much easier.
I'm of the ilk of: I love my kids, but I also love my job. I love having conversations that make my brain work, and taking those home to my husband over dinner, and explaining what Google Fiber is to my kids. It's an important piece of who I am.
This time for parents is really important. In a perfect world, we would all be Sweden, or Finland, or whatever the country is that you get two years of leave. All parents need time to process what's happening to them, to their family. The more time we can give families to figure that out, the better.
Watching friends struggle with these issues, watching my husband feel so torn to go back so early… The maternity leave at Google is a gift -- probably the nicest gift I've ever been given.
Google continues to offer 18 weeks of paid maternity leave. New parents, regardless of gender, who plan to take an equal or primary role in their child's care can receive up to 12 weeks of paid time off. Other caregivers are eligible for seven weeks of paid time off.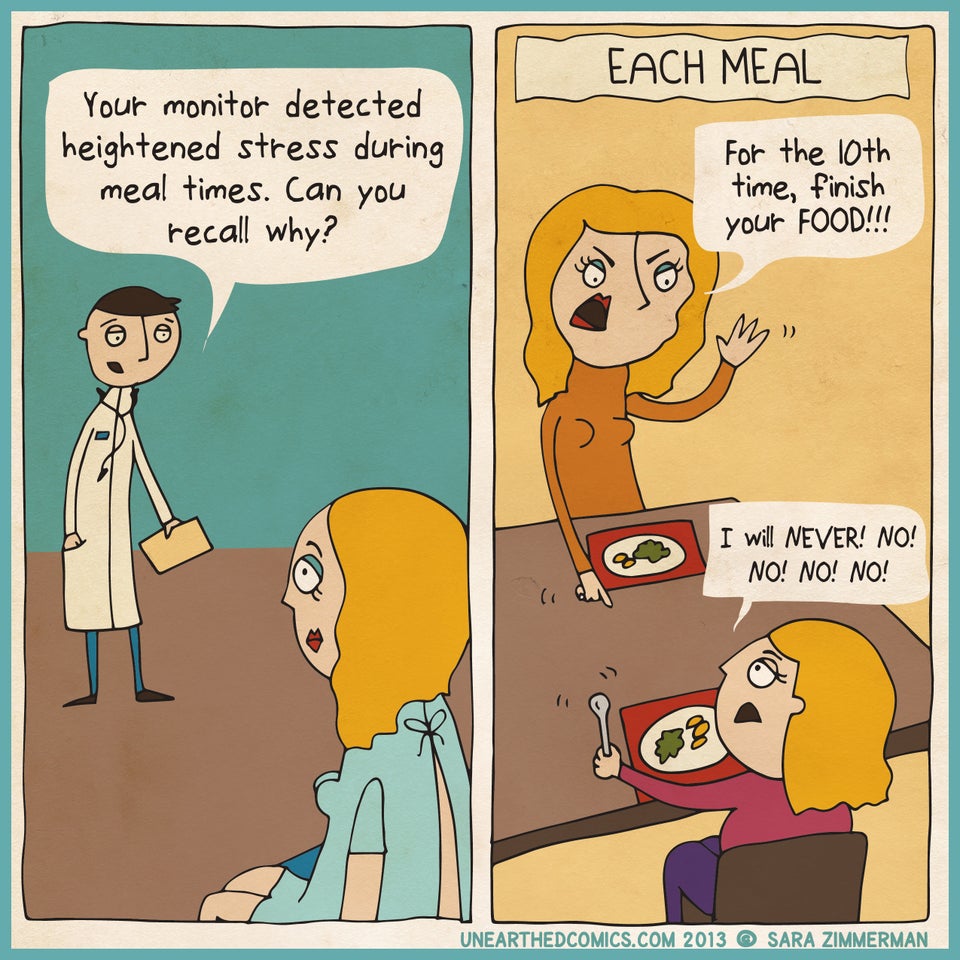 Modern Parenting