This week in Parenthesis, we laugh at Mom-101's common search term roundup, go on a family vacation with Mike Adamick, envy Karen Walrond her (forced) opportunity to unplug -- and more.
Mind the gap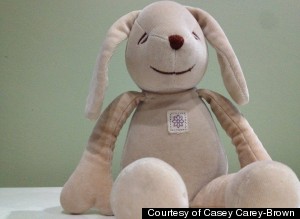 Perhaps it's because of the proliferation of depressing and downright chilling news items lately -- but a little bit of lightness can go a long way. That's what blogger Casey Carey-Brown found out recently when her 3-year-old daughter's beloved stuffed animal, Nummy, was saved from an oncoming train. Not only was Carey-Brown delighted to report the generous actions of the Boston railway worker who pulled Nummy to safety -- but news outlets across the country quickly seized on the incident as an inspiring bit of good news. Carey-Brown's daughter, Roozle, was surely delighted to get her Nummy back; readers worldwide were thankful to share in their happy reunion, too.
There are plenty of ways to help people who are mourning -- for instance, by talking about the loss, and helping to observe birthdays and special anniversaries -- and there are also many ways to put your foot in your mouth. But there is one thing you should absolutely avoid above all else: silence. "If you don't know what to say, then say, 'I don't know what to say.'"
When it comes to sensitivity, Heather Spohr adds, older doesn't necessarily equal wiser. The 6-year-old daughter of one of Spohr's friends has never shied away from talking about Maddie, Heather's daughter who passed away in 2009, and her thoughtfulness means the world.
Mom, unplugged
Sometimes, it takes an act of God (however small) to force us to unplug -- and when that happens, it can be a blessing. Karen Walrond recently had to part with her computer while it was being repaired, and "in my laptop's absence," she writes, "I've learned how tied to the thing I've become." She approaches life sans computer with glee:
Instead of working or mindlessly surfing the web at nights this week, I've been journaling, or reading, or otherwise occupying myself in a non-digital way. As a result, I find myself much calmer than usual by the time I go to bed at night, and I greet my workday far more eagerly in the morning that I had been doing.
In the comments, Kristen Howerton remarks that a similar experience left her feeling "liberated" -– although she snapped back to her "old ways" immediately when the computer was fixed.
Seek and you will find. Maybe.
What draws readers to a particular blog or website? Maybe they're regulars who enjoy following familiar characters and storylines. Maybe they've been referred by a friend. Or maybe they went to Google with a specific question, looking for answers out in the wilds of the web. When you're a blogger, the fun part of this game is playing it backwards -- looking up what people searched to get to you.
Not for the first time, Liz Gumbinner of Mom-101 has published some of the more, err, unconventional terms that brought readers to her blog over the past year. Nearly all of them are laugh-out-loud funny, but here are a few highlights:
My husband puts acdc up loud in car and I'm pregnant now
susan how many children do she has
baby shower my cankles in hells photo
i don't wear underwear
something i can put on twitter
Summertime
Finally, as summer begins, settle into a vacation tale so genuine it will make you feel as though you've actually been away yourself. A quick escape without all the bother of planning, packing and entertaining kids –- what could be more refreshing? Mike Adamick does all the work for you with this post, and its sweet ending -- like the conclusion of a perfect family trip -- will likely cue a contented sigh:
A clerical oversight, a misheard question, puppies in a box, a Jeep that leaked water just after we changed for a nice dinner, we packed them up and took them home, keeping them as a form of souvenirs. … By the time we got home, we were already calling it the best vacation yet.
Related