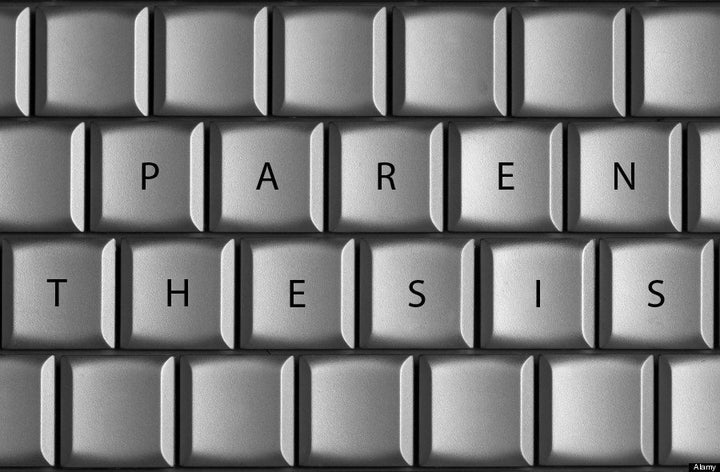 This week in Parenthesis, Tracy of Sellabit Mum tells her children why she writes online, a Lesbian Family blogger reflects on the "mommy" name game and Lenore Skenazy shares a grieving mom's powerful testament to her daughter.
Meta mom
One of the wonderful things about parenting blogs is that topics that have been covered -- even hundreds upon hundreds of times before -- look different in the eyes of new parents every single day. One such subject is slightly more meta: the question of why we blog at all.
Tracy of Sellabit Mum took the topic on this week, after her daughter asked her why she blogs instead of recording her memories privately. Her reply? She blogs because she doesn't keep a scrapbook, but wants her children to remember their youth. She blogs because "no one tells you how lonely motherhood can be" -- and through her writing she's made "lifelong friends." She blogs to keep track of "the little things, not the big things" that everyone will remember anyway. And she blogs because she likes to write. "It feels good to do it and to read it, and it makes my mind happy." Is there a better reason to do anything?
The name game
Lesbian Family has run blogger Susan's piece about the push and pull of affections experienced by moms in lesbian relationships. She writes that while she was on a business trip away from home two years after giving birth to her son Rowan, the then-toddler became more attached to her partner, Rachel. And while at first this offered Susan a respite from the intensity of her post-birth relationship with her son -- and gave Rachel an important chance to connect with him -- it eventually led to feelings of alienation, particularly when "Rowan's names for us finally solidified," leaving Susan as the "Other Mommy" to her partner's "This Mommy."
"Even when it's tiring, and overwhelming, there's something immensely gratifying about being the centre of a child's life," Susan writes. "I was ready for a break, but I wasn't ready to give up that privilege in its entirety." She finally concludes: "Maybe the fact that it's not a sure thing is what makes his pure affection that much sweeter."
Beautiful and brave
"This note ... almost became my sacred creed," Lenore Skenazy wrote on Free-Range Kids this week before sharing a message she received several years ago and has never published until now.
The letter is from Beth, a mom whose 9-year-old had just passed away from "a cardiomyopathy so rare that she was twice as likely to have been struck by lightning" at the time of writing. Beth explains that her daughter "lived every moment of her life to the fullest" -- from riding horses and motorcycles to playing in mud pits at camp -- leaving her mother with no regrets "save that I didn't get nearly enough moments with her."
Beth's brave, beautiful and heartbreaking message: "This act of living, of raising our children, of balancing risk and reward, is not easy. And it is, I have learned in the most painful way possible, filled with uncertainty. But we owe it to our children to teach them to live like every moment is precious. Because it is."