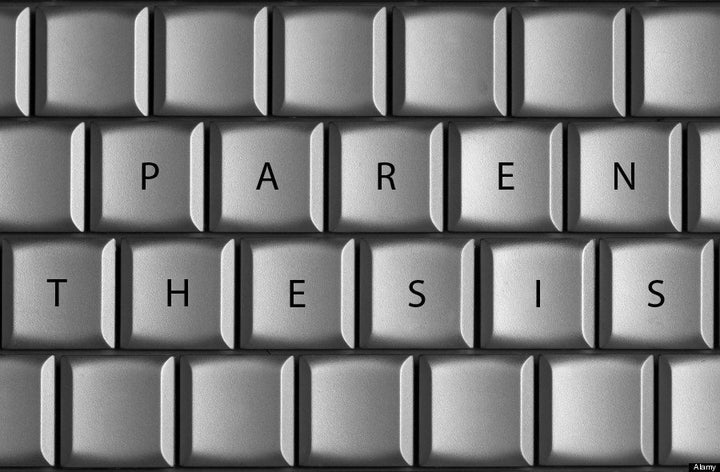 Welcome back to Parenthesis, our weekly roundup of standout writing from mom and dad blogs everywhere. This week, we agonized with The Bearded Iris as she decided whether or not to close down her blog; celebrated the small and large sacrifices of motherhood with Liz Gumbinner; and railed against gender stereotypes with Mur Lafferty.
When The Bearded Iris's son informed her that his classmates had located her blog, she was forced to reassess the wisdom of her online presence. Should she un-publish posts that were inappropriate for teenagers? Stop blogging altogether? "Say screw it and stay on [her] path"?
For mothers who believe in blogging, the comments on Iris's post alone (there are currently 135) will be an affirmation (most urge Iris to stick to her guns). But perhaps most encouraging -- and doubtless also surprising -- is Iris's son's ringing endorsement: "NO Mom! Don't take your blog down! I don't care if kids know about it. I'm really proud of you."
Getting real about birth plans
"Forgive me if I'm way out of line, but I just don't get" some women's need to have their babies according to unrealistic fantasy plans, wrote Lindsay Ferrier at Suburban Turmoil. Ferrier was frustrated after seeing a "Baby Story" episode during which a new mom complained about being forced to give birth in a hospital (she'd hoped to deliver her baby at home). We may not get exactly what we want, Ferrier writes, but isn't it all worth it once your baby is born?
I'm all for home births, hospital births, water births, hypnobirths, natural births, and anything else you can dream up that's been deemed safe. Every woman who's having a child, who's had a child or even who's dreamed of having a child has an idea of how she wants labor and delivery to go. … I'm merely suggesting that perhaps in the future, we counsel the pregnant women in our lives to consider their birth plans as less a set of rules and more a general idea of how they'd like things to go.
Pumped in the bathroom stall of an airport that I can smell in my nightmares to this day.
Spent entire days engaged in dialogue like, "well who do you think is nicer, Funshine Bear or Tenderheart Bear?"
Slept on top of disembodied baby dolls arms
Slept on top of LEGOs.
Slept on top of magic markers with the caps off (which I didn't discover until morning).
Learned to suck in my stomach permanently for life.
Children want parents, not alphabetized spice containers
It's rare that beauty exists without a catch (that luscious apple offered to Snow White masked poison flesh, remember?). It's easy to get sucked into the beautiful fantasy universe of Pinterest, but there's also a downside to the social network's polished allure: it makes non-domestic-goddesses feel inferior. April Perry from The Power of Moms tapped into the psyche of these parents, lamenting, "I don't make grilled cheese sandwiches look like ice cream ... Can't I pull myself together and wrap some candles in green foliage and bring happiness to our decor with bright fabrics and hand-crafted photo frames?"
Fortunately for April –- and her readers –- it didn't take her long to really pull herself together and see that Pinterest's dream world isn't anywhere near as important as the emotional connection between a mother and her children:
There's something deeper going on in family life than can ever be expressed on a social network. Whatever it is we feel we are lacking, can we collectively decide–as deliberate mothers–that we are not going to sit around feeling discouraged about all the things we're not?
Who run the world?
"The world hates you. You are considered the worst thing to be compared to. Throw like a girl. Talk like a girl. Cry like a girl. God forbid we ever be girls," Mur Lafferty writes in an electrifying letter to her young daughter about the harsh realities of modern girlhood. She goes on:
When you get a little older, I will be honest with you and tell you – f*ck 'em. You will not change their mind by arguing, by telling them they are wrong. You change their mind by showing them how being a girl is awesome. You show them by not hiding, by not being demure.
Please continue to share your favorite blog posts with us by emailing parents@huffingtonpost.com or tweeting to us at @HuffPostParents.
Related