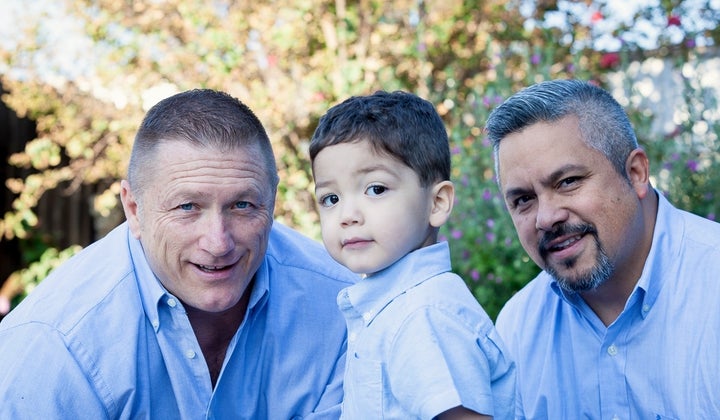 To mark National Adoption Month, five RaiseAChild families are celebrated in the weekly "Let Love Define Family®" series for Huffington Post Queer Voices. In this fourth of five special series installments, RaiseAChild Founder and CEO, Rich Valenza, interviews two dads who dream of expanding their family.
Richard Avila-Winburn: I grew up in a pretty small family, just me and my sister. But I have a lot of cousins, uncles and aunts. I always knew I wanted a bigger family. At the time, I didn't know how to make that happen as a gay man, but I definitely wanted to go in that direction.
Jason Avila-Winburn: I've always wanted a big family. I come from a large family myself. My mom had seven children, six boys and a girl. Then I have two step sisters that lived with us several months out of the year. There was usually about nine kids, if not more at my house. The more the merrier. So growing up, I always knew that I wanted to be a dad, I wanted a big ole house with a bunch of kids.
Rich Valenza: When I think about raising kids, it can seem like a huge task and responsibility. On the other hand, it all seems to come naturally too. What are your thoughts on being a parent?
Richard: I'm not going to lie to you, it was pretty tough when our son, Jackson, first arrived at our home. He was just a five-month old baby and he cried for what seemed like three days straight! Those first few days that he was with us, I was real close to saying, "I can't do this." I think Jason was stronger than I was. He's been around kids a lot more than me because he is a school teacher. For me, it was more difficult to get adjusted. I felt such a responsibility to this baby. Because he was a foster kid, I had to make sure that I crossed all of our t's and dotted all of our i's. I was extra careful. I recorded everything. The kid pooped, I wrote it down. I probably went a little overboard the first couple of months. It all paid off. We got to adopt our son.
Jason: I have to say that because Rich is a stay at home dad, his parenting experience is different than mine. I miss out on a lot of the day to day things.
Rich V.: How do you make up for that?
Richard: By the time Jason gets home from work, Jackson is so over me! He asks, "Where's papa? Where's papa?" I tell him, "He's gonna be home in a couple minutes." He gets so excited at the end of the day because he knows Jason's going to be home. When he gets home, Jason doesn't even take a break. The two of them spend about an hour or so hanging out and playing while I get dinner together. Jason spends a lot of time with him in the evening. So he's definitely experiencing a lot, I'm not experiencing all of it. I'm the daytime daddy and he's a nighttime papa. It just kind of works out that way.
Jason: In the evening, I take over the responsibility while Rich works on his freelance work. I do the bathing and putting to bed. Bedtime can be difficult, I'm the bad cop at that time. But, I'm sure that for the ten hours a day I'm not here, these two have a grand ole time. I'm very thankful for the quality time we get on the weekends, that's when we venture out and experience the world as a family.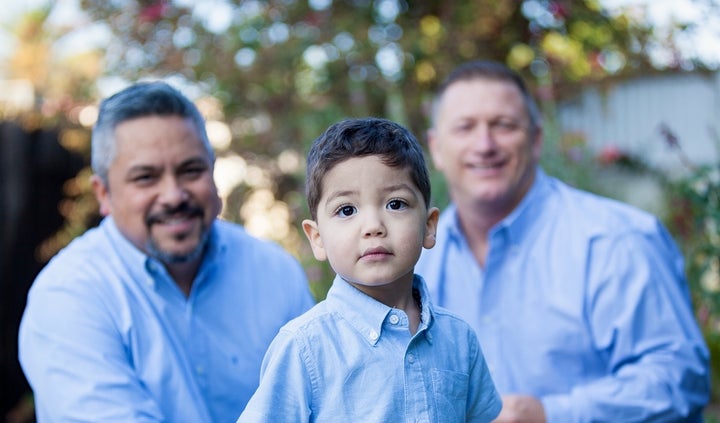 Rich V.: I was surprised to hear that you guys are looking to foster and adopt again. You're on the waiting list, right?
Richard: Yes. We've been ready for a year. I see our family with three kids, probably another boy and a little girl. I would love to have a daughter!
Jason: My vision might be a little different.
Richard: Yeah. He wants ten kids!
Jason: In all honesty, I'd love to be a stay at home dad with at least three kids. I would like us to foster or adopt a child with Down syndrome.
Jason: Yes, I would. My whole life, I have been surrounded with kids with special needs. I had a brother that had cognitive delays which was caused at birth. He and I were extremely close. That's probably what lead me into the field of special education. Throughout the years, I've done a lot of volunteering with the Special Olympics and for special needs children in classrooms. Many of those students have Down syndrome. It's just always been on my mind.
Rich V.: At the end of the day, how will each of you know that you've been a successful parent?
Jason: I think that if our children are some day telling their children about us, …who we are and what we've brought to their lives. I feel that Rich and I will be successful parents if the story doesn't just stop with us. They are all going to have the Avila-Winburn name. I would like for our house to be the house that everybody gathers in for the holidays.
Richard: For me, I measure our parenting success literally at the end of every day. For me, it's getting that hug and smile from our son. I know I did a good job, if my son is happy and he can't wait to see me again the next morning. Not that he has a choice! But that feeling is everything to me. That's it. It's that simple.
On Monday, November 21, 2016, Jason, Richard, and Jackson welcomed a 15-month old foster baby boy to their home, just in time for this holiday season.
Have you thought about building a family through fostering or adoption? RaiseAChild is the nationwide leader in the recruitment and support of LGBT and all prospective parents interested in building families through fostering and adoption to meet the needs of the 415,000 children in the foster care system of the United States. RaiseAChild recruits, educates and nurtures supportive relationships equally with all prospective foster and adoptive parents while partnering with agencies to improve the process of advancing foster children to safe, loving and permanent homes. Take the Next Step to Parenthood at www.RaiseAChild.org or call us at (323) 417-1440.
If you live in Southern California, RSVP now to attend free 2016 RaiseAChild Parenting Info Sessions:
• Tuesday, Nov. 29th at 6:30 p.m. The Montalban Theatre in Hollywood
• Wednesday, Nov. 30th at 6:30 p.m. Museum of Latin American Art in Long Beach
• Thursday, Dec. 1st at 6:30 p.m. TAG Gallery, Bergamot Station in Santa Monica
• Saturday, Dec 3rd at 11:00 a.m. Pitzer College in Claremont
• Monday, Dec 5th at 6:30 p.m. All Saints Church in Pasadena
• Tuesday, Dec 6th at 6:30 p.m. University of Redlands in Redlands
Calling all HuffPost superfans!
Sign up for membership to become a founding member and help shape HuffPost's next chapter