The separation that no one thought would actually happen but is somehow still a thing is at the heart of Parenthood's post-Olympics return. As the crew copes with the Julia-Joel fallout, there's a whole lotta Hank and not nearly enough Amber, but Adam manages to save "Just Like At Home" from despair with signature doses of schmaltz. Let's break it down Braverman by Braverman:
Julia and Joel
The episode kicks off with Victor and Sydney packing their weekend bags, since Joel has apparently made good on his promise to be a completely unreasonable human. J&J share a terse trade-off and the kids head to Joel's new apartment where he attempts to woo them with an Xbox and Rainbow Loom kit. The video games may work on Victor, but Joel please. Queen Sydney is so over Rainbow Loom. She's 10 now. Luckily, Joel has a swimming pool trump card up his sleeve. Even the Queen can't resist the allure of a new swimsuit. All family woes are briefly forgotten.
That night in the big house, Julia feels super weird sleeping in her giant, empty bed and consoles herself by crawling into Sydney's instead. Because the smaller the bed the less alone you feel, right?
Saturday comes and goes. Joel sits the kids down for a delivered pizza dinner and begins talking about all the fun things they can do the next day. This is met with a disgusted, "We're here all day tomorrow too?!" from Sydney who just wants to return to her castle.
Meanwhile, Julia is saved from a second night of loneliness by the unexpected arrival of both Sarah and Crosby, who show up with the healing gifts of wine and Thai food. Julia laments that she feels like the black sheep of the Braverman clan, which HAR HAR because that would mean her measly kiss with Roy from The Office trumps the dark deeds of Crosby sleeping with Max's behavioral aide and Sarah dropping out of high school. Adam stops by to join the fun. Julia's moved to tipsy tears. Adam lightens the mood by coming down with a case of dance fever and a raucous living room party ensues. Braverman siblings unite!
Later On, Victor is super freaked out by weird noises at Joel's place, so he steals Joel's cell phone and calls Julia because Mom. Julia whisper-talks Victor to sleep while tucking in her siblings who've now decided to make camp in various locales around her house. She avoids the big bed and joins a sleeping Adam on the couch.
Sarah and Her Suitors
Ray "Hank" Romano and Sarah are at odds over how their latest photos have turned out. But even when fighting, Hank is still crushing on Sarah and he's dismayed to learn that she's about to go on a date with her tenant-lover Carl. Sarah runs off for their super chill taco dinner (to which she wears an outrageous fedora), and Carl proceeds to say sweet things and confess that he's falling for her. Sarah seems to like this idea.
Returning to the studio the next day, Sarah discovers that Hank has decided to Photoshop all of their images behind her back in a presumed jealous rage and -- even though she admits that 80 percent of them look better his way -- she's none too pleased. She needs them to work together, not apart. She also needs coffee.
Confused by her reaction, Hank checks in for another session with Berkeley's resident Asperger's expert, Dr. Pelikan. The doc tells Hank that he seriously needs to start communicating with Sarah and, duh, stop Photoshopping behind her back.
That night, Hank shows up at Sarah's door. She's just out of the shower and in a robe, but Hank is not to be distracted. He recites an apology that Sarah quickly calls out as ridiculous. She questions why they can't have a normal conversation, and Hank embarrassingly admits his Asperger's fears. Sarah gets misty eyed and forgives all.
Adam and Kristina
Adam and Kristina start off adorkably living it up in a hot tub while on a "cancer gift" spa getaway in Mendocino. But being the caring big brother that he is, Adam can't truly relax for worry over Julia. He calls her up, and after she assures him she's totally fine and binge-watching Orange is the New Black, he jumps care-free back in the tub and strips out of his "old man bathing suit." Kristina's lovin' it.
Later, up to their necks in mudbaths, Kristina thanks Adam for all his support during her dark cancer days, and he responds with the Adamism, "If I have to be stuck in the mud, I want to be stuck in the mud with you." Precious.
Next, they're off on a hike and surrounded by majestic scenery. And yet, Adam's still obsessing about poor Julia's plight. Kristina concedes that since they've summited a mountain and had sex twice it's okay if they call it a weekend and go tend to Baby J. But not before they take a fun selfie.
Drew and Amy (+ Bonus Amber!)
Amy is still living in Drew's dorm, which was all fun and games at first but now the semester's heating up and Drew is busy with important things like astronomy lab. Amy's simply become a listless clinger who refuses to return to the depressing winter at Tufts. This routine is getting old fast.
Your BFF Amber can't catch a break (or a scene of her own in this episode), but luckily she can offer Drew awesome life advice. Hanging out at Amber's loft, Drew confides that he loves Amy but seriously needs her to leave. And like the Yoda of millennials that she is, Amber muses, "It's crazy. You can really love somebody but want them to go." Yes indeed, Amber. Yes indeed.
Empowered, Drew sucks it up and confronts Amy about her overstayed welcome. Is this about that-hussy-down-the-hall Natalie? Amy asks. No, Drew assures her, you're just hiding from major stuff like college and your seasons'-old abortion. He convinces Amy to overshare with her family, and they drive to her parents' house that night. An indie ballad plays while they kiss in the car and then she's off to face the 'rents. Godspeed, Amy.
Zeek and Camille
Back from her life-changing trip to Italy, Camille -- who is like a female Benjamin Button and looks younger every episode -- has convinced Zeek to press forward with plans to sell Casa Braverman and live the RV life. But when Crosby learns of their mischief, he responds like any good youngest child would and completely loses it. After a brief dinner confrontation, Zeek gets Crosby to see the light by explaining that he loves Camille more than a house and he'll do whatever it takes to keep her from running off to Europe again.
The night ends with everyone who's in town and not sleeping at Julia or Joel's cozily roasting marshmallows by the Braverman fire pit. Zeek teaches Jabbar the art of proper roasting, but Camille sticks to the burnt ones because she's a saucy minx. Drew and Amber lean on each other. Baby Nora looks cute. Love of family is in the air.
NEXT WEEK:
Scary piano music and a bathroom cry scene signal Kristina's cancer may or may not be back. Sarah and Carl are totally hooking up. Hank is NOT okay with this.
Parenthood airs on Thursdays at 10 p.m. EST on NBC.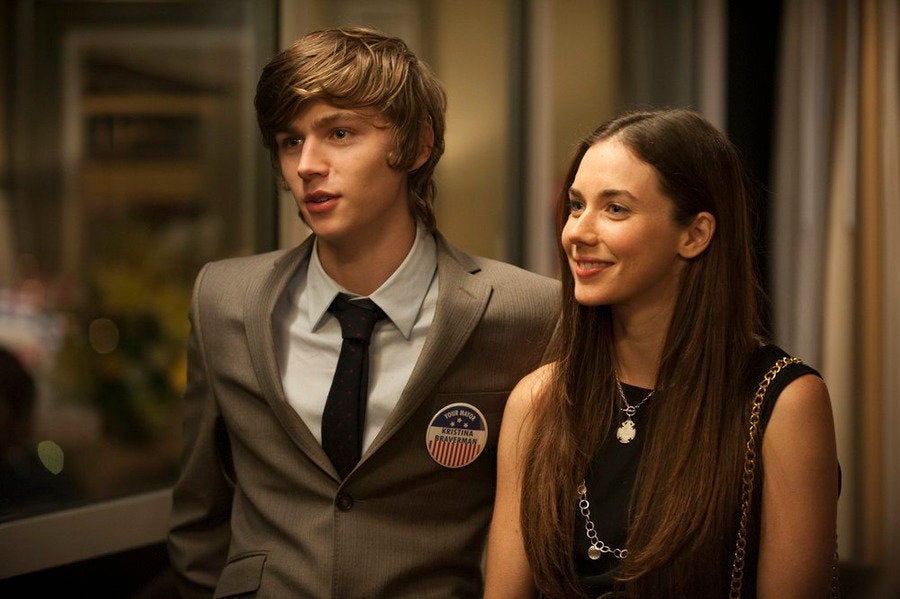 Parenthood
Popular in the Community