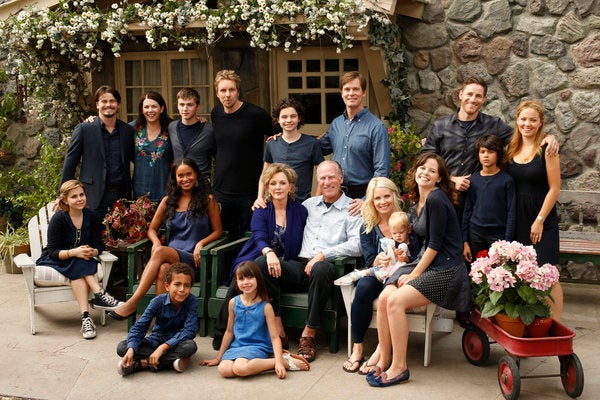 Will "Parenthood" be renewed for Season 5? At the NBC series' PaleyFest panel on March 7, creator Jason Katims told HuffPost TV that he feels "really optimistic" that the Braverman clan will return -- and judging by the packed auditorium at Los Angeles' Saban Theatre, the show's fans are as loyal and vocal as ever.
"Everybody at the network has been so positive about the show and I think that they are fans of the show themselves and they really, creatively, loved the direction it went this year, so that's really good," Katims said on the Paley red carpet. "I also know that the ratings are not what anybody would dream for them to be, but they're definitely moving in the right direction for us and for the network. We're pretty happy there too. So I'm hopeful."
The underrated series is known for its tearjerking tendencies (the theater's ushers were handing out "Parenthood"-branded packs of tissues along with programs for the event) and star Peter Krause (Adam Braverman) joked on the panel that "'Parenthood' is a good test to see if you're emotionally okay ... if you don't laugh a little bit, cry a little bit, you might be a sociopath." His on-screen wife, Monica Potter (Kristina Braverman), joked that someone had even invented a drinking game for the show's weepier moments: "Every time you cry, you chug your beer."
"We should play!" co-star Lauren Graham (Sarah Braverman) declared enthusiastically.
"I would be mentally disturbed if we didn't get a fifth season," Sam Jaeger (Joel Graham) told HuffPost TV on the carpet. "I also feel like I've been blessed to be on a show for four years that I'm proud of. I've been an actor professionally for 13 years and this is maybe the third job I've had that I can say that about, so it's been great so far and I'm sure it'll continue to be."
Both the red carpet and the show's panel (which you can watch in its entirety at the bottom of this post) yielded plenty of interesting insights into the past season and potential storylines to come, so read on for more of what we learned about "Parenthood" at PaleyFest 2013.
Kristina's Journey
Undoubtedly the most powerful performance of the season (in a year of many emotionally fraught arcs) came from Monica Potter, who is already garnering well-deserved Emmy buzz for her raw and believable portrayal of Kristina's battle with breast cancer.
"It was a little draining, but it was worth every single tear and every single thing that we did," Potter told HuffPost TV before the panel. "I didn't really understand why I was so tired and why I was so depressed after we ended. Part of the depression was not being able to come to work every day and see these guys. I don't know how to digest this year, because I feel like it was a big blur. I don't remember much of it." Potter also admitted that this was the first season that she hadn't sat down and watched with her own children, mostly because she didn't want to upset her young daughter, Molly.
While Potter modestly praised Katims' writing for her performance, the rest of the cast was unanimous in its admiration for her work, and Katims told us that he intends to continue exploring Kristina's journey if the show is renewed: "While there's been resolution to Kristina's breast cancer storyline, one thing that I really like about the show is that we don't just drop anything, and I think how that experience affected them is profound and I want to continue to observe that and write about that as well."
Sarah's Choice Isn't Final Yet
Sarah was forced to make a difficult decision in Season 4; would she choose to be with reliable but young high school teacher, Mark (Jason Ritter), or her crotchety but mature employer, Hank (Ray Romano)?
Ritter told us that at the beginning of the season, he'd assumed it would be an easy choice for Sarah. "I read that Ray was coming on, and that it would cause tension -- I had no idea that it would actually split us up," he admitted wryly. "I thought that it would be a nice thing to play off of and that it would end up strengthening our relationship. And ... not quite! I guess that I was a little too cocky. We were engaged and it felt a lot more solid than our relationship had in past seasons, so I was like, 'Nothing can come between us!' But I didn't know the power of Hank."
On the panel, Graham said that she was just as torn as her character over the developments in the finale, which saw her rebuff Mark before Hank decided to move away to be closer to his daughter. "I felt that the finale left it open. Sarah made a choice and then Ray Romano's like, 'I'm moving to Minnesota,' so to me there was a lot of energy in both areas, so I didn't view it as 'I chose one or the other' necessarily because it wasn't going to work out. It could still go anywhere," she pointed out. "It didn't feel like, 'Here's where we're going to go next season!' It's hard because I really enjoyed working with Ray, and Jason has been part of this family for the whole time, so every year it's been hard to imagine the possibility of saying goodbye to him."
"I'm just trying to make Lauren jealous so that she realizes that she made a mistake," Ritter joked on the carpet before the panel. "It's totally a bizarre coincidence in the TV world. I talked to Alexis a little bit about it today. I still haven't talked to Lauren about it, but I'll see her tonight and we'll clear the air. 'Sorry, you chose Ray Romano, I had no choice!'"
On the panel, Graham recounted her initial reaction to the news. "It really freaked me out because I have such specific relationships with these people and these characters ... it didn't occur to me that they'd ever meet each other. It's like a crossover of 'Happy Days' if they were to visit 'E.R.' It doesn't even make sense," she said with a laugh. "It's going to be amazing. The two of them are perfect to work together, and it makes so much sense that I can guarantee you that Mark and Sarah will not be back together ... My feeling was that all Alexis' old boyfriends from 'Gilmore Girls' should then be Sarah's love interests."
While Jared Padalecki, Milo Ventimiglia and Matt Czuchry await Graham's call, Ritter gave us a little more hope for Mark and Sarah while on the red carpet, even if his pilot is picked up to series: "Obviously [Jason Katims and I] love working with each other and we did a pilot together last season and so, it just depends on so many circumstances ... I think if was up to Jason and me we'd be like, 'Yeah!' But even if my show got picked up, if everyone cooperated, I would be able to do a couple [episodes]. So I hope so, I would love that."
Amber and Ryan ... In Holy Matrimony?
Both of Sarah's children struggled with relationship issues in Season 4 too, but the sweet, tentative romance between Amber (Mae Whitman) and Ryan (Matt Lauria) was one of the year's most compelling developments.
"I loved it and I love Matt. He's one of my closest friends and being able to work with him is incredible. We found stuff within Amber and Ryan that I don't think any of us even knew was there and I really hope that we get to continue that journey," Whitman told HuffPost TV before the panel. "And also, a young wedding would be incredible because it does bring about some conflict and everybody would have [opinions]. It's just choices, and there's no right or wrong but it would be fun to see the different families' reactions to it. It'd be great to see two people who, more than anything, love each other but there are still difficult pieces about it. It would be nice to see that journey."
Thankfully, Katims was also a fan of the young couple's burgeoning relationship. "I love the dynamic between the two of them. I really like to, when we're writing these stories, not only come up with what we want to do as writers, but to react to what we're seeing," he said during the panel. "Matt's storyline wasn't meant to be as long as it turned out to be, but when we saw the dynamic between them, we extended it and then Mae cornered me one day and said, 'What if in the end, they're shopping for an engagement ring?' I'd love to continue that storyline, but again, Matt may or may not be available next year, so we'll have to see what happens."
"Oh, he's available," Whitman assured him.
Drew's Dilemma
Things weren't so simple for Drew (Miles Heizer) and Amy (Skyler Day), who were faced with the painful issue of abortion, which the show tackled with trademark honesty.
"I was very nervous in that, 'I'm gonna have to do this' and in real life it's such an extreme thing to go through and I don't want to do it poorly and have people who have actually experienced it be like, 'This kid has no idea,'" Heizer said on the carpet. "So that was stressful ... I felt a bunch of things that I had never felt before and it was really scary ... Weirdly, I didn't know anyone who had gone through it. I did a little bit of research, but it's also like, you almost don't have to in that, if you just think about how horrifying that would be, even just finding out that someone's pregnant and you're not expecting it, it's so scary. It was really intense, but I hope it turned out well."
Katims expressed his pride for Heizer when discussing the storyline on the panel, admitting that he was "blown away" by the arc and Heizer's performance.
"We always want to try to say what would really happen in a situation -- what we really believe in our gut would happen," Katims explained. "This one was a particularly difficult one, because it's obviously very tricky subject matter -- people have strong feelings about it. But I felt like, in my gut, that was a story I wanted to tell and then we set out to do it in a way that we wanted to make sure that we were accurate, but also very sensitive to it. I didn't want to politicize it -- I didn't want to make it feel or seem like we were telling the story because we wanted to throw an opinion out there about what we believe is right or wrong. We wanted to do what we try to do with all these stories, which is to get underneath the stories and tell them in a way that we feel is as real as possible."
Joel and Julia (and Victor)
The show's fourth season also showcased the painful and rewarding process of adoption, as Joel and Julia (Erika Christensen) struggled to integrate Victor (Xolo Mariduena) into their family.
"It was really gratifying at the end of the season to see that little crack in Victor that we had been looking for," Christensen said during the panel. "Julia, since Season 1, had been struggling with this work versus family 'how do I do it all?' thing and it finally came to a head with her quitting. She made a lot of progress as a mom. But I had fun, I had a ball."
Clear Eyes, Full Hearts?
As Katims was also responsible for shepherding the critically acclaimed "Friday Night Lights" for NBC and DirecTV, a fan asked whether we would see any further "FNL" alums popping up on the series, in addition to stars such as Lauria and Michael B. Jordan.
"Tim Riggins! Tim Riggins!" Whitman chanted optimistically, drawing a laugh from the audience.
"I hope so, I have loved bringing these actors in," Katims said. "The way that it's worked with the actors that have come over to 'Parenthood' is -- a bunch of the writers who are on 'Parenthood' were also on 'Friday Night Lights' so we'll be breaking a story, we'll come up with a character and someone will say, 'Somebody sort of like Michael B. Jordan,' and we'll say, 'Well, why not Michael B. Jordan?' That's how it has happened and we've been very lucky that those actors we've started to visualize for those roles were available and able to do the show." Katims assured fans that the next time a role came up that lent itself to one of the "FNL" actors, he would call them up and beg them to appear.
Gay Storyline?
Another fan asked Katims whether he had any plans for a gay storyline, and the producer confirmed that it was something he'd "love to find a way to do."
"The tricky part with our show is, so many of our characters are established," Katims said. "So if we could figure out a way to tell that story in a way where it feels like it's not from a character that we don't know, [who's walked in and isn't part of the show] ... I'd love to find a way to do that on the show."
Watch the entire "Parenthood" panel below: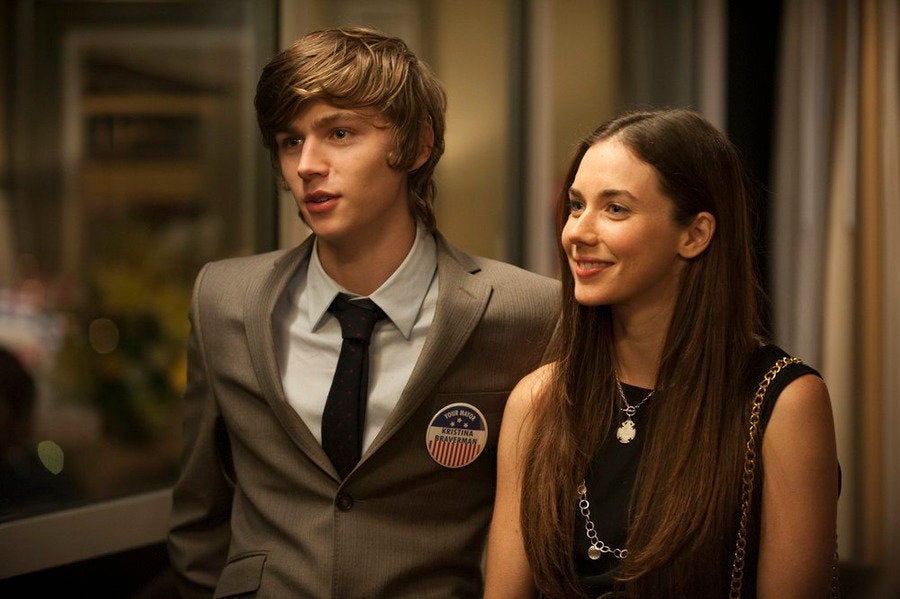 Parenthood
Popular in the Community