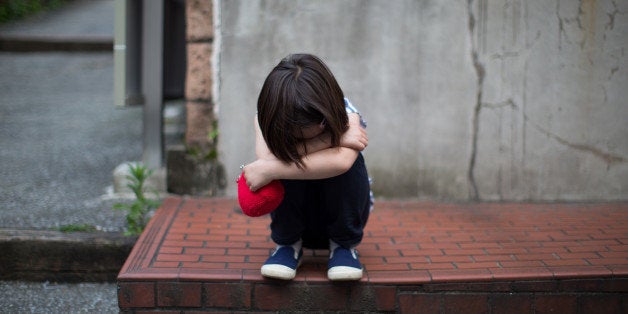 Recently, someone asked me if I'd be willing to write about the effects of my own childhood on my parenting style. I immediately felt the hairs on the back of my neck stand up, and a surge of adrenaline crept up my spine. Much like it did, when I was a child about to experience yet another display of hatred and anger in my unusual little world.
My childhood in one word? Debilitating. Growing up the the eldest daughter to a set of parents who divorced when I was just an innocent little 8-year-old girl, I sat privy to a world of ugliness, drama, and heartbreak -- and a battle that lasted almost half of my adolescent life. I watched the people I love most in the world hurt so deeply -- killing a part of me in the process.
My mother was, and continues to be, my very best friend. Having a front row seat to the pain and anguish that my parents' divorce caused her, coupled with the fact that the man who broke our family blatantly disregarded the fact that a very little girl was desperate for her parents to love and treat each other with respect, did more damage to my soul and self-esteem than I could ever quantify in words. When I realized I was powerless over the outcome of my parents' marriage, a debilitating lack of self-love filled my being, one that presented itself years later -- in the most critical times of my life.
I was a hot mess, to put it simply. Searching for love in all the wrong places, hating who I was through and through. "Daddy issues," as they call it. I could have been the spokeswoman for the term, yet went about my life as if I had been unaffected by the sheer horror of my childhood, what I was exposed to, and how I was treated in the process. I took it out on my body, starving myself and working out incessantly until I hated myself even more - constantly looking for a compliment to fill the void. I dated men who I allowed to treat me horribly and take advantage of my kindness and my ignorance to how a woman really deserves to be treated. I developed a really thick skin, convincing myself that I was immune to any more pain -- that if my own father wanted nothing to do with me, nothing else could hurt as bad.
By my mid-20s, I swore off marriage, continuing my string of unhealthy relationships. I sought out boyfriends and lovers for excitement -- always putting an expiration date on our flings to prevent the word "love" from entering the equation. I lived carelessly, paid little attention to feelings I may have been hurting in the process, and selfishly set off on a quest to find more excitement -- because too much was never enough, and consequences didn't matter.

And then, out of nowhere, I met "him." This "him" was everything I never wanted in my life. He wasn't wrong enough for me. He didn't have the ability to stomp all over my heart. He was everything I never expected could fall for a girl like me. He was everything that was too good for me. Too kind. Too trustworthy. Too honest. Too sweet. But somehow, he loved me. He saw past my tough exterior, deep into the depths of my soul -- one that reminded him of a broken bird, I presume, a broken bird desperate to be taken in and healed by the right kind of love. He forced me to look into myself, helped me dust off the goodness I buried deep within, and taught me to love openly and honestly. Then he married me. And then he made me a mother.
Within seconds of meeting my child, all of my fears and anxieties of what kind of mother I'd be dissipated. I had spent my entire pregnancy terrified that my daughter would grow up just like me, but in holding her precious 6-pound body for the first time, it was as if I knew instantly that no matter what life threw my way, no matter what situations presented themselves in my marriage -- this girl was NEVER to feel the way I felt as a young girl. Raising her with a high self-esteem and only positive feelings of self-worth has become my mission, a mission I am proud to uphold.

Because of my childhood, my daughter will never have to question whether she is good enough. Because of my childhood, my daughter will never have to feel responsible for repairing an unhappy home. Because of my childhood, my daughter will always hear how strong and smart and capable she is. Because of my childhood, my daughter will know exactly how she deserves to be treated by the person she loves, and exactly what kind of shit not to take. Because of my childhood, my daughter will always feel whole, with no void to fill.
Because of my childhood, I will always be the best mother I can be.