At this moment, I am surrounded by examples of how different parenting is today.
As I sit in this Starbucks, I see only dads with their kids. Beside me, there is a dad with his toddler getting a little morning treat. Over there there are two dads that clearly went for a run together with jogging strollers and are getting some snacks with their kids. Back home, J is holding down the fort, taking the Bug and Peanut to the "coffeeshop-cafe" and then to the Science Center while I'm away.
This is the face of parenting today. Families figuring out every day the definition of "balance" that works for them.
Maybe these dads are relieving their wives who are with the kids all week. Or maybe they take one morning while the mom takes the other weekend morning. Maybe they're divorcees and this is their weekend with the kids.
The details don't matter. The point is that this is not how most of us were raised.
There is so much focus on women and how they juggle it all that I think we do a huge disservice to these exemplary men in our lives that enable us to do this mythical "all."
These are guys that are pushing the boundaries to be able to leave at 5pm to make it home and relieve the nanny. They are the ones fighting to create their own definition of paternal leave when their kids are born, whether their company has a policy or not. They're the ones that gamely help out in the middle of the night with newborns when strictly biologically they "don't have to." They're the ones driving the kids to soccer and dance practice or attending the PTA meetings.
And this is important to me because it's more than a theoretical issue to ponder in my household.
Because back in November, I got a chance of a lifetime ― to have my start-up funded and mentored by Y Combinator. It was something that I have been working towards for a long time, in many ways like HBS 10 years ago. So to actually get that opportunity was beyond exhilarating.
The only thing is that from January to March I needed to be in Mountain View. California.
If you think building a start-up with a 4-year-old and an 18-month-old is hard, needing to be in another state for 3 months pushes that into near-to impossible.
Only I have this incredible husband and partner that understands that I'm not me unless I'm hurling full speed at one thing or another. He has an unbelievably challenging job himself that takes his all each day, but he knew how much this opportunity meant for me and therefore us.
So there wasn't even a second of hesitation. Just elation and pride.
You might say, sure, that's the easy part when it's not the reality. But 2 weeks in, I'm in the thick of it, including being away weekends.
And I am beyond grateful.
On this Saturday when I would love to be snuggling with my girls and doing lazy Saturday things, I'm in Mountain View working on our latest launch. And he has this great day lined up with our girls.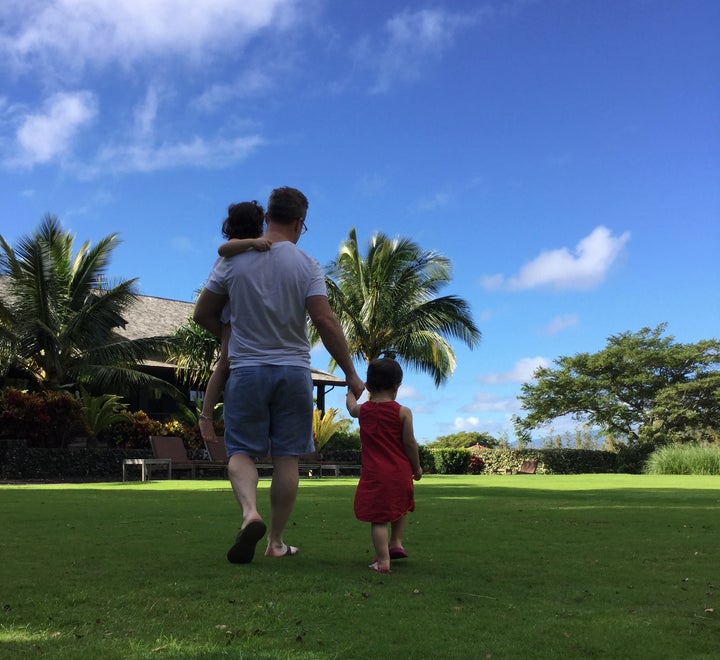 Sure maybe that shouldn't be something that needs celebrating because we're both equally their parents. But I am. Because even for me, when he's traveling, it's exhausting to have the kids all by yourself, days on end.
It is incredibly difficult to not only do and get through these days, but do it with an enthusiasm and positivity that is really hard to muster when your 18-month-old is using the hardwood to do her best Picasso impression and your 4-year-old is demanding to do a "Paw Patrol" mission and lunch needs to be made.
So yeah, I think that deserves some recognition.
Dads everywhere are stepping up and into roles that define modern families completely differently.
It's so far from perfect. But that's also so far from the point.
The trying and the doing is the point. And I can see the results. Both in my role leading a company that is redefining how technology solves the problems of families and also as a mom trying to be a good and present mama.
Families aren't what they used to be.
And from where I'm sitting? It's a beautiful thing.