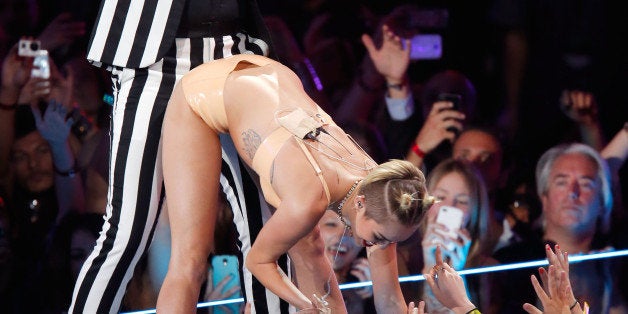 It's your teenager's job to upset you. To push your buttons, society's limits, and that metaphorical envelope. They have so many ways to do this -- the way they dress, the language they use -- but their tool of choice is most often their music. For generations kids have used music to horrify their parents -- think Elvis' pelvis, the Beatles' haircuts, Madonna's very existence. Heck, in the Roaring '20s the Jitterbug was seen as salacious.
So if it's your kids' job to make you fear that the moral fabric is doomed, what then is your job as their parent?
The latest test of this question is Twerking, that charming dance craze that is a simulation of anal sex, or, it seems, an invitation to it. Depending who you ask, twerking started in strip clubs, or among prostitutes, or as a sacred tribal rite in Africa, and in addition to the sexual overtones it also has racial ones. Most recently -- and publicly -- it was what Miley Cyrus more or less did for four much discussed minutes during prime time last month (click here to read the outraged complaints to the FCC).
That performance seems to have been the last straw for many parents and educators. Or maybe it was the first they'd heard of it. Either way, they have been reacting. Frances Hena responded to news that 11-year-old Jamie had been dancing lewdly at her Bakersfield, CA middle school by having the girl hold up a sign on a busy neighborhood street corner that read " "I was disrespecting my parents by twerking at my school dance." And Kris Arason, principal of Red River High School in Grand Forks North Dakota reacted by announcing at the homecoming dance last week that "face to face with space" was the only kind of dancing that would be allowed.
The effect of these expressions of adult disapproval? Pretty much what you'd expect. In Grand Forks, about 3/4 of the 200 students "sashayed out the door" according to the Grand Forks Herald and held their own moveable dance, first in a medical center parking lot and then in front of the town's middle school. In Bakersfield, it's unclear what Jamie's long term response will be, but experts are clear that humiliating kids in public is not the way to teach them a lesson. As Dr. Claudia Gold, the head of an early childhood emotional health program in Mass, told Time Magazine earlier this week: "Unequivocally, it's a bad thing to do and certainly has negative long term consequences. The mother was probably terrified that something was going to happen to her child because she was doing this sexualized [dance]. ... But then she unwittingly goes and does exactly the kind of thing that will cause [more of] that kind of behavior."
Now, don't get me wrong. I was not a fan of Miley's performance. I said so quite publicly at the time, and I say it again now -- but my reasons had nothing to do with fears that this latest dance craze was somehow the end of civilization, but rather because I thought she was being used. Whoever in her entourage thought it would be a good idea for her to grind on Robin Thicke and a troupe of plush bears as a declaration of adulthood gave her some exceedingly bad advice.
But a kid at a school dance? They have far less public goals. And what is to be gained by banning and shaming them? It's a lost cause that almost always backfires. It didn't work in Footloose, or Grease, or Dirty Dancing or West Side Story. And it won't work in Bakersfield or Grand Forks.. or your house.
Throwing it in your parents' faces that you will NOT be them -- won't dress like them, listen to music like them, accept limits like them -- that is, after all, the very definition of adolescence. The entire purpose of the years between tweens and twenties is to convince oneself that your parents know nothing, because how else to build up the head of steam needed to propel teenagers into their own orbits? The hardest thing a human child has to do in life is to separate themselves from the people who made them. To do that they must define who they are. Which means that first they must define who they are not.
So what is your job? To keep them safe while they figure it out. First that means deciding what safe really is. Sex too young, sex without protection, illegal drugs, abuse of alcohol -- those are actual dangers. I'd argue that recording very private things for public posterity falls into this category too. But leading with your butt when you dance because you know it will completely shock the adults? That's probably not the end of the world.
Now, here's the tricky part. You can't let on that you know they're mostly testing, because they can only push the limits if you provide some. So go ahead, rant all you like about kids nowadays. Be as shocked and dismayed as they need you too be. Tell them what it was like when you were their age, and lament what the world is coming to.
But also learn to look the other way for the parts you realize don't really matter -- so they can do it, discard it, outgrow it, and, one day, cringe at it. Rest assured that will happen by the time their own children have invented something even worse.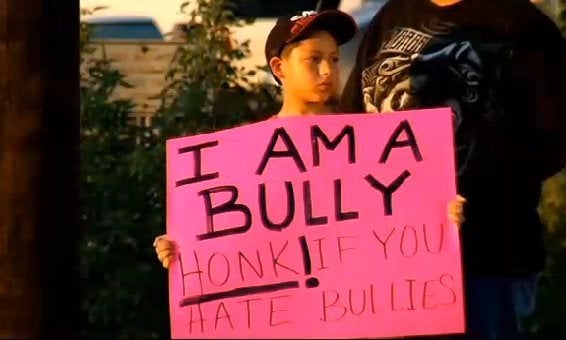 Kids Who Have Worn Signs As Punishment