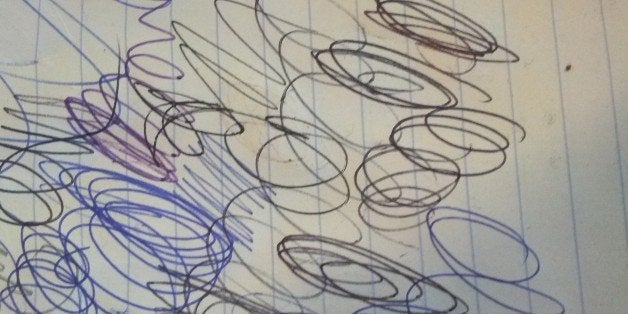 Scribble marks on a legal pad greeted me as I walked into the office. It was the first time in a week that I didn't have a child attached to my hip. The contrast of seeing my preschooler's drawing sitting next to a mountain of legal textbooks made me laugh.
Last week started with a painfully long "to-do" list. I had papers to grade, meetings to attend and I had to pack my family for our upcoming road trip. I organized my calendar and purchased enough coffee to manage it all, but when our 2-year-old spiked a fever on Monday, my plans evaporated and I panicked.
Responding to emails and grading papers suddenly took a back seat to snuggles and Elmo. Luckily, my amazing husband took the afternoon off and I was able to complete most of my work. Little girl was better by Tuesday, and on Wednesday, we packed up the minivan and left for our trip. I had high hopes of relaxing with the people that matter most in my life.
I did relax. Somewhat. My stress from the office suddenly paled in comparison to the work of wrangling three kids to sleep in one hotel room. I agonized about work and excused myself from fun activities to quickly respond to emails. And while my sweet husband offered to let me sleep in and rest in the mornings, I was anxious and insistent on filling every moment of the day with an activity. There was screaming, occasional fighting and things often didn't go as planned, but we had a blast.
The kids spent time with their cousins. I even snuck away for a massage. I put down the phone and marveled at the kids and our surroundings. By the end of the trip, I disconnected from everything awaiting me at home and reconnected with my loved ones.
We pulled back into the driveway five days later with four loads of laundry, a handful of random souvenirs and an incredibly filthy car. I smiled at our happy kids, who couldn't wait to share the trip's highlight reels with their classmates the next day. I started the work of unpacking and preparing mentally for the week ahead.
The next morning, I eagerly handed the kids off to their amazing teachers. I had stacks of work waiting for me, and I felt guilty realizing I was excited to get started. I poured myself a cup of coffee and stared at the papers waiting for me to grade. As I pulled out the grade sheet, my mind wandered back to the family adventure that consumed me just days ago. I wondered where the time went. I yearned for it back.
Parenting. It's a strange beast. One moment, all I want is to spend time fully present with my kids and the next moment, I want to pass them along to another caregiver. If I don't feel guilty about letting them watch TV, I feel guilty about letting the laundry pile up. When I am at home, my mind wanders to my work at my desk, yet when I am at work, I can't wait to get back home.
The good thing is, I know I am not alone.
Our generation is full of women stuck between scribbles marks and board meetings. We are all trying to navigate past the guilt and towards the balance we think others have found. There is a sisterhood surrounding us, whether our work of the day involves art projects, volunteering, and skinned knees, or whether our days are filled with meetings, emails, and clients.
I take my daughter's scribble drawing off my legal pad and tape her artwork to my office wall. Today, I'll grade final exams, but tomorrow, we'll make family memories. Sometimes, this balancing act looks a lot more like my daughter's scribbles than my organized planner. And I'm starting to not only accept it, but to revel in the wonder of it all.
There is beauty in the scribbles. There is beauty in the ups and downs, the ins and outs, and in the waves of life well-lived. I think kids know this innately. But as we over schedule, over-commit and over-analyze, we grownups tend to forget to seek out the beauty in life's constant rhythm.
My mentor, Singer/Songwriter Amy Steinberg reminds me, "I am exactly where I need to be." You can listen to one of my favorite songs, "Exactly," by clicking here. If Amy's music helps you recharge and reconnect, consider purchasing her music on Amazon.