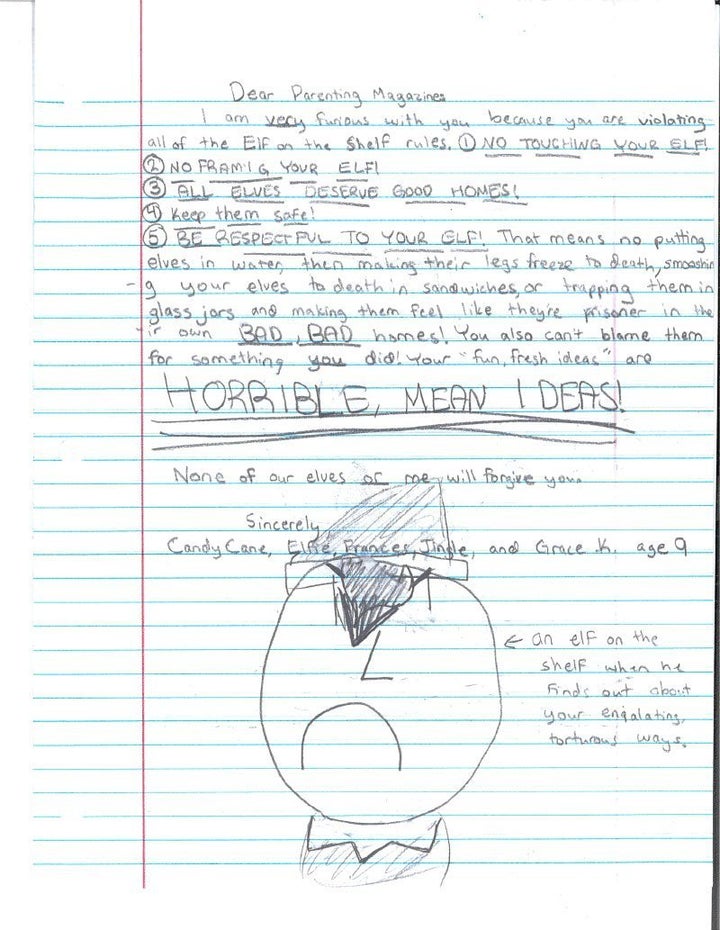 We here at the Pop Culture laboratories, a cramped space between the office supplies cabinet and the fire exit at Parenting headquarters, get hate mail. And when it's handwritten hate mail, it always comes from two kinds of people: prisoners and the emotionally disturbed. Apparently these people do not like Microsoft Word or Gmail. They like stamps and Ticonderoga #2s. They scribble long-winded vitriol using a lot of capped letters and exclamation points. ("YOU ARE A FAILURE AS A FATHER!!!!!" wrote one enthusiastic fan.) It's kind of like Twitter, if Twitter had existed in the 18th century, and accommodated 140,000 characters.
Earlier this week, we received two handwritten letters, and boy, were these people mad. I glanced over them briefly, then dismissed them. But then a colleague pointed out something important: These letters weren't from the incarcerated or the emotionally disturbed. They were from little girls.
The authors were Grace, age 9, and Hannah, 7, sisters from New York. The two girls were angry--or to use Grace's word, "furious"--about a story in Parenting's December-January issue. The article was titled "L-O-Elf," and shared kooky things to do with your Elf on the Shelf during the holidays. (If you don't know what Elf on the Shelf is, arise from your squalid basement hovel, locate a magic picture box, and click here.) The story included a couple of my ideas, such as the North Pole Jacuzzi (freezing the elf in water in a Tupperware container) and the B-Elf-T (putting him between two slices of bread with lettuce).
Grace and Hannah were not pleased. "Dear Parenting magazine, all elves need RESPONSIBLE owners. It sounds like you don't care about your elves at all," writes Hannah.
"I am very furious with you because you are violating all the Elf on the Shelf rules," explains Grace. "That means be respectful of your elf. That means not putting elves in water, making their legs freeze to death, smooshing your elves to death in sandwiches... Your 'fun fresh ideas' are horrible, mean ideas." She added a drawing of a frowning elf. The caption reads, "An elf on the shelf when he finds out about your torturous ways." (Did a 9-year-old just use 'torturous ways'? Is Grace already reading Charles Dickens?)
Getting hate mail from children is a first for us, and to be honest, I couldn't be more pleased. I envision a family gathered at a kitchen counter. Grace gets curious about the magazine or website Mom or Dad is reading. She sees an elf, and gets excited, but her demeanor changes when she realizes what the story is about. The elf is frozen! He's smooshed in a sandwich! Younger sister Hannah comes downstairs, wondering what all the hubbub is about. She gets a rather indignant explanation from her big sister. The two morph into the Jimmy Hoffa of the elf union. They are inspired to write letters to the editors of Parenting. Mom and Dad encourage them. The sisters grab pencils and pens from the drawer, and paper from Dad's printer. They write, mess up, crumble, and start over. When they're done, the letters go in the mailbox.
This is a parent encouraging passion. This is a parent validating their child's point of view. This is everyone working on a project that places value on togetherness, not productivity. This is family bonding at its finest.
I'm reminded of all the ridiculous things my mom and dad helped me with: typing up a movie idea and mailing it to Universal Studios when I was 11; driving me to Jo-Ann Fabric for materials for my pro wrestling costumes; submitting to my inane interview questions with a dictaphone in their faces. They never told me I was wasting time. They never told me my imagination had gotten off at the wrong exit.
To Hannah and Grace's parents, if you happen to come across this blog post, please share this brief message with your daughters:
Hannah and Grace, thank you for your thoughtful letters. We here at Parenting are sorry our story upset you. Please know that we would never hurt any of Santa's elves. My family has an elf named Cinnamon who keeps an eye on my two boys, Jackson and Tanner. We are very respectful of Cinnamon, but he's a troublemaker. One morning, he had his head stuck in a bag of chocolate chips. The next day, he was fishing in our toilet. But like our sons, we love him just the same. Thanks to you, Parenting is now even more committed to respecting and taking care of all elves. Because like you both wrote in your letters, "Every elf deserves a good home."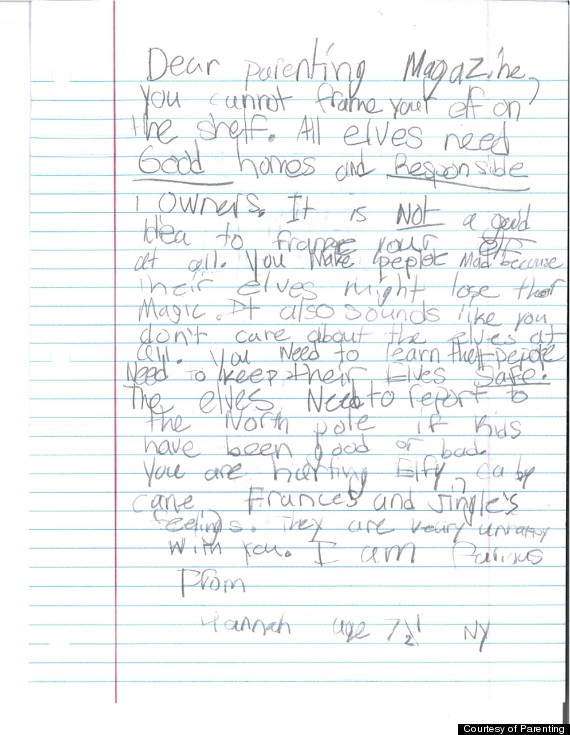 Grace's Letter: