Over the years, Brian Gordon has made a name for himself with Fowl Language Comics, his hilarious and relatable series about parenting. One of his latest comics deals with a pop culture craze that has swept millions of households: Fortnite.
Gordon, who has a 10-year-old son and 7-year-old daughter, illustrated a surprising side effect that many parents of young Fortnite players have undoubtedly noticed: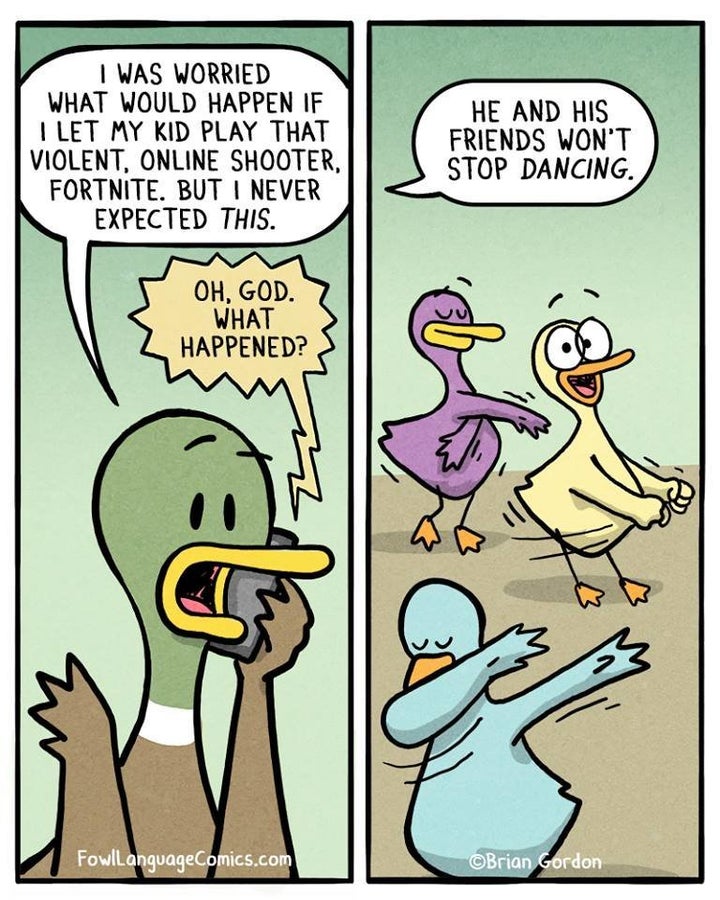 "I was worried what would happen if I let my kid play that violent, online shooter, Fortnite," Gordon's duck dad character says. "But I never expected this ... He and his friends won't stop dancing."
Gordon's comic was inspired by his own experience letting his son play Fortnite.
"We're a video game-loving family. I've been playing them since the age of Space Invaders, but it's always been a pretty sedentary endeavor," Gordon told HuffPost.
"This recent game has had some weird, real-world ramifications. I'd see my son with his friends dancing in public and I knew something was up!" he added.
While spontaneous dancing is an unexpected side effect of a video game, Gordon said he was especially surprised to see his son start grooving in public.
"What's most hilarious to me about the whole thing is that in the past, whenever I'd play music at home, my son would be too mortified to even dance around in the privacy of our living room," the dad explained. "Now he's busting these ridiculous moves absolutely anywhere and everywhere in public ― and usually without music!"
The comic earned more than 11,000 likes on Facebook, and the comments section is filled with parents sharing their own kids' Fortnite dance stories.
"I was pleasantly surprised that so many parents could relate! It's always nice to know that you're not going crazy alone," said Gordon. "Like all my work, I just hope they can get a chuckle out of it and remember that we're all going through the same crazy stuff with our nutty kids together."