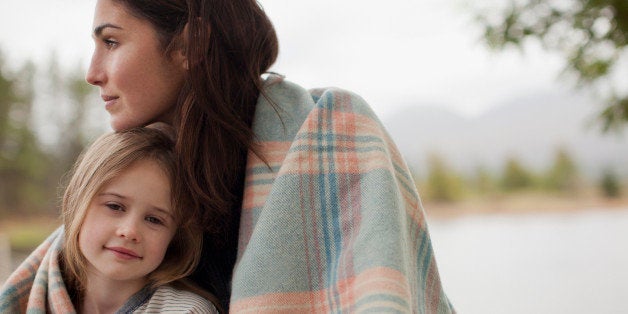 I start out each day determined to be calm with my kids but it doesn't last long. I have friends who meditate but I don't think I'd be very good at it because I have a very restless mind. I want to be patient but after doing things for my kids all day I mostly feel impatient and resentful.
Do you know the adage, When mom's happy, everyone's happy? It's not always true, but there is something to the fact that when parents are not taking care of themselves, they will find it harder to look after anyone else.
If everything you do from morning to night is about meeting the needs of your family, you may easily build up resentment. That's okay! Just because we've become parents doesn't mean we've changed species, or that we should be applying for sainthood. Martyring ourselves for our children is not healthy for anyone.
It is essential that you find something that revitalizes you -- and there are many options, including but not limited to meditation. Some of us are nourished by walks in nature or arranging flowers. For others it's dance or music or making art -- even something simple like a quick sketch or a beaded bracelet that you work on now and then. And for others, it is prayer, meditation, or reading inspirational writings.
While meditation can be wonderfully restorative (and trust me, after meditating for over 40 years I still have a restless mind!), we all need what I have come to call Soul Time -- that space we carve out that allows us to step away from our role as mother, father, wife, partner so that we can commune with the Me that is beneath all of the ways we move through this world.
What nourishes your spirit? If you set aside time regularly to do something you love -- without feeling guilty about it! -- you may find that the resentment you carry toward your family begins to lessen. Make sure the activity you choose is highly useless! The point is not to do more, or to be productive. Rather, Soul Time is about reconnecting to a sense of peace and quiet joy that provides a food for our spirit.
I have worked with thousands of parents over the years and have learned that when they refuse to look after their body, mind, and spirit, they find it difficult to show up with love and patience for their children.
Explore ways that to step away from the doing of your day to just be still. It may simply be that you close your eyes for a minute while you touch your heart and say, "There, there!" with great love and compassion. It isn't about how much time you spend nourishing your spirit, but simply that you honor yourself enough to do so. Try instituting some Soul Time for yourself right now -- take a pause, step into stillness, and enjoy.