Parenting isn't exactly my religion, but I am one of those modern American mothers who takes my role seriously and with great care.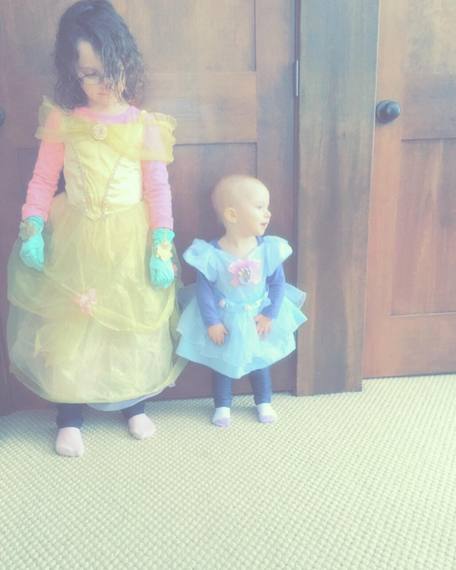 To be fair, most parents take the role of mother or father seriously and with great care. Still, when I hear it said that parenting is America's new religion, and that it's killing marriages, I do relate.
My marriage is important. Obviously. In my family, our children are directly a result of our union. This said, my children are important and, with two kids under the age of 5, they take up not only most of my time, but a lot of my emotional and mental energy, too.
At the end of the day, both my husband and I are tired. We have to work at wanting to connect, rather than just parking our rears on the sofa with a glass of wine and Netflix. Modern parenting and marriage aren't easy -- but have they ever been?
I wouldn't call my children my religion, but they are definitely my life. Particularly as a stay-at-home mom, my days are spent with them, and my evenings are as well, and then there's only about another two hours before I want to fall into bed myself. Is my marriage as exciting as it was before we were parents? No, it's not. Would either of us change our current lifestyle? I sure as hell wouldn't.
I love being a mom. I love this time with my kids and, especially as I face my oldest moving into kindergarten next year, I'm already heartsick at this loss of the near-constant time that I'm fortunate to spend with her.
One day, there will be no dirty diapers to change. There won't be noses to wipe. There won't be sticky hands grabbing my face to kiss me. There won't even be a school bus to meet at the edge of our stone driveway. Nurturing my marriage is crucial -- if we want to stay friends, and preserve our relationship outside of sharing these children -- because one day we won't have little people who need us pretty much all the time.
It's a challenge to stay connected as partners when being parents is so physically intense and demanding. But we try. I would suggest that most couples try, with or without kids.
There will always be instances when life simply got in the way of a connection between two people. Maybe it's children, maybe it's a job. This isn't to diminish those specific difficulties that parents face when attempting to maintain a close bond, in addition to being a "good" mom or dad.
But I only get one shot at raising my kids. My girls only have one childhood, and I'm trying my damnedest to make sure that it's as good a childhood as I can offer to them.
Is Parenting with a capital "P" America's new religion? I'm not personally proposing this. I will, however, offer that parents today -- both mothers and fathers -- are increasingly aware of what it means to be a "good" parent.
My husband comes home from work, and the first thing he does is give me a kiss, as our daughters run ecstatically to greet him. His whole day is centered around providing for these two people, and their mom. He is a person outside of my husband, and their father, and he has to try to make time for this man, too -- not that it's easy, and not that he has much time to spare. (The same is true for me, as their mother, and as an individual.)
So, no, I'm not calling my religion "Parenting," but I'm also hoping that we don't have to throw away American marriages, or speak sarcastically of valuing parenthood, to remember how important it is to raise kids.
My religion is love. Cheesy, but true. My religion is showing my kids love, and gifting them with my time and my heart. I'm trying to raise kind people, and I want them to grow up in a world that celebrates diversity -- one where we notice our similarities before we see our differences.
Is it really so wrong that parents today find the value, joy and shared responsibility in investing in our future -- our kids?