In Los Angeles, parenting is a competitive sport. From Beverly Hills baby boutiques to kids yoga classes, LA fuses high style, industrial-strength materialism, and parental outsourcing into our own unique version of child-rearing.
LA is also home to one of the largest parenting divides in the nation. The divide predictably falls along economic lines and mirrors the city's overall gap between rich and poor. According to the nonprofit Liberty Hill Foundation, the top 50 wealthiest Angelenos' total net worth of $60 billion is more than that of the poorest 2 million city residents combined.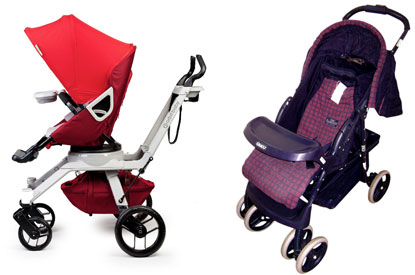 I grew up on the fault line of this divide. During school hours, my LA childhood had many of the trappings of those top 50 families. I attended exclusive, Westside private schools reserved for the lucky (rich) few. My classmates lived in massive homes in Brentwood, Bel Air, and Pacific Palisades. They were picked up in Mercedes Benz and fed five-star dinners by maids.
After school, I was picked up in a '70s Buick and driven to a Hollywood apartment where my mom made me Hamburger Helper, frozen lima beans, and let me watch Brady Bunch reruns. I was a sucker for Jan and the cheeseburger macaroni flavor. My weekends were spent on the Sunset Strip, watching drug deals and talking to hookers.
I mention this contradictory childhood only to support my bona fides as someone who has seen the LA family life from both sides of the divide. Now, as a father of three, I walk that same fault line, although in a less dramatic fashion. I live in the social purgatory of the San Fernando Valley, while my eldest daughter is bused to a charter school in the fantasy land of Bel Air.
My one concession to my tenuous middle class success? I take my kids to a farmers market each Sunday to buy organic produce. I vowed to never have a box of Hamburger Helper in my house nor a bag of peas in my freezer (except for that vasectomy recovery; hey, after three kids, a man must take precautions). The farmers market is the great equalizer: Westsiders and Eastsiders alike, all fighting over the same Persian cucumbers and fresh pomegranate juice. Everyone pays cash, and no one gets valet. It's a nearly perfect Los Angeles utopia -- except for the strollers.
The stroller is a potent symbol of the LA parenting divide. In fact, Los Angeles is a tale of two strollers. For a town that doesn't walk, some Angeleno parents put as much into their strollers as they do their cars. Strollers are not just for the transport of babies and toddlers -- they're a lifestyle choice. LA strollers give the first clue as to the parent behind the wheel.
My stroller of choice is the Graco Classic. It's the '70s Buick of strollers, bulky with a complete absence of style. There are no good lines on the Graco. Yes, it has cup holders, like any self-respecting car or stroller does these days, but the luxuries stop there. It's the kind of vehicle you're embarrassed to valet. I park a good five blocks from the farmers market so I can remove my Graco from the car in privacy. It also takes about ten minutes to open and close. Subjecting myself to such humiliation in a parking lot with a line of cars vying for my spot is more than I can bear.
The Graco stroller also handles like a '70s Buick. It doesn't hug the corners, and its wide turning radius renders it impossible to make the U-turn from Angel, breakfast burrito man, to Oscar, the Fresno persimmon grower. The Graco makes every turn a five-point turn -- bringing back painful memories of driving to Brentwood School in my mom's gold Buick Skylark: the drop-off roundabout was always too tight for the car or her driving skills. After a third attempt at repositioning herself and dinging Alan Katz's parents' 280 SL, Mom would slide over to the middle of the ripped beige vinyl bench seat to make room for the track coach, who'd steer the car to safety.
Last Sunday, in the middle of my farmers market five-point turn, I made the cardinal stroller error: I backed into an Orbit. The Orbit is not a baby stroller; it's an "infant system" that utilizes ten different technology patents. It has a "paparazzi shield" (trademarked) to protect LA babies from sun, wind, and TMZ. Its fabric is certified 100 percent green by the International Oeko-Tex Association. That's right... the f**king International Oeko-Tex Association. My Graco stroller seat is made from vinyl that will sit in a landfill for centuries after giving my kid a skin rash.
The Orbit costs $900. Can't afford $900 for a stroller? Tell that to your kid as he's watching Daddy peel his Graco from the paparazzi shield, praying no one is looking. Mark this day as the first in a series of events leading to the realization that he's not good enough to be protected from deadly UV rays or prying farmers market eyes. Hopefully, his kids yoga class will help with the trauma.
As for me, I'm wondering if I can lease one of those Orbits like my boss leases his BMW. No one actually owns a car in LA, so why must I buy a $900 stroller that will depreciate as soon as I walk off the lot? Or maybe there's a Cash for Stroller Clunkers program?
Next week: Hippie Silver Lake moms' baby slings vs. Westside moms' Baby Bjorns.
REAL LIFE. REAL NEWS. REAL VOICES.
Help us tell more of the stories that matter from voices that too often remain unheard.