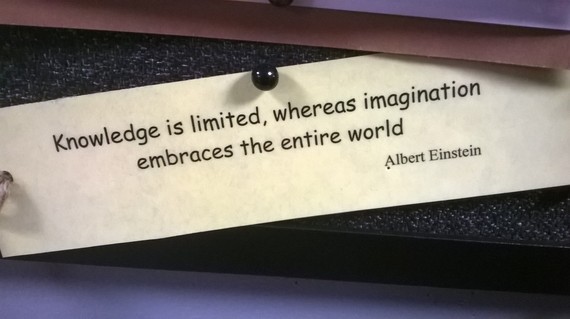 Knowledge is limited, whereas imagination embraces the entire world - Albert Einstein
As I went to pick up my 4-year-old from his preschool the other day, I happened upon the noted saying above pinned to the board hanging outside of his classroom. The wisdom held within stands as a gentle reminder of the delicate balance we, parents, must strike in fostering imagination and passion with societal expectations and social norms so that our children might flourish creatively and exuberantly without allowing them to run amuck.
The fact of the matter is, without imagination progress would fail to exist as would any new knowledge that might come to pass, ultimately, leading to the shortened lifespan of man overall. It is imagination that drives creative solution and determines "future" -- both good and bad. Every day, we are touched by examples of this truth, whether it be Jeff Bezos testing out his new Delivery Drones or the "next-generation explosives" currently being developed by al-Qaida, now threatening families' holiday travel. Imagination plays an integral role in both scenarios, despite dramatically varied intentions.
What we term "Entrepreneurship" in our more adult, sophisticated lives is actually children's imagination still at play but all grown up. Its intent goes well beyond the passion of just "doing." Ask any successful entrepreneur what he or she does all day. The overriding answer will be "play." It's my answer and I am not unlike any other entrepreneur in this world who followed a dream and made it work. Keep in mind that "play" does not mean that entrepreneurs live in an insulated world from problems. It just means that "play" integrates issues and failures into that term.
Entrepreneurs spend their lives riding the waves originating from their own imaginations and much of this behavior begins when they are quite young. It's a wonderful reality moms and dads need to readily remember during childhood moments of absolute adorableness or maddening mayhem. Fellow parent and entrepreneur Cameron Herold does an excellent job of explaining what the right parental support can do for an imaginative child and eventual entrepreneur when he revisited his own childhood during his 2010 presentation at TEDxEdmonton. Take a few moments to watch this video as the information shared is invaluable, provocative, and might make you view some of your child's unbridled enthusiasm a bit differently going forward.
It saddens me to think of how eager society is to thwart our children's imaginations past preschool. Suffice-it-to-say, many of our biggest problems today -- for example the state of our U.S. school system -- will rely on the very thing to fix it that it aggressively breeds out. I promise you, it won't be the conformists that figure out how to go from A-Z this time. And while we wait, the best we parents can do is to turn this travesty into an opportunity -- flooded with inspiration and imagination -- by proactively filling in the gaps at home.
My personal hope is that someday, we have schools that build from foundations immersed in imagination, further supported by the practicalities of traditional education. That dream might only take form in the 'private institution' sector for now, but truth-be-told, for every child fortunate enough to emerge from these particular seeds, others will benefit. There is no telling how many wonderful offshoots could spring forth and improve the lives of the world of children.
Given this train of thinking, one might be less inclined to worry about markers on the walls or the play-doh enmeshed in the carpet, understanding the magnitude powerful imaginations play in the future of mankind. After all, wasn't it some parents' child who imagined a universe filled with the creative doodles of artistic tykes upon walls that previously could never be cleaned but now 'can' due to an ingenious change in the composition of the paint chosen to protect those walls?
That innovation didn't happen through magic but imagination! Sorta "hits home" when the last thing you want to do is paint the walls of your home once again, doesn't it?