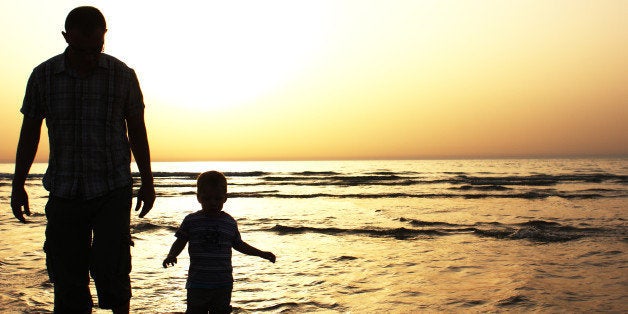 The funniest thing I've read recently -- far more absurd that Donald Trump being the Republican frontrunner for president -- is that Germans have studied happiness and determined that having children is hard. I'm not sure I'd trust Germans on being the experts in happiness, but the study raises questions about whether science is missing the point about parenthood.
Rachel Margolis, a sociology researcher at the University of Western Ontario, and Mikko Myrskylä, director of the Max Planck Institute for Demographic Research, set out to discover why people in developed countries say they want more babies than they eventually have. You can read the study in the August copy of Demography magazine unless you're like me and let your subscription lapse.
What Margolis and Myrskylä discovered is that having a first child causes a drop in well-being that is worse that when your spouse dies, you lose your job, or get divorced. To which every parent I know rolls their eyes before getting back to the business of keeping the caterwauling poop-machine alive long enough to sneak the nipple of a bottle past their flailing hands into their panicked mouth and hope -- please God, hear my prayer -- that he'll be calm enough to eat.
Of course having young children is hard. Going to the park to watch your progeny achieve the Olympian feat of negotiating the toddler playscape while you make idle chitchat with other parents is high-intensity boredom. Having a newborn in the house feels like a permanent hangover without ever having fun in the first place. You have to keep this baby alive while you feel like you're dying from lack of sleep.
Yes, as Margolis and Myrskylä point out, there is societal pressure to proclaim that becoming a parent makes one deliriously happy, but if you've ever done this -- had a baby, not conducted a study about unhappy Germans -- then you know that these sociologists have intellectualized an emotional experience. For me, becoming a father -- heck, a dad -- was about falling in love.
I didn't take one look at my first son and dissolve into a puddle of warm goo. At first, it was all about responsibility: keeping the kid alive, tending to his mom, ferrying the in-laws about, going to work, and a million other things that I only remember now as a grumpy haze and a time of selfish resentment. "Don't worry," a friend counseled me. "Wait till he smiles at you."
To this day, there is nothing that makes me happier when my first son forgets he's a teenager and smiles, taking me all the way back to when his soft head fit into the palm of my hand and the rest of his body rested along my forearm. When he rested on my chest, he would literally warm my heart as I felt his tiny breath against his neck. When I fell, I fell hard.
I learned intimacy from my sons. When a little dude smiles at you while you're wiping his backside it expands your boundaries, but it was the emotional connection that really changed me. He could look at me with naked delight, unafraid of closeness and real eye contact. He didn't think it was weird that I held him in my arms and sang lullabies. He didn't even mind that the only songs I knew were "Take Me Out To The Ballgame" and "The Eyes of Texas."
I knew his body language better than I know English. I knew when he was hungry or tired or bored. I knew where to stroke his face to make him go to sleep. I had fallen deliriously in love with a toothless midget, and when we had another son I learned that you don't fall in love with each child in the same way. Every age they reach is my favorite, and they make me proud just by being themselves. I'm hopeless, I know.
Maybe you had a different experience as a parent. Maybe you never got past the intense misery of the early years or let your guard down to forge that bond. Maybe when you look at your children you're not helplessly in love.
If so, you're probably German.