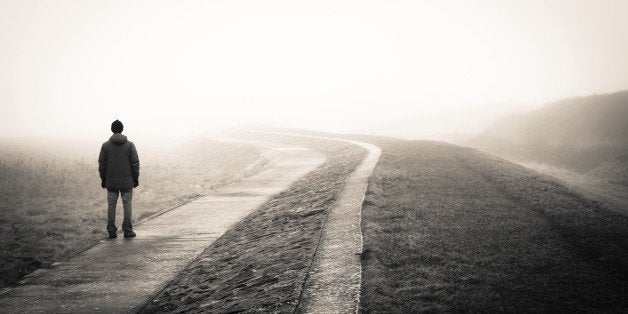 My name is Mary and I'm a parent of teenagers. I wish I could share more specifics with you. I'd like to talk about the day-to-day stresses and triumphs that make our family life what it is. It might be cathartic to tell you why I cried last week, or to write a blog post about a lovely conversation I had with one of my children. But I won't do that. It wouldn't feel right.
It wasn't always this way. When my kids were younger, I was quite open about the routine -- and not-so-routine -- things that happened in our home. In fact, when they were in preschool and kindergarten, I wrote a column for a local parenting newsletter and shared all sorts of anecdotes about our family. One essay was about the kids misbehaving in restaurants; one was a weepy piece about how fast they were growing; one was a dramatic account of a scary day at the pediatrician's office. In each of those articles, I was quite open and honest, because the kids neither knew nor cared. "Mommy writing" was -- and remains -- a popular literary genre, and I believe it plays an important role in society.
I also had many open, honest conversations about kid stuff with friends and acquaintances, especially others with young children. It was a huge relief to vent and kvetch about potty training, food issues, separation anxiety, and the socially inappropriate things our kids did. Talking about parenting made us feel less alone, and my husband and I were fortunate enough to bond with many parents in our community.
Then there was the day one of my children -- a toddler -- bit another toddler at the town beach. Blood flowed from the victim's nose; someone called a paramedic; chaos ensued. It was a terrible scene for so many reasons, and after the bitten child had been bandaged and taken home to rest and heal, I couldn't stop shaking. It wasn't the first time my child had bitten someone, and I was starting to wonder if I was raising a young Hannibal Lecter. But as I gathered up our belongings -- still sobbing -- another mom came over and comforted me. She told me her child had gone through a biting stage too, and assured me that my kid would probably stop chomping on other people soon. (She was right.) The two of us remain friends today.
But now our kids are teenagers, and when my husband and I get together with other parent friends, we tend to talk mostly about work, goals, travel, and community-related topics. Sure, we'll ask how the kids are doing, but we disclose very little specific information. Due to the nature of their age, it's pretty much a no-brainer that all the kids are struggling with at least one "teenage issue," but most parents, including myself, are reluctant to talk about those things with peers. It feels too private. After all, our kids are only several years away from being adults, and what right do we have to toss their problems out there on the table for public dissection?
Ditto for blogging about them. I can't even imagine putting anything on the Internet about my children without their explicit approval, and I always ask if it's OK to post an occasional photo on Facebook. Therefore, whenever I read a blog or Facebook post by a parent struggling with a difficult toddler, my feelings are bittersweet. I'm glad they have that resource for venting frustration and gaining much-needed support, but also a little sad that such a thing isn't so readily available for parents of teens.
Of course, there are wonderful places that offer professional help. I'm extremely fortunate to live in a country where assistance with serious problems is often only a phone call away. I also have a great husband, and good friends and family members to call when I really need them. But I miss those moments spent with my local mommy pals back in the day. I miss the tears we shed together, the jokes, the random conversations on the playground or in the grocery store. The funny parenting stories shared over a beer at a cookout, or a bagel at Panera. The luxury of firing up the laptop and banging out our latest household saga.
"That's life," someone said recently, when I mentioned this predicament. "You can't stop time from marching on. And maybe you'll have grandchildren some day."
True enough. In the meantime, would you like to hear a story about my dog?