I recently watched an interview with the stunning Maria Kochetkova, principal dancer with the San Francisco Ballet. It left me feeling remarkably inspired, and I have been trying to figure out why ever since. I mean, she flutters across the stage in the blink of an eye, dances larger than life, and maintains a seemingly impossible level of precision in all of her repertoire. But really, besides the fact that she takes my breath away as she steps on stage, what was it that she said that made me so happy?
I watched it again (actually, an embarrassing number of times), and found the gem. She listed all of the things that are wrong with her body (she's only five feet tall!) and assertively brushed them aside, explaining how there are many obstacles in the career, but they are there to "make you stronger." It took her a very long time to get where she is, she says. It didn't happen overnight.
She really hones in on the issue of body image, and I noticed that Misty Copeland, soloist with the American Ballet Theater, followed suit in a similar interview. Retired gymnast Shawn Johnson also just launched a website celebrating a positive sense of self and wellness. See a pattern here? This isn't just in dance and sports: Recently there was a global outcry over Cosmopolitan magazine's absurd definition of a "plus-size" model.
Specifically among dancers, there is a tremendous amount of pressure to look good. That is our job. So there is often a harrowing potential for an obsession with comparison, image, and consequently, a "false celebration of the self," as choreographer Breton Tyner-Bryan puts it. I'm afraid this might be a sad reflection of the world outside of dance as well. But a trend I have noticed among many of the great dancers of today is how terrifically confident they are in their body. Part of that comes from the pride they take in how hard they work day in and day out. But they also seem more preoccupied with the art, more swept away with the movement and the beauty of their body than with the so-called flaws. Choreographers are even creating satirical shows based on the idea of being genuinely comfortable in oneself, and enjoying it. What a beautiful thing.
I like this trend. In fact, if I were the parent of a young girl, dancer or not, I would absolutely take her to see something like that on stage. More than just an enjoyable evening, I would hope that the work ethic and confidence of the dancers would make a lasting impression on her, and teach her to love her shape and size. One of the dancers in the aforementioned show told me, "It's nice to explore these things seriously, without taking yourself seriously."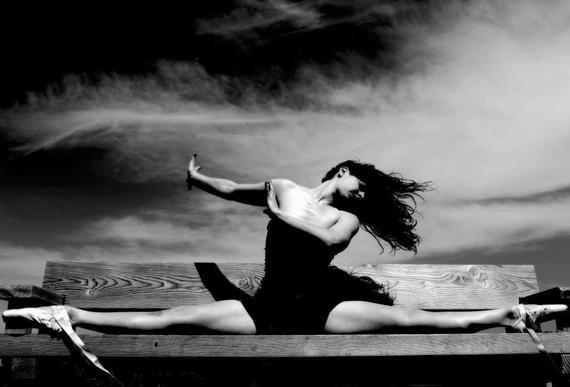 Photo of Breton Tyner-Bryan by Afshin Odabee
Calling all HuffPost superfans!
Sign up for membership to become a founding member and help shape HuffPost's next chapter