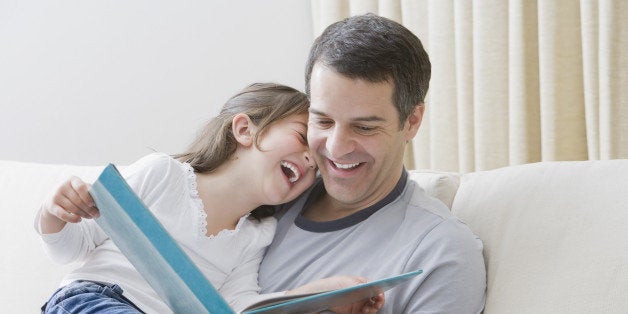 I've long been intrigued by the concept of grace-based parenting. I'm not sure I have more than an intuitive sense of what it means, however, so I looked the phrase up on the Internet. The definitions I found applied mostly to parenting grounded in religious beliefs. This helped my understanding, but I also wanted to discover whether there was a non-religious, but no less spiritual, element to parenting with grace.
After finding no additional guidance, I decided I was asking the wrong question. When I realized I was interested in learning not what graced-based parenting is, but what it does, I came up with my own answer. It's based in part on my experience raising two now-teenage boys. To me, parenting with grace brings those unexpected joys and benefits that families gain when endeavors are undertaken with a pure heart.
For our family, this grace began with storytelling. When my sons were only two or three years old, I started creating nightly bedtime stories with them. We all contributed. I added a piece of the story here, and my boys added a fragment there. Twelve years later, we still create stories together each night using this interactive technique.

Of all the things we do together, storytelling is what my boys love most. It's created a special bond between us that only we share, one that spills over into every other aspect of our relationships. I credit the hours spent with my sons creating stories together as one of the great treasures of my life. It's given me lasting memories and insights about them I'd never have otherwise.
It's that feeling you get when coaching your son or daughter's sports team, volunteering as a family at your local school, community center or homeless shelter or taking music lessons with your child. The sheer joy of sharing a worthwhile experience together.
Yet like anything worth doing, I've found grace-filled activities take work and commitment. They need to be regular activities, and not just passing fads. And the benefits seem greater when you enjoy something merely for the selfless purpose of being together or doing something for others, and not for personal gain or public recognition.
When the purpose is pure, the rewards flow spontaneously and naturally. Let me give you an example. Of all the stories my sons and I created, our favorite is called "The Kite Flyer of Beijing." It's about an old man living in Beijing who loves to fly kites with neighborhood children. The old man dies and his spirit enters a kite, making it come alive and able to perform all sorts of tricks, to the delight of the children below. For an unexpected reason (I don't want to give the story ending away), the old man eventually decides to take his place in heaven as a reward for the good life he's led. The story gently introduces children to the subject of death and afterlife, while celebrating an enchanted land where kite flying is revered as an expression of the human spirit.
Last week, I received an unexpected email from a professional storyteller in India named Sowmya Srinivasan. Sowmya explained that she had come upon my story on the Internet following the recent death of her mother, and had found comfort and a sense of peace while reading it. She asked for my permission to tell this story at the Chennai Storytelling Festival this past weekend, and I said yes.
In her e-mail, Sowmya explained why she loves storytelling: "I know that stories and storytelling for me is grace from above, for it is such an inward journey which reflects on those around... so surely it has impacted each and every member of my family, especially my children."
Teaching children, she writes, is one of the main reasons she became a storyteller:

The stories I tell inspire children to imagine and create and write of new wonderful worlds for themselves. Stories create a space of love and listening, empathy and understanding, creativity and freedom to experiment. These are the intangibles we cannot measure; we cannot mark or grade, but they add value to living and to the lives of curious minds. We hope that with more people who see value in such learning, these children grow up to be more empathetic and caring of all around.
In her beautiful yet simple description of grace, Sowmya captured the meaning and understanding I'd been searching for. The truth of her words was evidenced by my boys' pleasure as we watched a video of Sowmya telling our story at the Chennai Storytelling Festival. And by our shared laughter over the photo of her, deftly holding the imaginary strings of a kite between her fingers, teaching her audience how to fly a kite.
The magic of storytelling has helped my sons and I connect with a kindred spirit half a world away. Now if that isn't grace, I don't know what is.
John McCormick and his sons William and Connor are the authors of "Dad, Tell Me A Story," How to Revive the Tradition of Storytelling with Your Children (Nicasio Press 2013). For more information about family storytelling and their new book, visit the authors' website and blog at http://DadTellMeAStory.com.