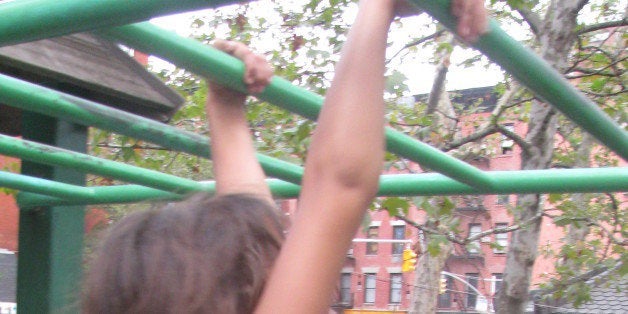 Earlier this week, I drove my older daughter's class on a field trip. After dropping my four charges back at school, I drove by the playground and saw my younger 4-year-old daughter on the playground with her classmates, so I stopped the car and couldn't resist watching her for a few minutes. I enjoy nothing more that observing my children when they don't know I am watching. It's the best way to learn things about them and their personalities that I usually don't get a chance to see. When I am there, they are a little more cautious, perhaps because they are afraid I will reprimand them for risky behavior or because they know I'll rush to offer a hand when they try something new. When I am not there, I get the sense they dig a little deeper to find the strength to try new things without the "training wheels" of their mother's outstretched hands.
As I peeked through the window of my car that sat idling on the road alongside the playground, I watched my brave little girl straddling two angled metal jungle gym bars. (Imagine a slide without the sheet of metal connecting the two sides.) With her skirt swinging in the breeze and her undies in full view, she put her hands on the bars behind her and slid down the bars until her feet landed solidly on the ground. And then, she raced back up to do it again. She did this same move six or seven times and then cheerfully trotted off to tackle the monkey bars. I was in awe. Who knew she was so brave? I always thought Sophie was my cautious child. All I could imagine was that very first time she tried this trick. She fearlessly hooked her little legs on the bars and risked falling face first three feet down to the dirt below. I'm probably not explaining it well, but I assure you this playground move is a bold one. And then there's the undies. My little girl is still young enough to be completely unselfconscious of things like someone seeing her underwear. She just has more important things to worry about. And that's the wonder of it. Children are so fearless -- unafraid of falling down and to darn busy to be self-conscious.
This sweet moment felt so precious because I know that all too soon, there will come a time when my little girl will be afraid to try something new for fear of failing. And then there will come a day when she self-consciously holds her skirt down as she jogs across a field on her way from one thing to the next -- ensuring that no one sees her underwear. This brave, carefree moment is a fleeting one. It is the sweet now and I am taking a moment, this moment, to appreciate it.
Related