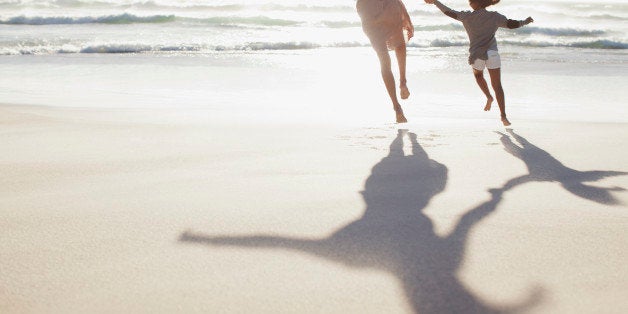 When I was pregnant with my oldest daughter, I remember strangers placing their hands on my stomach, asking whether I was having a girl or a boy, when I was due, and whether I picked a name.
I received all sorts of parenting advice, most of it unsolicited.
Which car seats and strollers were the best.
"There's nothing wrong with letting your child 'cry it out.'"
There was one piece of advice I remember most.
When you're having a hard time, remember your child will be older tomorrow, so try to cherish it.
Man. Those people who said that weren't kidding.
Looking back, I remember the reality of having a newborn baby setting in, as well as those proverbial trenches.
When you're in the epicenter of the trenches, you aren't thinking "this too shall pass."
You're thinking you're tired.
That your house is a pigsty, but cleaning it feels like being on a hamster wheel.
That you're sick of not knowing what day it is and that you haven't washed your matted hair in so long that it's sticky from all the dry shampoo.
That you want to go out in public, but only if you have a personal guarantee from God Himself that you won't see anyone you know because you look like crap and you might burst into tears if someone asks how you're doing.
That you'll exchange harsh words with the grocery store cashier if she ID's you in response to the fifteen bottles of wine on the conveyor belt and smirks as she stares at your photo and says, "Is this really you?"
Yes. The picture was taken right after my honeymoon when I was freshly highlighted, sun tanned, and relaxed, thankyouverymuch.
You're thinking you'd love for your stomach to not look like a deflated balloon and that you're sick of wearing the oversized mesh underwear they give you at the hospital.
That you've been wearing the same outfit for seventy-two hours straight, and it's stained with formula and tears.
That you love your baby, you really do, but you wish, for once, he would just quit crying so you could get through one episode of the mindless reality show you've been wanting to watch.
Let me tell you something.
When I was home on maternity leave with both girls, the hours seemed like decades. The monotony of unloading the dishwasher, folding laundry, and vacuuming the floor felt like Groundhog Day. The only reason I looked forward to the weekend was because it meant my husband would be home from work all day, and there'd be an extra set of hands to help around the house.
I remember people telling me to "sleep when the baby sleeps."
It's like napping on eggshells.
Now, my girls are two and four and I've moved out of those trenches and onto a new, unique set of obstacles. And you know what? There are so many times I was in such a stressed out haze while I was in those trenches that I didn't stop and appreciate being in the thick of it all.
Because, unless something unintentional and crazy happens, there will be no more newborns in my house. And you know what didn't really matter? That I was tired. Or that my breasts hurt. That I didn't know what day it was and hadn't washed my hair in a long time. Or that my house was a pigsty or I might run into somebody I knew if I went out in public. That a cashier thought I looked ugly or, heaven forbid, I was wearing the same outfit several days in a row. Or that someone knew I was having a hard time transitioning to motherhood. That I was tired of hearing my child cry and wanted to indulge in mindless television.
The kids have gotten older pretty quickly, and they'll be even older tomorrow.
And since I can't stop time, all I can do is change my outlook, because I know I'll look back on the trenches and obstacles when my girls are adults and wish I could do it a hundred times over again.
I won't care if getting completely into the water at the local swimming pool means I'll have to wash and blow-dry my hair the next day because they'll be older tomorrow.
I'll disregard that building sand castles and making mermaids at the beach will result in painstakingly vacuuming the car because they'll be older tomorrow.
I'll try my best not to rush through dinner and bath time after I've arrived home from a crazy day at work because they'll be older tomorrow.
That unnecessarily spending twenty more minutes at the office finishing something that can be done later because there's no real deadline isn't worth missing precious time with the girls at home because they'll be older tomorrow.
I'll try not to stress that fifteen extra minutes splashing around in the tub means a slightly later bedtime because they'll be older tomorrow.
That reading one more book or watching ten more minutes of Peppa Pig isn't the end of the world because they'll be older tomorrow.
That declining an after-hours obligation I don't really want to attend with people I can catch up with another time so I can hang out with my family is still ok because they'll be older tomorrow.
I'll embrace my little ladies screaming songs and laughing in the car at the top of their lungs instead of being annoyed because they'll be older tomorrow.
I'll let them hold my hand and bashfully cling to me when meeting a new friend or going to an unfamiliar place because they'll be older tomorrow.
I'll play sharks, Marco Polo, and underwater handstand Olympics with them in the swimming pool because they'll be older tomorrow (and, soon enough, likely won't want to hang out with me anyway.)
I'll try to be patient and hold my breath and count to ten when they accidentally knock over the bowl of Cheerios because they'll be older tomorrow.
I'll be yearning for yesterday when they're older tomorrow.