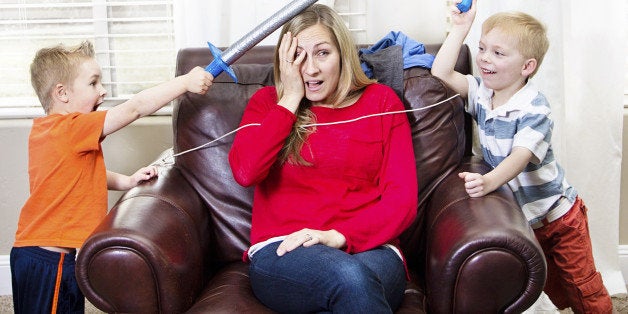 I hope this title isn't too offensive for you. I know it's a little risqué, but since it has become a bit of a mommy mantra for me, I thought I would share it with you.
My sister coined this phrase as she and her husband were emerging from the battle field of fostering three teenage boys and my husband and I were heading into most parents worst nightmare, puberty in a house with four daughters. It's not a phrase that's meant to insult any one. It's a less than gentle reminder that being a parent is not only not for the faint of heart, it is the hardest job on the planet and you can't do it properly if you live in fear.
That's right fear. I'm calling myself and anyone else who needs it to the carpet today. Fear is, for many people, the driving force behind many of the parenting decisions that we make and it's the worst catalyst, because most of the times it will push you in the opposite direction of your destiny. Generally speaking what we most authentically need to do will scare the "you-know-what-out" of us and avoiding that means we miss the opportunity for growth.
As much as I dearly love my mother, she has a gold medal in fear. There was a cartoon recently that I saw of Charlie Brown discussing how his anxieties now have anxieties. That would describe my mother. She was driven by fear in a way that often prevented us from making some really healthy mistakes and might have set us up perfectly to make others that had a much larger impact. I could never blame her for that of course, because as I often say, when you know better, you do better and she simply did the best she could.
But let me also be clear, I'm not the type of mother who believes kids should never wash their hands or be allowed to roam freely across town. I have a healthy awareness for safety and I absolutely protect my children in a very non-helicopter way. My kids have complained, with no success, for years about our no sleepover rule. That's right, even though it's not unusual to see kids as young as first or second grade sleeping over at the neighbors, we have never allowed our kids to do that. Growing up that was one of those things that just didn't happen on Corby Blvd. and as much as I felt like the odd man out as a child, it wasn't even a debate when my husband and I had our children, we both agreed sleepovers before middle school were not even an option, and after that they are still a rarity. This was a decision we made with both eyes open, fully aware but not out of fear.
The fear driven decisions that I am talking about are the ones that make parents call teachers to complain about the 5 point deduction on a late assignment because they are terrified that it will either prevent their child from getting into a good college or scar them for life. It's fear that's behind the choice to avoid confrontation with your teen son about his new friend when your gut tells you that there's something not right,
It's also fear, of a different type, that prompts the embarrassed mom in the grocery store to give her toddler the candy they are screaming for, just so that they won't look like they are an audition tape for an episode of Supernanny. It's the same type of fear that prompts parents to overextend themselves on travel soccer or private singing lessons because they are afraid without it their kids won't have that competitive edge, even if it means drowning in debt or the exclusion of family time.
What I mean when I saying that parenting is not for punks, is that you have to be courageous enough to say no, and mean it, even when it makes you feel like your kids hate you. You have to be intentional enough to decide that your family dinner time is more important than the extra rehearsal the director just decided to add for the week. You have to be strong enough to emotionally support your child when they are disappointed in the grade they earned in English class, without cushioning the fall by blaming the teacher's limited understanding of Shakespeare or telling them it's not their fault because of some other extenuating circumstance. It's about taking a moment, and making sure that your desire to hold on or let go is not driven by the fear train, but by a more intentional GPS.
But most of all parenting is not for punks, because like no other thing on earth, raising children has an unbelievably laser focused ability to spotlight our weaknesses, unresolved issues and yes, fears and as a parent we don't get to hide from them, we have to face them head on AND do so, in front of an audience.
But here's the awesome thing, we don't have to be perfect. We can stumble or make mistakes and that's okay. If we feel inadequate or ill prepared, we can use that as fuel to drive us exactly where we need to go. It's about being honest with ourselves and our kids so we can learn and teach all at the same time.
I remember a time when my husband and I talking about one of our teen's new friends and that there was just something about the friendship that I couldn't quite put my finger on that made me uncomfortable with the relationship. He, being that he was not a punk, said we'll just tell her no, she can't go. I, in that moment maybe being slightly punkish, said but that's not really fair is it? I was afraid that if we just told her no, she'd just end up wanting the friendship more.
The conversation that we had ended up with the same result, she did not go, but the way in which we prevented her from going was that we explained, not discussed, our rationale and gave our answer. It wasn't a debate, but it wasn't exactly a proclamation, either. I didn't have to be perfect, but I did have to be honest about my fears and face them head on. My husband, who was maybe was being driven by a little fear as well, was willing to walk through a wall of fire-breathing angry teenager to get to the other side without letting his daughter be influenced by the wrong crowd. He had to battle his fear that maybe we hadn't taught her everything she needed to know. But in doing so we also discovered a few more things we wanted to cover with her before she was 100% responsible for her choices.
Ultimately, as the saying goes there is no way to be a perfect parent, and each and every one of the million ways of being a great one mean you're likely facing fear head on. So here's to all us parents, bravely facing the newborn, toddler, preschool, school age, tween, teen or young adult years of our children, fighting our own fears to raise great kids. Remember, you're not a punk, you've got this!