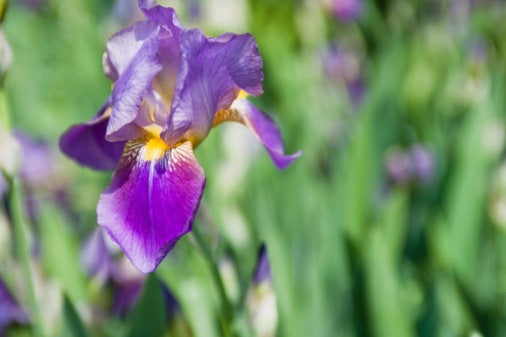 Mother's Day is this weekend and like most of you, I've gone shopping. Jewelry has always been my go-to favorite. Necklaces are easy to find, they come in all shapes and colors and, depending on the fluctuations to my bank account, I usually seem to find something to fit my budget. And yet I find the process so hard.
While I purchase gifts for my husband's mother and his stepmother, I can't choose anything for the one woman I'd like to buy something for the most. My mother.
My mom passed away when I was 25. Before I was married. Before I had children. This Sunday marks my 15th Mother's Day without her and the 15th time I've had to honor the two women who raised and nurtured my husband growing up -- not me. While I love them both, and in so many ways they helped raise me as a young bride and mother, the relationship between mother and daughter-in-law is never the same. And even though I could never describe my relationship with my mother-in-law and Mark's stepmother as cold (they are each abundantly warm and affectionate) my husband and I both recognize that when they call our house, they're usually calling for him.
This difference has sometimes created tension in our marriage. After all, now that I am a mother myself, what exactly is my role on Mother's Day? Would it ruffle everyone's feathers if I opted to stay home this Sunday and pour through old photo albums and remember my mother instead of celebrating both of his? What kind of message would this send my husband and in-laws? Perhaps even more importantly, what kind of message would it send our children?

I adore being a mother. I relish our children. When I go to sleep this Saturday night I will eagerly anticipate waking up to magic-marker cards, pipe-cleaner flowers, and dozens of wet, little kisses. But no matter how wonderful it will be, Sunday often reminds me of all I've lost -- not all I've gained.
If you're a mom facing Mother's Day without your own mother, the best way to make Sunday feel better is to carve out special "remembering" time on Saturday. Show your children pictures of their grandma. Tell them stories. Go shopping for and/or cook her favorite foods. By taking care of your own needs on Saturday, parentless parents can be more open to anything that unfolds on Sunday.
My hope is that this Mother's Day we'll all feel just a little less isolated and a little more connected.
If your mother has passed away, how will you honor her this Mother's Day?
In Always Too Soon, Ms. Gilbert (a producer at CNN in New York and mother of two children) interviewed celebrities and others about losing their parents. She spoke with, among others, Rosanne Cash, Geraldine Ferraro, Ice-T, Yogi Berra, Mariel Hemingway, and New York Times best-selling authors, Hope Edelman and Barbara Ehrenreich. Always Too Soon sparked the formation of the Parentless Parents organization, a national network of support groups for mothers and fathers who have lost their own parents. You can join the Parentless Parents community on Facebook and find out more about Allison by visiting her website at www.allisongilbert.com.