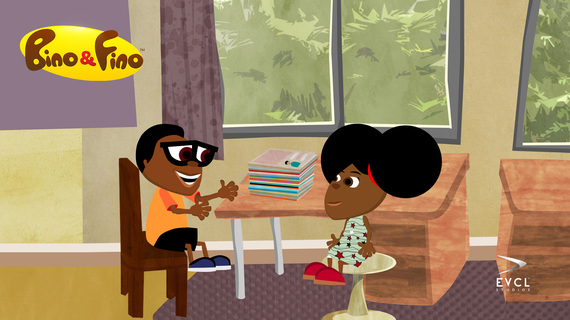 "The lack of representation in media for kids has a profound effect on their self esteem and sense of worth. If all the shows that a child sees from an early age don't have any characters that resemble them than their initial self-concept and worth is already challenged in the early stage of development. They may equate this to not being good enough, pretty enough or smart enough," explains Psychotherapist, Dr. Dwayne Buckingham.
When Nigerian animator, Adamu Waziri of EVCL saw how a lack of balance in children's programming was affecting the mindset of kids in Africa and children of color all over the world he decided to do something about it.
"In Nigeria a lot of the shows the children were watching were imported so the characters and culture didn't resemble anything that kids in Nigeria were familiar with. On a global scale, I realized that there really wasn't any children's programming that catered to Black children or children of African descent whether they were in America, Europe, Asia or South America. I wanted to create an inclusive show that taught kids about the real Africa as opposed to the manipulative negative narratives that are often shown in media. I agree with Dr. Buckingham that this lack of balance and the absent of diversity is detrimental and can influence children to feel inferior."
Waziri wasn't going to wait for a major network to change the dynamics in cartoons and children-centered programs, instead he created his own educational animation, "The Bino and Fino Show," which has currently become the highest selling African educational cartoon.
Set in a Sub-Saharan city in Africa, Bino and Fino is about a set of twins who learn through magical adventures with their friend, Zeena the Magical Butterfly. The cartoon incorporates the basic Pre-School to first grade creative learning curriculum but with a cultural twist and emphasis on Africa. Bino and Fino explores topics such as culture, history, geography, science and even touches on female empowerment, natural hair and accepting each others' differences. With the support of Black Girls Rock, The Museum of Contemporary African Diaspora Arts in Brooklyn, New York screened the cartoon as part of their Kidflix summer program.
Bino and Fino is now also being utilized as a creative learning tool in schools and programs across the U.S. and the world. In St. Louis, after being bombarded with disturbing media perceptions and racial tension during the "Ferguson unrest," Kidz Biz Learning Academy decided to take a proactive approach in helping children understand that they mattered and had a sense of value through Bino and Fino.
"A show like Bino and Fino helps our students gain a better sense of identity," said Kidz Biz teacher Monica Moore. "They tell us they love Bino and Fino because Bino and Fino looks like them. The girls say Fino has hair like mine. Those little moments of familiarity through a show may seem minor but it's instrumental in building their self-esteem and confidence."
Last December, Bino and Fino added a doll collection to their brand which was the icing on the cake for parents who struggle to find Brown dolls who resemble their kids. The cartoon is currently screened on South African Airlines and has been shown at children's festivals in Japan, Germany and South Africa. Waziri is now trying to see how Bino and Fino can change Brazil's lack of diversity in children's media. Despite having the largest African diaspora population in the world, Brazil continues to struggle with a lack of positive media representation of Afro-Brazilian children.
EVCL is currently trying to create a Brazilian version of the cartoon in Portuguese. Waziri says "There is a great need in Brazil from parents and kids. We hope to fill the void there in the same way that we are doing in other countries. Hopefully we will get to a place in our global society where no children-no matter their background will feel invisible."
Related