Parents are voicing their outrage after President Donald Trump delivered a politically charged speech at The National Scout Jamboree.
In West Virginia on Monday, the president addressed tens of thousands of Boy Scouts at the national event, which takes place about every four years and has featured remarks from U.S. presidents throughout its 80-year history. "Tonight we put aside all of the policy fights in Washington, D.C. you've been hearing about with the fake news and all of that," Trump began his speech.
"And instead we're going to talk about success, about how all of you amazing young Scouts can achieve your dreams, what to think of, what I've been thinking about. You want to achieve your dreams, I said, who the hell wants to speak about politics when I'm in front of the Boy Scouts? Right?" he continued.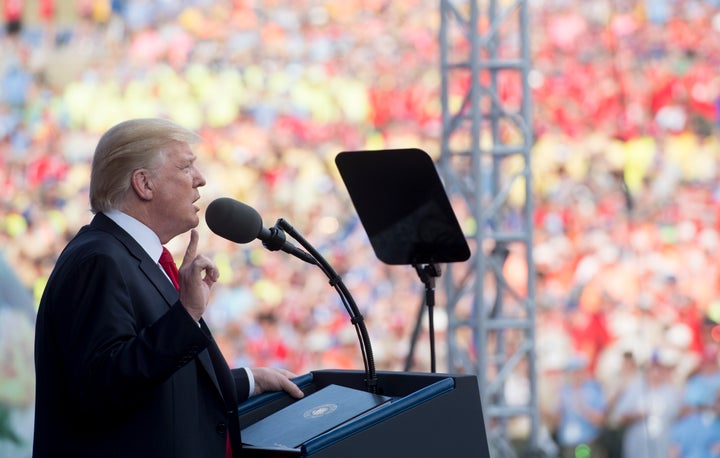 However, the speech quickly turned into a tirade against the Affordable Care Act, President Barack Obama, the "fake media," and the "cesspool" or "sewer" of politicians in Washington, D.C.
Trump also once again touted his Electoral College victory in November. "And you know we have a tremendous disadvantage in the Electoral College ― popular vote is much easier," he said.
Referencing Health and Human Services Secretary Tom Price (a former Boy Scout) and the push for senators to vote for healthcare reform, the president stated, "He better get them. Oh, he better ― otherwise, I'll say, 'Tom, you're fired.' I'll get somebody."
At another point, he noted, "And by the way, under the Trump administration, you'll be saying 'Merry Christmas' again when you go shopping. Believe me. 'Merry Christmas.'"
Following the remarks, many parents spoke out against the highly politicized, campaign rally-esque speech in a forum meant to promote values of leadership, integrity and respect among young men.
There were also parents who praised the president's speech and said their sons were inspired by the remarks.
Throughout the president's address, the crowd of mostly young Scouts, ages 12 to 18, responded with cheers, chants and boos to mentions of "fake news," Hillary Clinton's campaign, and even President Obama. This occurred despite earlier instructions from jamboree organizers about maintaining a "friendly" and "respectful" attitude.
As a unit leader or staff member, you can help make the president's visit a success by ensuring that any reactions to the president's address are, as we state in our Scout Law, friendly, courteous, and kind. This includes understanding that chants of certain phrases heard during the campaign (e.g. "build the wall," "lock her up") are considered divisive by many members of our audience, and may cause unnecessary friction between individuals and units. Please help us ensure that all Scouts can enjoy this historical address by making sure that your troop members are respectful not only of the president, but of the wide variety of viewpoints held by Scouts and Scouters in the audience tonight.
During his speech, Trump also called out President Obama. "By the way, just a question: did President Obama ever come to a jamboree?" Trump asked. The audience shouted, "No!"
Though Obama did not attend a jamboree during his presidency, he did address the 2010 National Scout Jamboree via video.
"For a century, Scouts just like you have served your communities and your nation in ways both large and small," Obama stated in his address. "And today, Scouts across the country continue the tradition of collecting food for those in need, improving our neighborhoods, and reaching out to those less fortunate."
He concluded, "I hope that when you're called upon to help write the next great chapter in the American story, you will uphold the best of the Scouting tradition and respond with enthusiasm, skill and determination."
Similarly, other past presidents have focused their jamboree remarks on Scouting values and leading by example.
President Bill Clinton told Scouts to encourage their peers to get involved with community service. President George W. Bush emphasized the importance of doing the right thing.
"In the years ahead you will find that indifferent or cynical people accomplish little that makes them proud," he said. "You'll find that confronting injustice and evil requires a vision of goodness and truth. You'll find that many in your community, especially those younger than you, look to you as an example of conduct and leadership."
As many have noted, Trump's politicized speech was a break from tradition. Parents of Scouts at the jamboree said that Trump's speech promoted divisions among attendees and dampened the spirit of the event.
Defending the Boy Scouts of America, Scouts for Equality co-founder Zach Wahls noted on Twitter that Trump "put BSA in an incredibly bad position." Wahls said this was done knowingly as the president acknowledged at the beginning of his speech that he was meant to put politics aside in that forum.
Following the uproar, the Boy Scouts of America issued a statement Monday night. Though the statement does not address Trump's remarks specifically, it emphasizes the organization's non-partisan stance.
The statement reads: "The Boy Scouts of America is wholly non-partisan and does not promote any one position, product, service, political candidate or philosophy. The invitation for the sitting U.S. President to visit the National Jamboree is a long-standing tradition and is in no way an endorsement of any political party or specific policies."