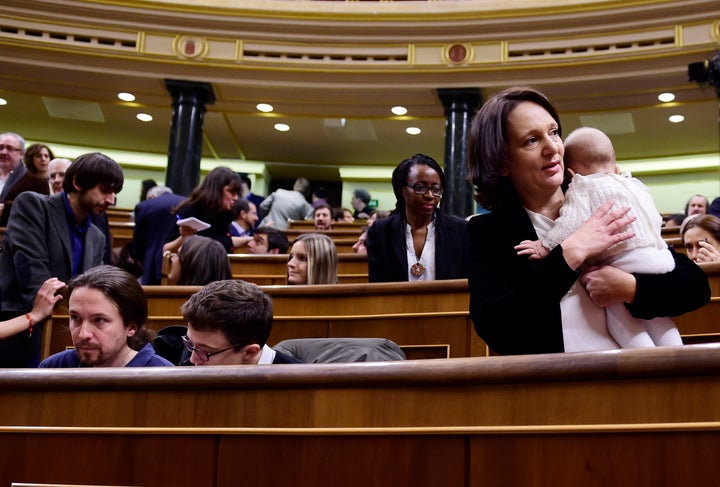 Carolina Bescansa, a member of parliament for Spanish anti-austerity party Podemos, garnered international headlines and her opponents' ire last week when she took her baby to parliament on Jan. 13. Supporters praised the working mother's willingness to display her maternal responsibilities as parliament reconvened under a heated political environment following December's uncertain elections, but critics and some feminist groups in Spain railed at the MP's action.
Bescansa's party, Podemos, said the MP was trying to make "a symbolic gesture on behalf of all women who try to strike a balance between work and family and today are unable to do so." It was a premeditated and inspiring move with socio-political implications: one that women from other parties in different countries have made before, with varying intent and reactions.
One of the first women to take their babies to parliament was Michelle Dockrill, from the Canadian New Democratic party. In 1998, Ottawa's parliament held a vote that the then-Social Democrat deputy could not miss, so she brought along her seven month-old baby, Kenzie James. The chamber's president asked her to refrain from repeating the incident, tenuously citing a law that forbids "eating or bringing food" to the Canadian Parliament.
In 2012, Canadian MP Sana Hassainia arrived at the House of Commons with her three-month-old baby, because her husband wasn't available to watch him. She promptly received a warning from the president due to the fuss her child created: her colleagues took pictures, which is prohibited in Canadian Parliament. Much like Bescansa, Hassainia addressed the challenges working parent's face daily and generated conversation within her own country. "It's too bad because it discourages women, young women, from going into politics if there is nothing planned for that," the MP said at the time.
Tweet translation: "Argentinian deputy Victoria Donda breastfed her baby amid a congressional session. Do you think it was correct?"
A few months earlier, in Chile, Camila Vallejo, a deputy from the Communist Party, attended a vote on the country's tax system with her daughter, who was almost two years old at the time. Several critical tweets from the former President of the Chamber, Jorge Schaulsohn, prompted a debate on whether a deputy could or should take her baby to work.
Tweet translation: "Inappropriate that Camila Vallejo participated [in a congressional] session with a baby in her arms in the hemicycle/it should not have been allowed/with her stipend, she can afford a nanny."
Tweet translation: "Taking a baby to the chamber's session shows that Vallejo is an elitist/she thinks that rules don't apply for her."
Tweet translation: "And finally, it would not only be nice to see a court minister with her baby, but also a male minister. This is not only a women's subject."
"It's funny to see how someone accused of fraud is giving me economic and maternal advice," Vallejo added to conclude this Twitter feud, which perhaps reminds us of similar social media wars in Spain taking place among politicians now -- though dreadlocks, lice and hygiene seem to be the prevailing source of controversy.
In Japan, the issue of parental responsibility amid political duty is not limited to mothers. Kensuke Miyazaki, from the Liberal Democratic Party, has been the subject of criticism for announcing that he plans to take a 21-day leave from work to take care of his newborn, an extravagance in a country where only a mere 2 percent of fathers take their entitled paternity leave. Some of Miyazaki's peers in Japan's national legislature referred to his decision as a "disgrace," and criticized him for taking time off when he could be serving the people.
In Europe, a deputy from Forza Italia, Licia Ronzulli, has played a leading role in this debate... but only in the European Parliament. Vittoria, Ronzulli's daughter, now aged five, has been a regular participant in European debates since she was only a few months old.
Tweet translation: Licia Ronzulli, showed up in the Parliament with her newborn baby. Let's applaud those who are "woman+mother+professional"
In France, a baby never appeared on the legislature's floor. But in a few weeks, the Secretary of State for Digitalization, Axelle Lemaire, will give birth and her decision to not come back to work in time to defend her Digital Republic bill is illustrative of the different positions women take on the relative importance of career versus motherhood.
Her decision contrasts with that of former Minister of Justice Rachida Dati, who went back to work five days after the birth of her daughter, Zohra, in 2009.
Lemaire has said that she respects Dati's attitude, but that she has a radically different point of view. "Maternity leave is not only a right: it responds to a reality and a physiological, physical and psychological need for both the mother and the newborn," she said.

Back in Spain, there was also a heated debate in November 2011, when Soraya Saenz de Santamaria, following the conservative People Party's victory in the elections, skipped her maternity leave to negotiate the transfer of power with Zapatero's Spanish Socialist Workers' party government.
But let's return to Bescansa. Lost amid this latest round of controversy is this simple fact: Her decision to bring her child to work is not without precedent in the Palacio de la Carrera de San Jeronimo, where the Spanish Congress of Deputies meets. In 1991, during a strenuous budget debate, the deputy from the Izquierda Unida party, Ángeles Maestro, brought and breastfed her baby in Parliament. But she did so quietly in an office that Felix Pons supplied, for she did not want her picture to be taken while breastfeeding at her seat. She was afraid of the exposure. Soon after, a photographer captured the photograph below, in the Communist Party's Congress, during the speech of its General Coordinator Julio Anguita.

Tweet translation: In 1991 Nines Maestro took her baby to congress... PCE, not deputy congress, according to EL MUNDO archive.
Related
Popular in the Community