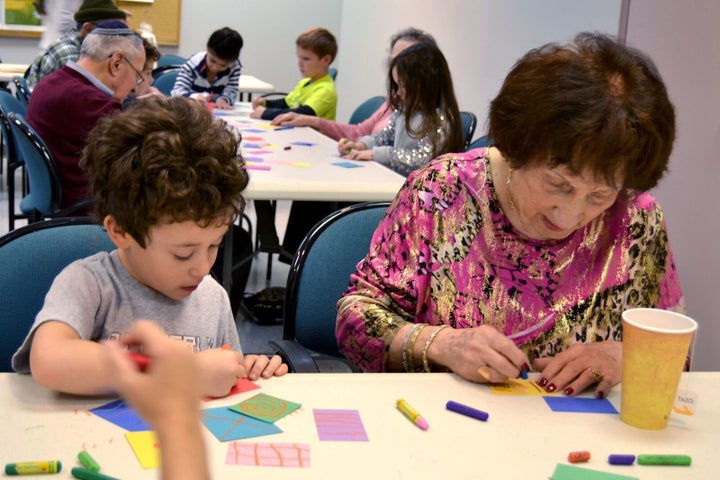 Kara Nelson has been going to the New Orleans Jewish Community Center for more than 20 years. She likes that they have karate and ballet courses. Sometimes she takes art classes. Her children, 5 and 7, have attended camp there. Nelson and her kids aren't Jewish.
"It's the best place," Nelson told The Huffington Post. "It's like a second home to me since I've been in New Orleans. People are super friendly and I like that my kids are learning about Jewish traditions."
On Thursday morning, Nelson was taking her exercise class at the JCC when an evacuation was announced on the overhead speakers. Someone had called in a bomb threat to the community center, which also acts as a nursery and preschool.
"The kids were all out first and taken to the high school across the street," Nelson said. "That seemed to be the first priority, to hustle them out and away from everybody."
Within minutes, New Orleans police arrived and swept the building. Unwilling to let the threats destroy their day, Nelson's classmates continued their exercise outside. Police eventually gave the all-clear.
The last two months haven't been easy for parents who have children attending classes at Jewish Community Centers. At least 69 bomb threats have been called into 55 JCCs across the country since Jan. 9, sometimes forcing kids and adults to evacuate and wait for police officers to sweep buildings.
Fear has mixed with aggravation as authorities have deemed the bomb threats to be hoaxes so far. Gordon JCC in Nashville, Tennessee, has received three threatening calls, the most targeting any one location.
"We have no idea why we were singled out," Leslie Sax, executive director of the center, told HuffPost. "It's such a disruption. We've had to spend too much time on security protocol recently rather than what we do here every day."
She said parents haven't pulled their kids from her center's programming in light of the threats, but suggested that other JCCs haven't been so lucky.
"I think they're more sad and frustrated that it's going on," Sax said. "The important thing to note is that the kids have not been traumatized by this. I credit the staff for that. The time we did evacuate, the kids thought they were on a field trip ― they were having fun."
Some officials at the JCC Association of North America have found comfort in the fact that FBI is looking into the series of bomb threats, although the agency doesn't comment on active investigations. Members of Congress have called on the departments of Justice and Homeland Security to aid local investigators.
But parental nerves are still strung tight.
On Thursday, a suspicious package was reported at the Newton JCC in Massachusetts, a center that had already been the victim of an earlier bomb threat. Authorities deemed it a false alarm, and no threat was called in this time. But it was enough to shake up Sean Roche, a father and one of the people evacuated (his kids weren't there at the time). Initially, he'd called the incident "terrorism" on Twitter.
"This is a direct consequence of threats that JCCs all over the country have received," Roche told HuffPost. "There's a heightened awareness and sensitivity."
Although there have been no bombs yet, every threat is taken seriously by local authorities and the JCC Association. The calls themselves can be terrifying and have often involved a disguised voice that sounds robotic.
The Jewish Telegraphic Agency obtained audio from one call made to an unidentified JCC. The voice said, "In a short time, a large number of Jews are going to be slaughtered. Their heads are going to be blown off from the shrapnel."
"We want the threats to stop so we can continue working for our community," Sax said. "We hope to find someone responsible. We realize that with today's technology it could be difficult to find them, but we can't have this hanging over our heads."
Popular in the Community