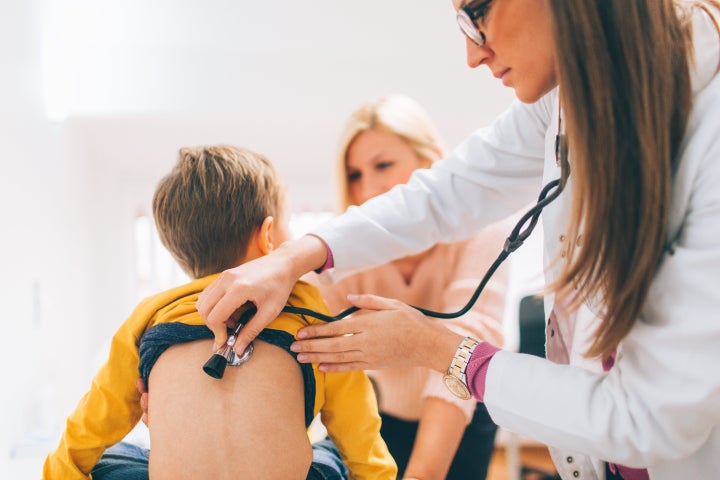 Jimmy Kimmel stole the heart of the nation this week when he broke down in tears on TV, recounting how at three days old his new baby Billy had open heart surgery.
Well here's a wake up call to the nation's grandparents, parents and wanna-be parents: The latest GOP assault on the Affordable Care Act puts not just Kimmel's baby, but millions of other people's kids at risk of getting sick, going untreated, and even facing death for lack of adequate health insurance coverage for treatment, prevention and medication.
The GOP's latest cynical sleight of hand won't necessarily protect these children's access to health insurance in the near future, and certainly not longer term.
A Term with No Boundaries: Millions of Children have "Pre Existing Conditions"
There's no single definition of what a preexisting condition is, or isn't. Literally, millions of Americans have preexisting conditions whether or not they know it.
Just about anyone can have a preexisting condition. Does your child have hay fever, or a tendency to break an arm while skateboarding? Is he or she overweight, diagnosed with ADHD, or asthmatic? Does your child take prescription medication on a regular basis? Your kid might have some little health "thing" which you'd never even pegged as a "pre-existing condition."
The bad old days may be coming back again. In the past, people could be denied health insurance if a condition was present, whether or not they knew about it, and whether or not any medical advice, diagnosis, care, or treatment was recommended or received for it. Or, they'd have to pay a huge premium for life-saving meds and treatments.
"Literally, millions of Americans have preexisting conditions whether or not they know it."
"Preexisting condition" is indefinite. It covers a broad range of conditions. It includes the obvious cases, like heart disease—which affects one in three American adults and cancer—which affects 11 million Americans. But it also includes conditions that a lot of people have but don't consider "serious," like hay fever, asthma, or even sports injuries. Here are some of the most prevalent preexisting conditions for kids:
Asthma is the most common, and the numbers of kids diagnosed with asthma increases every year, according to an article in JAMA.
Obesity and overweight
Developmental disabilities, including attention-deficit/hyperactivity disorder (ADHD) and the autism spectrum disorders
Consequences of low birth weight and prematurity,
Cerebral palsy
Sickle cell anemia
Cystic fibrosis
Cancer
AIDS
Epilepsy
Spina bifida
Congenital heart problems
Because the definition of the term is flexible, there's no hard data.
But it appears that somewhere between 15 and 25% of American kids have pre-existing conditions.
On the lower end of the estimate range, a University of Michigan report found that 15% to 18% of children in the United States live with a chronic health condition.
Expect Problems Obtaining Health Insurance if Your Child has Pre-Existing Conditions
Before the enactment of the Affordable Care Act, it was standard practice for health insurance issuers in the individual market in all but five states to be allowed to deny coverage, charge higher premiums, and/or deny benefits for a preexisting condition.
The first and unsuccessful effort to repeal and replace Obamacare in March 2017 would have removed Medicaid health services for 37 million low-income children. "Almost every kid in our state has medical coverage, a health-care mountaintop that took decades to reach. The Republican health-care bill would bring that crashing back down," the Seattle Time article Kids: The Collateral Damage of the GOP's Health-Care Bill" warned weeks ago.
"Your kid might have some little health "thing" which you'd never even pegged as a "pre-existing condition.""
National organizations representing a broad spectrum of American's health care providers —from the American Medical Association to the the American Hospital Association to the AARP, and the Catholic Health Association —are opposed to the latest Trump administration attack on the most vulnerable among us. The Children's Defense Fund, that venerable Washington based advocacy group, simply says this about the May GOP initiative on its website: Making A Terrible Health Care Bill Even Worse.
Ending his emotional segment, Kimmel reminded viewers that before the Affordable Care Act, "If you were born with congenital heart disease like my son was, there was a good chance you'd never be able to get health insurance because you had a pre-existing condition. You were born with a pre-existing condition. And if your parents didn't have medical insurance, you might not live long enough to even get denied because of a pre-existing condition."
Even if you voted for Donald Trump, and even if you don't consider yourself a member of the "resistance," health insurance coverage for kids probably impacts you. So demand a plan that works for everyone, especially children, babies and teens.
If you're worried about this, then pick up the phone now and call your members of Congress. If you're not sure who that is, you can find them, and a script, at Families USA. Just call and say you don't support a fast fix on health care that doesn't include a firm commitment to affordable health insurance with coverage for anyone with preexisting conditions at the same price and same level of coverage for the same conditions as you have under the Affordable Act.
Because if the label "pre-existing condition" can happen to little baby Kimmel, it can happen to you, or your sister, or your friend—or your own child.
Popular in the Community