After losing their newborn son, Cindy and Jim Bob Haggerton were overjoyed when they welcomed not one, but two rainbow babies in the two years that followed.
A rainbow baby is a child born after a miscarriage, stillbirth, neonatal death or infant loss. In 2014, Cindy delivered a baby boy named Evans eight weeks early. He was soon diagnosed with Potter syndrome and passed away just three hours after birth.
A year later, they adopted their first rainbow baby, a boy named Tate. Then, less than a year after that, Cindy gave birth to another rainbow baby, Whitten.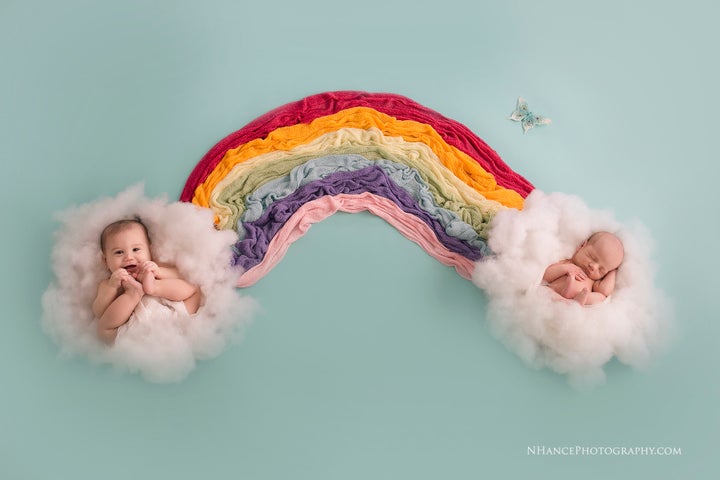 Cindy, Natasha and the photographer's business partner Amanda Gipson had brainstormed ideas to honor all three babies and came up with the idea of putting the two boys on either side of the rainbow and a small butterfly on top to represent the brother they lost.
Natasha said everyone felt excited on the day of the shoot. "When we placed the rainbow over the brothers, it was bittersweet but so meaningful," she recalled. "We had planned to do a newborn session with Evans, the baby they lost, so this felt almost like we all finally had closure with this part of our (photographic) journey. We had documented each of the babies births and then got to have the newborn session that honored all the baby brothers with this image."
The photographer said she's honored to have been part of the family's powerful journey and experience their unwavering strength, hope and faith.
Said Hance, "I think Jim Bob and Cindy hope that people are reminded that even in the darkest storm of losing a child there can still be joy that new life brings and that we can still honor and remember loved ones that aren't with us anymore."