When Reid and Leigh McIntosh were expecting their first child, they received a pack of Landmark Moments baby cards to help them document and remember some of their newborn's first milestones. The couple enjoyed flipping through the cards and anticipating all these delightful moments -- like the baby's first smile, first word and first time sleeping through the night.
Once they welcomed their son Noah, however, the McIntoshes realized parenting wasn't always quite as "dandy" as the cards made it seem. So, the U.K. parents decided to make a pack of milestone cards that get closer to the truth of everyday parenting. Introducing Honest Landmark Moments: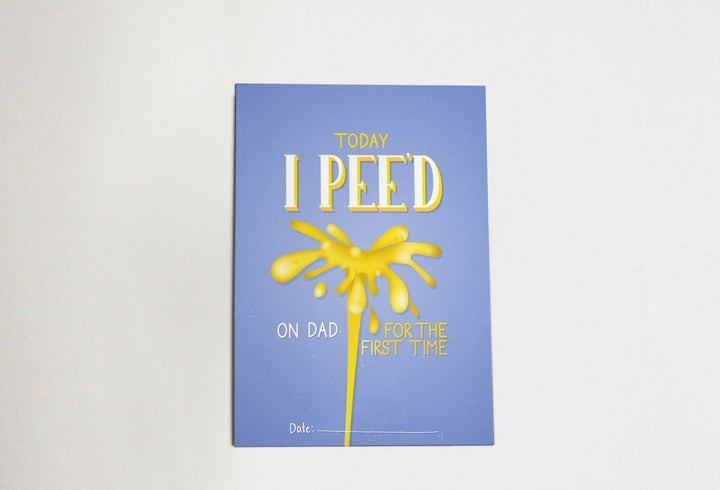 These 38 cards track the less glamorous baby milestones like, "Today I peed on Dad for the first time." The McIntoshes told The Huffington Post they drew specific ideas for the cards from Noah, of course. "We spent a good few months taking notes as we watched the mayhem of parenthood unfold," said Leigh. Once Noah was 6 months old, they'd finished writing the cards and tapped their friend Eva M. Steiner to illustrate them.
Now, three months later, they've finalized the designs and launched an Indiegogo campaign to raise the funds needed to produce the baby milestone cards and develop cards around other "non-baby" topics. "Our main goal is to spread the word about Honest Landmark Moments," Reid told HuffPost.
Leigh, who identified her profession as "make-up artist/mombie," said she hopes Honest Landmark Moments will empower parents. "Essentially, we want parents to embrace all the unglamorous moments of parenthood; and in a way forget about all the one-upmanship that goes along with bringing up a baby," she said. "It's all pretty exhausting."
Keep scrolling to see a sample of the real baby milestone cards.