Dana Griffin-Graves and her husband Arkell Graves welcomed their son Kaleb at only 24 weeks on October 20 via an emergency C-section. According to updates on their Facebook page Arkell & Dana's Baby Bun, Griffin-Graves was admitted to the ICU a week prior to the C-section because the pregnancy was making her blood pressure rise to dangerous levels. Determined to give her son the best possible chance of survival, the mom delayed the birth as long as she could.
"She refused to go on with the delivery until it was a time where they could actually take care of him in the neonatal intensive care unit," Graves told People. "I'm going to tell you, just looking at my wife, it was the most selfless thing I have ever seen somebody do."
Graves and his wife attained viral fame with their "bun in the oven" pregnancy announcement video, which shows the dad-to-be crying tears of joy upon learning the news. After suffering four miscarriages and giving birth to a stillborn baby at six months, the couple had "given up" on trying to conceive, but Griffin-Graves' surprise pregnancy news gave them new hope for their "miracle baby."
Since giving birth, Dana's condition has improved from critical to stable, but baby Kaleb is still fighting for his life in the NICU.
Griffin-Graves and her sister Melanie have been posting regular updates on Facebook. "Although Kaleb is still very critical and doctors don't always give us the best news, Sunday was a much better day for him and for us," the mom wrote Monday morning, adding that the baby had opened his eyes and grabbed his parents' fingers.
"It's those little things that people take for granted that make us so grateful," she continued. "Please continue to keep Baby Kaleb Arkell Graves and our family in your prayers. Again, thank you for all of your prayers. They are needed and appreciated."
Sending love to the Graves family.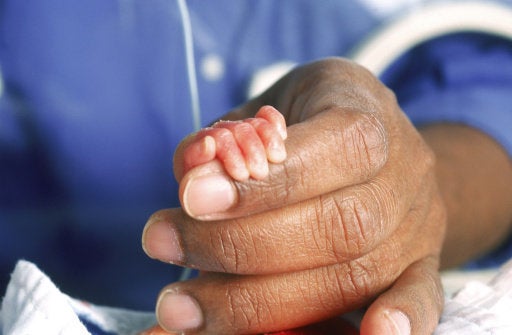 5 Reasons Why Preemies Are Completely Inspiring
Related