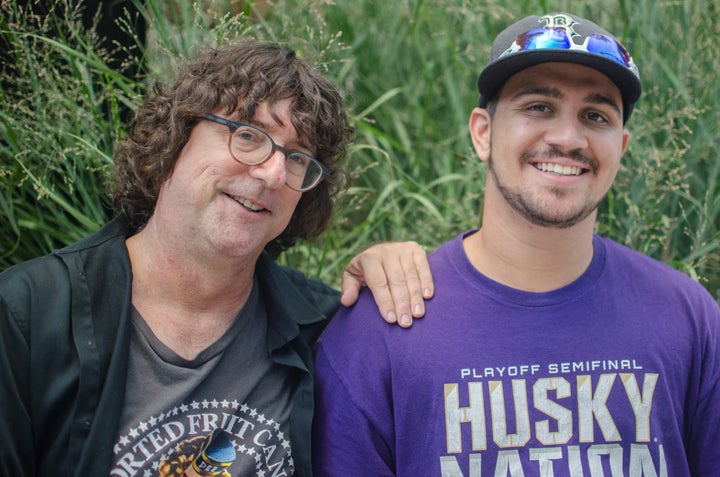 It's a weird thing about memories: No matter how recently or distantly the events they capture occurred, the memories themselves are all equally nearby. Sometimes, memories are like Biff Tannen, taunting you endlessly just to provoke a reaction. Other times, they are Linus' blanket, all warm and comfy and secure. No matter what emotion they pull out of you, though, they're almost always going to be right in your face.
I am bringing this up now because this past week has dredged up a tsunami of memories that have left me drenched in tears, both happy and sad. I took my son, Roman, back to Boston for his senior year of college, a task that at first seemed simple enough. You'd think that after three years of doing this, it'd be no big deal. On the contrary, it was more like a flying piledriver to my psyche, leaving me dazed, confused and fixated on memories of all my time with him.
This probably has something to do with the fact that it hasn't just been these four years of college that I've escorted him to the start of school. I've been doing it for 17 years, going back to that first day of pre-kindergarten when his mom and I dropped him off, convinced he wouldn't want to leave our side. Instead, he saw some kids racing Hot Wheels with each other, rushed his "goodbye" to us and ran over to play with them. 
There were the elementary school years, when I'd make up "Star Wars" stories for him as we walked to class. They all featured my son saving the galaxy by pants-ing Darth Vader, thus exposing the Dark Lord's fondness for "My Little Pony" underwear. Later, when the trek involved driving to the early days of high school, we'd listen to his favorite sports talk radio show and debate the current championship chances for his beloved Red Sox and Patriots. Then there was senior year, when Snapchat and Instagram replaced all father-son conversation (save for father griping to son about "kids these days and their addiction to devices" and son grunting a "whatever" back).
After these four years of Labor Day excursions to Boston to buy him supplies and move boxes into a new dorm and tour Fenway Park together, it's all over. ... This should make me happy. ... And yet, I'm about as close to happy as I am to winning a Pulitzer.
And now, after these four years of Labor Day excursions to Boston to buy him supplies and move boxes into a new dorm and tour Fenway Park together, it's all over. There are no more back-to-school memories to create with him. I realize that in the bigger picture, this should make me happy. My little Jedi is a mere two semesters away from adult life, and what parent doesn't take pride in seeing his or her kids enter the grown-up world to chase their dreams? This is the culmination of everything we've been working for all these years. And yet, I'm about as close to happy as I am to winning a Pulitzer.  
Which is another funny thing about memories: No matter how happy they might be, there's also something simultaneously frustrating about them. They transform real, meaningful events into flickering images in your head and tales you annoy your kids with. The repeated sighs from my son every time I threw out a "Remember that time we bought a milkshake there?" or "I'll never forget when you finally got that Thomas the Tank Engine birthday party" were clear proof of this. 
Still, I couldn't help myself. When we walked by kids in a park playing baseball, I thought of all the ankle bruises he gave me when I was his catcher and he was learning how to pitch. When we were hauling bags and boxes up to his room, a video replay of us waiting in line for an hour just to get into the freshman dorm elevator played in my head. When he opted for a nice restaurant for this year's farewell lunch rather than the usual burger joint, I got stuck in a loop recalling the days when every place we ate had to have crayons and chicken fingers.
By the time we said our goodbyes this year, one thing had become abundantly clear: I'd morphed into my grandfather, who used to drive all the grandkids crazy with his insistence on taking photos of us that we'd never look at and recalling stories about us we couldn't remember. And there was no secret as to why this was happening. In times of emotional distress, such as taking your firstborn to college for the last time, memories can serve as emotional life preservers.
If you cling to them, you won't fall into worry about your child struggling to pay back student loans or coping with job rejection letters or surviving painful breakups. Still, at some point, memories stop being flotation devices and turn into anchors. Obsessing over the past had become far less about my kid and far more about me, which isn't right. It's his time to shine, not my time to mope.
I should have been following my own advice. Three years ago, when my son was preparing for college, I wrote an essay in which I advised him ― among other things ― to treat life as if it were a film and not a photo exhibit. What I meant was that life isn't just a series of pictures to stare at and analyze. It's a fluid thing, always moving forward until the final credits. What it brings may be happy or it may be sad. Either way, we ultimately have no choice but to let it play out (and hope that there are several sequels and reboots to come). 
The more I get mired in looking backward, the tougher it gets for both my son and me to move forward and make new memories.
The more I get mired in looking backward, the tougher it gets for both my son and me to move forward and make new memories. I just seem older and more irrelevant. Or at least I thought I did, right up until our last morning together in Boston. That's when I was packing up in our hotel and noticed that he hadn't brought a toothbrush. As the one who pays his dental bills, I had to ask what he was doing to clean his teeth.
"I just used your toothbrush," he said casually before diving back into whatever needed tending to on his phone.
And in that moment, his matter-of-fact statement didn't get me recalling the miles of nervous pacing I did the morning he had to have a tooth removed in order to get his braces put on. Which, in turn, would have had me remembering how worried he was that kids at school would make fun of those braces. Which would then get me smiling as I thought of taking him out for a celebratory extra-large cookies and cream milkshake when said braces finally came off.
Instead of spinning out with any of that as I usually would, the simplicity of the moment provided me with just one incredibly happy epiphany: My boy had gone ahead and shared my toothbrush without even asking because he felt comfortable around me. I'd been seeing this final college trip as representing the end of an era, eulogizing all my memories rather than enjoying them because it felt like a part of my life was dying. For my son, though, this trip was just another week we got to hang out together. There was no missing what was past or fearing what was to come. There was just, well, being alive. His was by far the more stress-free approach, which made me jealous enough to want to give it a try. 
So, sure, I have spent the past few days posting lots of pictures from the trip on social media along with wistful clichés about how "they grow up too fast." Still, I'm working overtime to focus on the present rather than wallow in emotional reruns. That's helping me settle into a place where I can't wait for him to get his life and career started. Isn't that what memories are meant to build toward?
Although, I have to admit that I do wonder … doesn't he maybe need a year of grad school just to help solidify his future?
Craig Tomashoff is a freelance writer based in Los Angeles. His book, The Can't-idates: Running for President When Nobody Knows Your Name, was released in 2017. He is the former executive editor of TV Guide Magazine, as well as a former associate bureau chief at People magazine. In addition, he has written for The Hollywood Reporter, the Los Angeles Times, The New York Times and Emmy Magazine. Prior to The Can't-idates, he was the author of You Live, You Learn: The Alanis Morissette Story and co-wrote I'm Screaming as Fast as I Can: My Life in B-Movies with Linnea Quigley. He has also worked as a producer for "The Queen Latifah Show," VH1's "Behind the Music" and "The Late Late Show With Craig Kilborn."
Do you have a compelling personal story you'd like to see published on HuffPost? Find out what we're looking for here and send us a pitch!
Calling all HuffPost superfans!
Sign up for membership to become a founding member and help shape HuffPost's next chapter