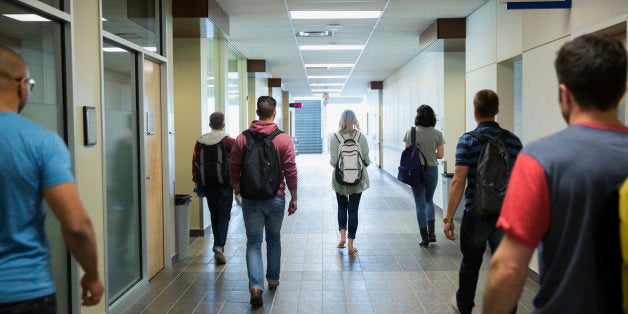 Financial aid is an elusive topic that far too many people fail to understand. I'm a graduate of a public university, I hold a bachelor's degree and an MBA, and I still can't wrap my head around many aspects of the financial aid process. I can't imagine how frustrating it must be for parents who have students heading to college this Fall.
I've discussed the consequences of not being financially prepared to send your child to college in 6 Stupid Things You May Be Teaching Your Kids About Money. Today, I'm here to help you get caught up on all things financial-aid related so you can prepare financially to send your child to school without undue hardship.
According to a recent report, 9 in 10 parents believe in the importance of an education, yet less than 48 percent of parents with kids under the age of 18 have saved for college. Of those who do save, half of parents save in general savings accounts, while only 27 percent are utilizing 529 college savings plans.
With such little savings, how do you plan to send your children to college? If your child doesn't have a scholarship -- can you afford to pay for their tuition, room and board, books, and other living expenses? Can you do this and still be able to take care your own responsibilities? If your savings leave much to be desired and you lack understanding of financial aid, you could very well be leaving money on the table and paying more than you should.
To help you come up with a proper plan to finance your kid's education, today we'll discuss a few important things you need to know about the financial aid process. I found some useful resources that will help demystify the topic of financial aid which I'll share with you, but first let's discuss three important aspects of financial aid you need to know about.
The FAFSA

The FAFSA is a tool you will use in determining your financial aid eligibility. This is an application you fill out which includes information such as your family size and income. This application is prepared each year by current and new students and is used to determine the type of aid and how much of it you receive.
Essentially everyone is qualified for some type of financial aid -- although, if you're not eligible for need-based aid, you would still need to use this form to determine how much unsubsidized Stafford Loans would be available for your educational expenses. You can mail in your application, submit online, or apply by phone.
The Financial Aid Package

This package includes all the aid you are eligible to receive, including need-based assistance. The type of aid available is as follows:
Expected Family Contribution (EFC)

Expected Family Contribution is a number determined by the information provided on your application. The EFC is essentially an estimate of the amount parents and students are expected to contribute towards educational costs.
The EFC determines the eligibility for need-based assistance from the government and in some cases the school. The EFC is subtracted from the cost of attendance (COA) for the college or university. If the cost of attendance is higher than the expected family contribution, the student has a need.
If a family has a need for additional help, a Pell Grant or Federal Perkins Loan may be offered in addition to any assistance provided by the chosen school. This assistance may or may not include scholarships and work-study opportunities.
The financial aid portion discusses the costs of college, what financial aid is, how to fill out the FAFSA, and expected family contribution.
The scholarship portion discusses scholarship facts, types of scholarships, how to find scholarships and helpful tips for filling out applications.
The student loan section discusses private student loans and federal loans, interest rates, cosigning and more.
This course has four sections and twelve videos and is approximately an hour long, but it will provide you with the additional information you need to know about paying for college that can't be covered in this article.
In Conclusion

I believe once you've taken the time to explore the resources available to you, you will be in a better position to determine how you can afford the expenses associated with sending your child to college. Any savings you currently have will help, but for the majority of Americans, some type of financial aid assistance is warranted.
I encourage you to explore all the assistance available to you before turning to student loans. This is coming from someone with $80,000 worth of student loans. However, if student loans are the only remaining options available, LendEdu Private Student Loan Guide, is a thorough resource that will help you determine how to choose the best loans for you.
Understanding the financial process isn't easy, but it's important to understand the basics as you prepare your child for college. Pursuing a higher education can be one of the most expensive decisions your child will make. Learn as much as you can about the financial aid process and help reduce the impact of this important financial decision.
Related