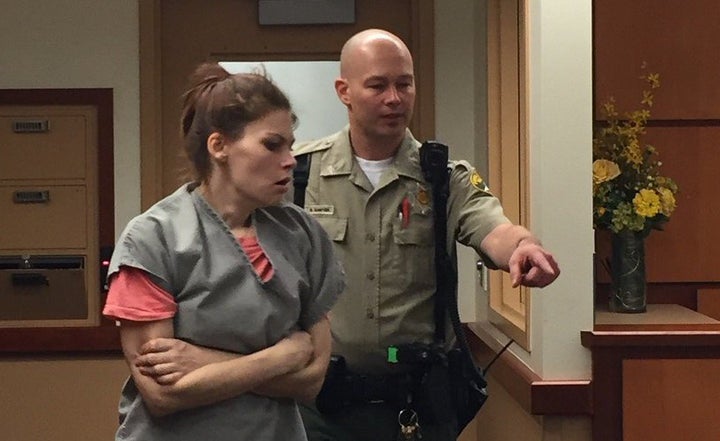 A Washington state couple are behind bars for allegedly injecting their three young children with heroin ― which the oldest child called his "feel good medicine," authorities say.
Ashlee Hutt, 24, pleaded not guilty on Monday to charges of unlawful delivery of a controlled substance to a minor, second-degree criminal mistreatment and second-degree child assault, Pierce County court records show. Her boyfriend, Leeroy "Mac" McIver, 25, has pleaded not guilty to the same charges, local CBS affiliate KIRO-TV reported.
The allegations come nearly one year after the children were removed from their home in Spanaway, Washington, where authorities found heroin, needles and rat droppings on Nov. 10, 2015. The children, who were 2, 4 and 6 at the time, had "injection marks with bruising" on their skin, according to the probable cause affidavit obtained by The Huffington Post.
In an interview last December, the oldest child said McIver had choked him and his siblings on more than one occasion. The boy "also said his mom and dad give him and his sisters the 'feel good medicine,'" according to the charges.
"He described the 'feel good medicine' as a white powder which was mixed with water. His parents then used a needle to inject the 'feel good medicine,'" the affidavit stated. The boy reportedly told authorities that he and his sisters fell asleep right after receiving the injections.
All three children took drug tests after they were removed from their home. The 2-year-old tested positive for heroin, and the 6-year-old tested negative. The 4-year-old tested positive, but at a level too low to be definitive, authorities said.
Confronted by police, Hutt and McIver reportedly admitted they used heroin and said that at least one other adult who had been present in their home did, too. In a subsequent interview, McIver suggested that a babysitter was responsible for what happened.
As of Tuesday, Hutt and McIver remain behind bars and are each being held on $100,000 bail, according to Pierce County Corrections' jail roster.
Related
Popular in the Community