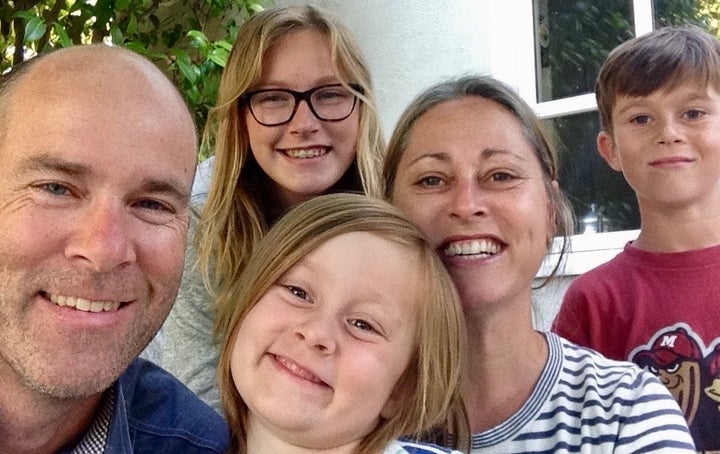 When President Trump pulled out of the Paris Climate Agreement—a deal that took years to negotiate and was signed by 195 nations—he unequivocally put the financial interests of the fossil fuel industry over the health and long-term security of our kids. On Father's Day, that fact ought to fill me with despair. Instead, it leaves me with a heightened sense of responsibility and commitment. When the president recklessly undermines a global effort to address what the Pentagon calls one of the greatest threats facing humanity, our only collective option is fill the leadership void ourselves.
In late April, on Trump's 100th day in office, I and 200,000 other people marched in Washington, D.C., to demand that this president act on climate. I saw countless dads and moms pushing strollers or marching alongside kids waving homemade signs. If all us parents shared one thing that day, it was resolve. We all knew that Trump has called climate change a hoax and that he has filled his cabinet with former fossil fuel executives and industry lackeys like EPA Administrator Scott Pruitt. But we also knew that the antidote to fossil fuel-driven climate pollution is clean, renewable energy and that our kids are counting on us to help expand it as rapidly as possible.
As Trump continues his reckless and shameful attempts to dismantle national climate policies, local action is more important than ever—and it's on fire. Just since Trump's announcement, more than 200 mayors of cities large and small that have announced that they remain committed to the goals of the Paris Agreement. If your mayor isn't one of them, pay her or him a visit, with your kids in tow. Find out whether your city is preparing to commit to 100 percent clean energy within the next couple of decades, as 30 cities around the country already have. If a dirty oil pipeline or gas plant is proposed for your community, show up to public hearings and oppose it.
Put some solar panels on your house or push for community solar—and press your transit and school districts to buy electric buses, as is happening in Southern California, where the largest-ever order for such buses just got approved. In the past six years, the costs of wind and solar have dropped by 60 and 80 percent respectively, and clean energy sources are outcompeting their polluting counterparts in most markets. The economics are on our side. Politicians and energy providers have no valid excuse for continuing to make decisions that put our kids at risk. Call them on it.
According to the American Lung Association's most recent "State of the Air" report, 8 out of 10 Americans who live in cities are exposed to unhealthy air. Father's Day is a good time to remember that it's our kids who are the most vulnerable to that pollution. For low-income and children of color, those risks are even higher.
I coach my son's Little League team and spend a lot of time with his eight- to ten-year-old teammates. It's great to watch them gain confidence in their batting and fielding. Even better, though, is watching them learn how to cooperate, how to encourage each other, and how to work as hard as they've ever worked at anything in their young lives. They inspire me to bring fresh eyes to even the most daunting challenges. And while Trump's reckless act is both infuriating and discouraging, that's not how I choose to react as a parent. Instead, I'm more inspired than ever to focus on what conscious individuals and passionate groups of organized people can accomplish.
The leadership of parents and families is more important now than ever. The United States has 155 million parents and grandparents. We span every race, class, and demographic group. We live in red states and blue. We vote. When it comes to defending the health of our kids today, and the future that they will inherit, we're ready to resist this irresponsible president every step of the way.
Michael Brune is the Executive Director of the Sierra Club and a leader of its Climate Parents program.
REAL LIFE. REAL NEWS. REAL VOICES.
Help us tell more of the stories that matter from voices that too often remain unheard.