There is a widely held belief that when you hold your newborn for the first time, you'll experience otherworldly levels of joy.
You'll cry, you'll laugh, and rainbows will form outside the birth room. Unicorns will carry down from the peak of that rainbow a blanket to wrap your child in, once you're done with your skin-to-skin contact.
And maybe that does happen. With our first child, my partner went through a difficult labor with a few more interventions than we expected. When our daughter was finally born, there was sense of extreme relief and an overwhelming outpouring of love.
We both held our baby, crying so much that it was hard for us to make out specific features of her face. I immediately felt love for her, as can happen.
With our second child, things just weren't the same. Thankfully, the labor was easier for my partner, and the delivery was performed with the help of our midwife with no intervention. And then I experienced things I hadn't planned for. I thought the emotions would be the same the second time around. The immediate outpouring of love. And I did love her but it was somehow different.
I'd held a newborn before, I'd seen my daughter resting her seconds-old head on my partner before. I waited and waited for the same feelings I had felt with our firstborn to return. I felt ashamed that they weren't there immediately. It didn't matter how long I stared at her or how long I held her, I couldn't force the same reaction I had had with my first daughter.
And I felt terrible. And I told nobody.
I didn't want it to appear as though I had a favorite child. I didn't want others to think: "well, you didn't carry the baby so you can't know that immediate bond." So I faked my way through the first few days, thinking, "I've done this before, I can do it again." I was on autopilot, as parents are known to be for the first few sleepless nights. Rock, feed, change diaper, repeat.
Then a few weeks in to this horrible feeling, seeing nothing more than a new expression on her face, I felt it. The overwhelming love, the tears, the joy at having a new little girl in my life. In retrospect, I think it was seeing something that I hadn't seen in my first daughter that really made me realize how different our two daughters could be.
It was just a little spit blowing and a look in her eyes that seemed to say: "I'll never give you a moment where you don't need to be watching me." But right then, I could finally see the completely different path this little girl would take -- different from the older sibling who was always begging me to hold her sister.
And as soon as I could see that, I was hooked. Kids gain personalities really early on in life, be it in the way they lie down, the way they sleep (or refuse to), the way they eat and the way they look at your face. And to me, the best part of parenting is helping them grow that personality. It doesn't matter if they're quiet or outgoing, if they like reading or if they like running. It doesn't even matter if we can't possibly envision what that child may grow up to be.
The fun for me is in the fart jokes, the nuzzles and the languages my girls make up between them. I remember falling in love with them for the first time, and I remember falling more in love with them at so many points along the way.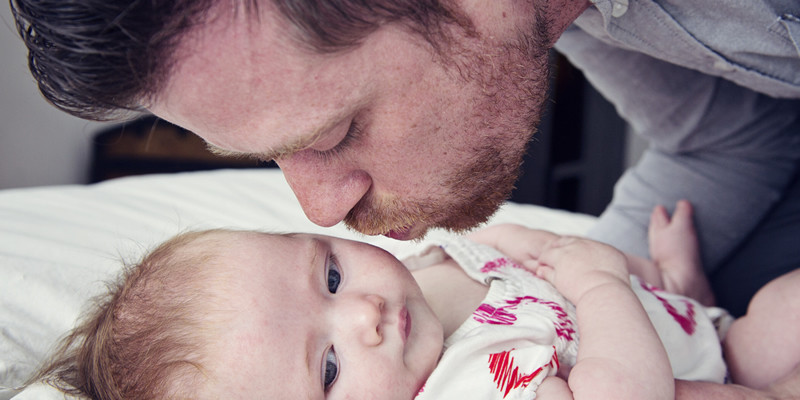 This blog post is part of a series for HuffPost Love Matters, entitled 'Moment I Fell in Love With My Baby.' To see all the other posts in the series, click here. To contribute, submit your 500 - 800 word blogpost to lovematters@huffingtonpost.com.
REAL LIFE. REAL NEWS. REAL VOICES.
Help us tell more of the stories that matter from voices that too often remain unheard.