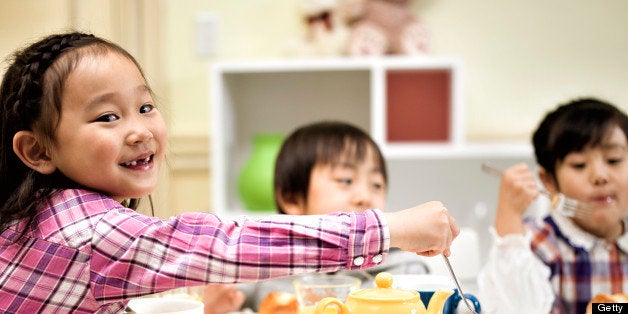 "Knowing someone will feed you when you are hungry is how trust and love begin." - Mister Rogers
That "trust and love" that Fred Rogers talked about as the key to early bonding is not just for breast or bottle-fed infants, but should continue as the essential guiding element for feeding throughout childhood.
Unfortunately, common control-based feeding strategies and interventions (for picky or selective eaters, or children who don't eat enough) too often lose sight of the unique emotional and relational power of nurturing and connecting through feeding. When trust and connection are sacrificed in the name of an extra bite here or there, the power struggles leave many parents and children stuck in a cycle of parental pressure and push-back from the child (I call it the Worry Cycle), and the child's eating most often gets worse, not better.
Rather, if we as nutrition education professionals, feeding therapists, doctors and parents keep trust and love central to the feeding relationship (what happens between the parent and child around food) and the feeding interventions we recommend, it can only help. Here are a few cases* where families lost their way.
• Five-year-old Jack "failed" over a year of feeding therapy, and several sessions with a child psychologist who used video game time to entice Jack to eat more than his few accepted foods. Mom described intense negotiations (down to the Mario-Kart minute and crumb) that ruined meals, increased conflict away from the table, and seemed to make his eating worse.
• Eight-month-old Sam showed little interest in self-feeding and apparent low appetite, with slow but steady growth. Sam's parents saw a feeding team where oral-motor delays were ruled out, and therapy involved feeding him in front of a TV twice a week. Sam's parents applied the distraction and reward techniques as instructed (with little success), but quit after a few months. "It felt wrong to stick Sam in front of the TV and try to make him eat. Food and meals bring me such joy, this can't be how to help our son eat -- never mind that infants aren't even supposed to watch TV!"
• Three-year-old Rosie's adoptive mother Samantha was advised to go "cold-turkey" with the bottle. The morning bottle was their special cuddle time, and in the face of a serious food obsession, was one of the only times Samantha felt she could nurture rather than say "no." The "cold turkey" approach went poorly for this previously traumatized child. Samantha felt she was harming, rather than helping, with Rosie's emotional and feeding challenges, but didn't know what else to try.
• Mary, mother to two young girls who were healthy and bigger than their peers, was instructed by their pediatrician to "run out" of their favored foods. Mary said, "It felt wrong to lie, and it made them way more focused on those 'red-light' foods."
Too many American children struggle with eating, with estimates that up to 25 percent may suffer from serious feeding disturbances. I feel this is in large part due to a pervasive approach to feeding (and many feeding therapies) driven by fear, avoidance, control, restriction, pressure, and worry: about weight (too high or too low), delays, eating disorders, about protein, fat, vegetables, calcium, pesticides, GMOs, diabetes...
If you are bargaining, bribing, force-feeding, dreading family meals, enforcing that "no-thank-you-bite-rule" at all costs, or if feeding therapy feels wrong or results in battles -- it's not helping. (Effective doctors and therapists also keep trust and love in mind, checking in with parents often. How do meals feel? If families are not following through with recommended treatment, why not? How is the child responding?)
When Samantha kept Rosie's emotional needs as "true north" on her feeding compass, she was able to effectively and lovingly address Rosie's needs. I suggested that Samantha offer the bottle with breakfast, where, following Rosie's cues and need for closeness, they sat initially with their arms touching. The morning cuddle was with books and songs instead of a bottle, and it wasn't long before Rosie was ready to let the bottle go.
Feeding with trust and love means establishing pleasant and balanced meals and snacks at predictable times, and not pushing or forcing children to eat more, less or different foods. It means loving and accepting your child whether he's smaller or bigger than average, and honoring his temperament, whether cautious or adventurous. Children fed this way thrive at their own pace, rather than withdrawing under constant attention and pressure.
What are you worried about? What do you do to try to get your child to eat more, less, or different foods? Is it "working?" Is it making you feel closer to your child, or more anxious and distant?
*Names and identifying details have been changed
This is general information not meant to replace careful evaluation and treatment of an individual child. In addition, for eating disorders such as anorexia nervosa, ensuring adequate calories and nutrition is critical, and this approach is not appropriate for acute treatment.