The Maryland parents behind the viral YouTube channel DaddyOFive – which featured the couple's so-called "pranks" on their five children — will serve five years of probation on charges of child neglect, The Baltimore Sun reports.
On Monday, Michael and Heather Martin of Ijamsville were sentenced in the Frederick County Circuit Court. The two entered Alford pleas to two counts each of child neglect, which means they maintain their innocence but concede that prosecutors have enough evidence to result in a guilty verdict.
Both will serve five years of supervised probation after a judge sentenced them to 10 years each in prison, but suspended those sentences, NBC 4 reports.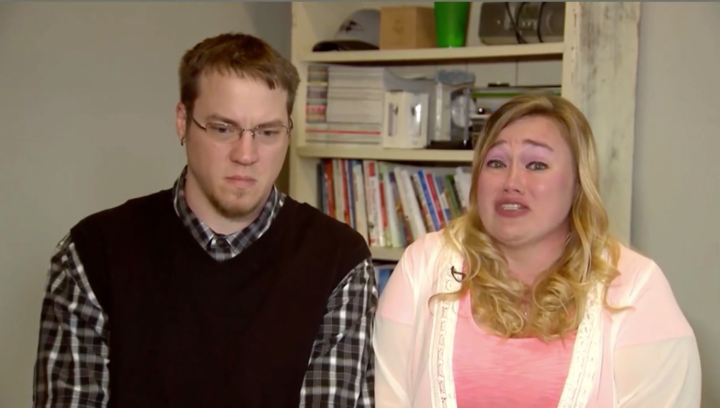 The Martins made more than 300 now-deleted "prank" videos that showed the parents screaming profanities at their children, breaking their toys and blaming them for things the kids didn't do. The Sun also describes videos in which Michael Martin is seen pushing his 10-year-old son into a bookshelf and giving him a bloody nose. Another video showed Michael Martin ordering one of his step-children to slap his 11-year-old daughter in the face under the guise that it was a game.
Lindy Angel, Frederick County Assistant State's Attorney, told the Sun that a neuropsychologist working with the investigation found that Michael Martin's two biological children had experienced "observable, identifiable and substantial impairments of their mental or psychological ability to function."
The Martins' three other children, who are Heather Martin's biological kids, were not part of the investigation.
In May, the Martins lost custody of the two kids who were part of the case. They are now living with their biological mother, per CBS Baltimore. The Martins are not allowed to contact them without a judge's approval. They also cannot post videos of them on social media, though it's possible the Martins will continue to post videos of themselves and their three other children, according to Buzzfeed.
"Just not in the same fashion as before," Stephen Tully, the Martins' lawyer, told the site.
The Martins said they made the "prank" videos to provide for their children and received "hundreds of thousands of dollars" through YouTube, per CBS Baltimore.
Angel told Buzzfeed that the Martins are cooperating with authorities, getting counselling and taking everything "very seriously."
"It was insensitive, cruel, bad decision-making," Angel said of the couple's prank videos, adding that there was "no intention to injure the children."
Language has been added to clarify the sentences that the Martins received.
Related
Popular in the Community