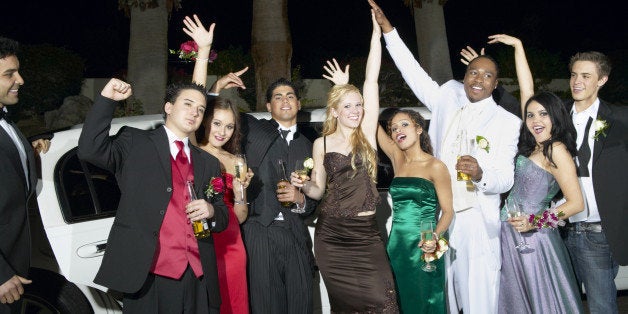 Prom night. Two simple words that bring both excitement and fear into parents' minds. It's one of the childhood rites of passage that signals your baby is growing up. It may also trigger memories of your own prom night -- and concerns about your teen getting involved with alcohol, drugs and sex.
Your own history can make you come down too hard on the way you approach prom night. Fear is never a good emotion from which to move. If you could step back, take a breath and view prom night with empathy, you could share this wonderful rite of passage with your teenage child.
What is important is for you to be an involved parent, know your child, listen to your child, use your emotional intelligence and always remain proactive. Parents must parent, and are entitled to parent. So here are some practical rules and regulations to structure a happy, joyous evening that is memorable, contained and most importantly, safe.
1.Prom safety rules begin long before that evening and should be a part of the trust you have built with your child over the years. Months ahead of prom night, incorporate reminders about drinking and driving, drugs, alcohol, curfews and the code of conduct for prom after-parties.
2.Know the rules. As a parent, you must educate yourself about the rules of conduct at your child's school. That means you should talk to the guidance counselor, principal and teachers about what is acceptable, expected behavior at your child's prom. Also, make sure you know who the chaperones are, including their names, addresses and telephone numbers.
3.Inform yourself about any functions away from the school that are within the purview of the school's approval. Discuss with your child the possibility of several prom couples chipping in and using a limo service to avoid driving under the influence of drugs or alcohol. Remind your teen that underage drinking or an arrest for drunken driving will stay forever on their record and can even affect their college acceptance.
4.Be certain to have the name, cell number and driver's license number of your child's date and the friends that will accompany him or her to the prom. Be sure to discuss prom night with other parents so that you can have a united approach and contingency plan if something goes wrong.
5.Establishing a contract with your child in which your child promises not to drink or take drugs is a wonderful idea and invests your child in the outcome and consequences of their own behavior. This is part of my empathic process and if you have used this collaborative approach all throughout your child's development, you can really reap the payoff on prom night.
6.Talk to your child about the need for a curfew, check-in times, and the importance of wearing seat belts. Remind your children about the use of cell phone cameras and that any sexual or inappropriate behavior that is photographed will be documented forever.
7.Be certain that your child does not have a hotel room and assure your child that you will be up when he or she comes home. If your child is going to an after-party, make sure that you know the parents and the chaperones, that you have the address and the telephone number of the after-party location and that no drugs or alcohol will be served.
8.Remind your children that prom night is not about having sex, and that sex is something that should have commitment, obligation, and responsibility along with it, and not "expectation," which can cause your child to feel shame later. If your younger children are invited to prom night, make sure they know that the rules that apply to seniors do not apply to 15-year-olds -- that means no after-parties and an earlier curfew.
Finally, if your child breaks any rules on prom night and is taking drugs or drinking and driving, make sure that your child trusts that he or she can call you, and that you will come and get him or her no matter what, with no questions asked. Assure your child that his or her safety is what is most important in the end.