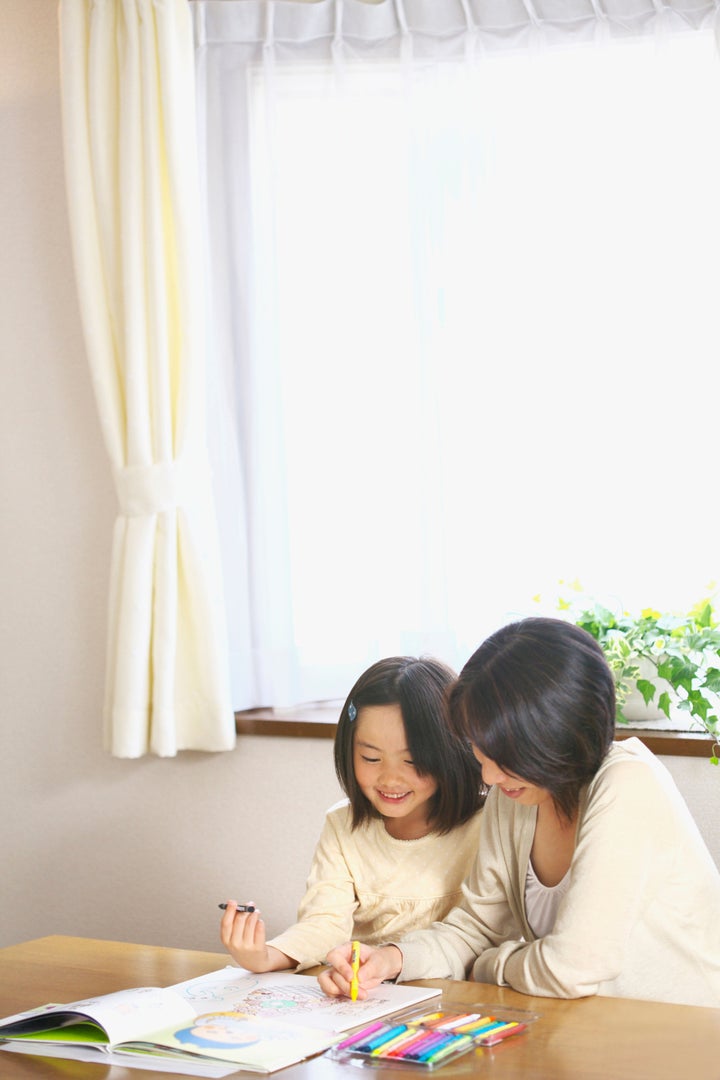 It was "100 Day" at Harry's school, and his mother, Laura Mayes, was trying very hard not to take control of his monumental "100 Things Project". As the parent of most six-year- olds already know, "100 Day" is the 100th day of the school year, and it is celebrated by some form of representational art that illustrates the bigness of the number. (100 Day was, memorably, the day we opened a bank account for my youngest, after his teacher called and asked if we knew that our then first grader -- who still saves every dollar he ever gets -- was wandering the school with 100 single dollar bills in his pocket. But I digress.)
Keeping her hands off Harry's project is not easy for Mayes, she wrote on her website blogconqueso.com
yesterday. An artistic eye is what Mayes is known for -- she is one of the founders of kirtsy.com -- and, she writes, " these are the kinds of projects that I overly love in a really dumb way, and these are the kinds of projects that every ounce of me is inclined to completely take over."
But the directions from school were clear:
the kid has to do it himself. He has to decide what he wants to do. And he has to do it. No competition for the best-poster-EVAH between parents here. No sir, this one's for the kids.
Mayes reports that she "muffled" herself from "taking over Henry's project," and, in fact, she only uses the first person plural once when describing the process ("we did it....") But her itchy mommy fingers are clear when she goes on to post a number of 100 Day projects that she found on the internet (yes, there are 100 Day projects all over the internet), some of which included instructions on how you can create the same, and one of which is even being sold on Etsy.
As far as I can tell, the projects she found have two things in common: they contain 100 of something; and there is no way you can convince me that most of them were done by six-year-olds. Some require glue guns and exacto knives and cooking. They are perfectly aligned and seamlessly composed. There is even one that is a $100 money tree... (well, okay, Alex could have made that...But he wouldn't have glued it all so neatly.)
No, I am not here to chastise parents for "helping" on school projects. To the contrary, I am here to confess that I've done it myself, more than once. There was the time my middle schooler was awake at midnight coloring miles of roads on his map project -- aiming for the dark, shiny black that his teacher required. I figured I might be sending him to middle school to learn about maps, but I certainly wasn't sending him there to learn how to color, so I shooed him off to bed and did it myself. He got a B+, with points deducted for sloppy coloring.
Or there was the time that the French project included a report, in French, on the Arc de Triomphe and a reproduction of same in paper mache. I had seen the projects from last year's class that were displayed in the classroom on Parent Teacher Night -- including the Eiffel Tower as tall as I was and made of what must have been a million toothpicks. There was no way my kid was going to meet that standard. I had also heard about the parent who ran a professional print shop and offset his son's "travel brochure" project while the rest of the students colored theirs by hand; he was the only one who got an A. And the mechanical engineer who designed his daughter's entry in the "how many pennies can your bridge made from popsicle sticks hold" competition; she won. So he wrote the report, but I decoupaged the dang Arc de Triomphe. This time I got a B.
So no, I am not here to question parents who can't help themselves and who lend a heavy hand with the arts and crafts. What I question, instead, are the expectations of teachers that kids can do these things on their own -- and, as they get older, I question whether it is worth their time (and mine) to do them at all. Yes, I have some regrets about joining rather than rejecting the parenting arms race, about the message that sent my children, about taking the easy way out. But mostly what I regret is that it is such a part of the educational landscape that an otherwise highly principled parent like me really didn't think twice.