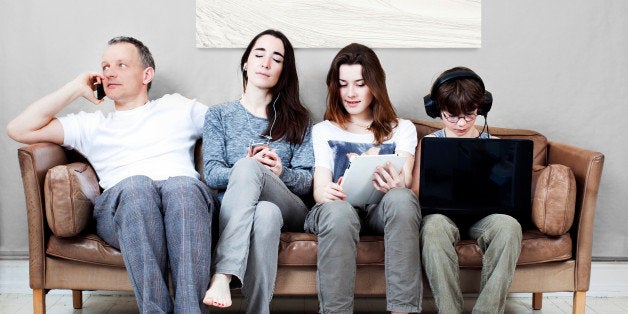 From Instagram to "Candy Crush" to plain old texting, it's no secret that young people are obsessed with their mobile devices. But kids apparently think parents are tech-obsessed, too.
According to a survey released Tuesday, 69 percent of children in the United Kingdom feel their parents are addicted to their mobile devices.
Conducted by research agency Opinion Matters for the U.K.'s New Forest National Park Authority, the survey also found that 21 percent of kids say parents' mobile devices divert their attention from family matters. What's more, 40 percent of children surveyed also admit that while at home, they occasionally use text, email and social media to communicate with their parents.
Guardians also weighed in, with 60 percent saying they believe their kids spend too much time on mobile devices and 40 percent agreeing that their family -- parents and kids, alike -- suffer from "digital hangovers, with symptoms ranging from tiredness and fatigue to irritability after using mobile devices at night," the park authority said in a statement.
Hoping to foster intimate familial connections, the New Forest National Park -- located about 80 miles southwest of London -- has launched a program that encourages parents to unplug and refocus. Upon arrival at the park, visitors can leave their mobile devices in a secure vault, which the park calls a Tech Creche. The free service will be available until Sept. 14.
The New Forest National Park this week released a tongue-in-cheek promotional video for the Tech Creche.
"One of the things about the New Forest National Park Authority scheme is that, rather like quiet carriages on trains, we are as a culture going to try to establish opportunities to reconnect and do the things which we know from research improves our well-being and health," he said.