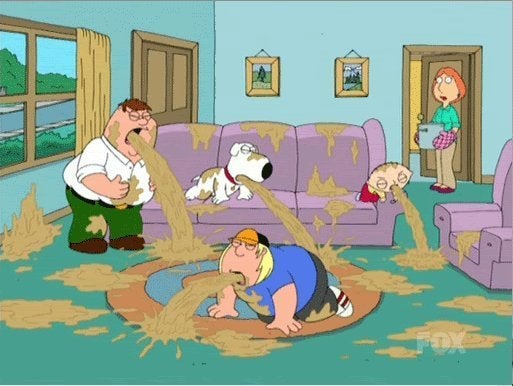 The Parents Television Council, the conservative media watchdog group that recently complained about the upcoming NBC show "The Playboy Club," released a study on Tuesday criticizing broadcasters of cartoons for pervasive sexual, drug-promoting and foul language-using cartoon programs, which, they claim, "enables today's youth to dismiss risky behavior and attitudes, to belittle parents' concerns and to disparage threats to our nation's public health and safety."
The report, titled "Cartoons Are No Laughing Matter: Sex, Drugs and Profanity on Primetime Animated Programs," charted incidents of what they deemed inappropriate content from cable networks Cartoon Network, Adult Swim, Disney Channel and Nick At Nite.
Amongst the findings, PTC found 377 instances of sexual references & conduct, including:
Simulations or obscured scenes of sexual intercourse, pornography, masturbation, pedophilia and prostitution. Also, there was nudity, emphasizing sexual body parts (i.e. close-ups of breasts), sexual clothing (i.e. dominatrix outfits, sexy lingerie, thong panties, etc.), suggestive dancing, and stripping.
Citing a number of incidents as examples, the PTC offered scenes in "Family Guy" that included an old man punching his penis while watching porn, as well as one that features star Peter Griffin's bumper sticker that reads, "My Other Penis Is A Vagina." They also point out a scene in "King of the Hill" in which Hank Hill grills hamburgers while nude.
The PTC cited "American Dad," as well, quoting a character as saying, "No, look, I'm a sex offender. I love offensive sex. I offend people with the sex I have. That's who I am. And that's who I'll always be."
As for foul language, the PTC said that they found 565 incidents of "sexual slang or misogynistic language," noting in particular the words:
Bitch, pussy, cock, dick, suck, screw, douche, ass, balls, slut, whore, ho, skank, damn, crap, hell, piss, and bastard.
One of the PTC's many offered remedies for the scourge of humor is a la carte cable broadcasting, or the ability for subscribers to choose which channels they want to receive, while not paying for or supporting other broadcasters. The group also recently criticized Rihanna's new music video, "Man Down," for its portrayal of violence.
Popular in the Community