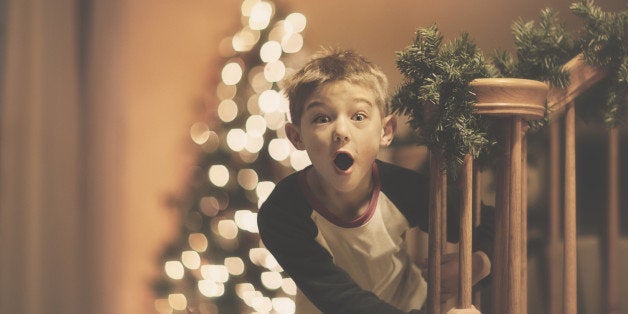 Let me begin by stating clearly that when I advocate quitting Christmas, I am referring to the secular holiday. I have no opinion on the religious part of the holiday, since I'm not a Christian. As a parent, however, I've come to believe that the secular form of Christmas is a sad ode to the rampant consumerism and out-of-control capitalism of American society. This is nothing new; most people seem to be aware of this, but we just keep on doing Christmas every year.
Why? Because Christmas sends very poor messages to children. Kids come to expect, egged on by parents who create the problem, a tree on Christmas morning with piles of presents underneath. They visit some guy dressed up as Santa, because they've been told a lie that he'll bring them stuff they want. The message here, as so often is the case American society, is that more is better and material gain is good. What Christmas accomplishes primarily is to reinforce values of desire and greed in children and to stimulate further the rampant belief in our society that having stuff is the purpose in life. In other words, Christmas provides a powerful lesson in support of a society built upon values of consumerism.
Most of us are aware that a central feature of Christmas is measured in how much money is spent in stores during the holiday season -- usually starting with Black Friday, but often beginning as early as August. This, too, is part of the problem. Our economy is judged on the extent to which we spend and consume, rather than the extent to which we save and recycle. And Christmas is the beacon of light shining on an unsustainable economy of consumption that has lead us to the environmental mess we face today and contributes to many other ills of American life. That light blinds children and adults constantly with endless television and Internet advertisements about all of the things we hope to get for ourselves or give to others. And, of course, we need to remember to buy something for ourselves while we're out shopping, too -- we deserve it.
It would be interesting if we measured the success of the Christmas season in terms of the number of volunteer hours worked, or the number of dollars put aside by families for college tuition instead of the money spent in stores. These measures would encourage our children to embrace the value of giving of one's time to those in need or to learning and education. It might help them develop a sense of civic responsibility by encouraging awareness of the needs of others and valuing an educated populace, which helps us all.
Sure, we talk about the spirit of giving, but even that spirit is warped in our society. At Christmas time it's more like a national potlatch in which everyone tries to display their generosity, or their wealth, through the cost and number of their gifts. Make sure that you show her that you love her this Christmas with an enormous diamond! The message is clear; the best way to show love is by spending money and the strongest symbol of love is an object showing a lot of money was spent.
People talk about how they need to get gifts for this person and that person. They spend hundreds or thousands of dollars buying things their friends and families don't need so that they can show they care, I guess. Or maybe it's just to show that they can. There is a very real question about whether much of the Christmas spirit involves truly selfless giving or narcissistic self-indulgence, masked as generosity.
In writing this, I realize I will be accused of being a Scrooge. So be it. But Scroogieness (is that a word?), like greediness, can be evident not only in being a tightwad, but in the desire to both give and get as much as possible. Of course, there are many people in American society who volunteer their time to help others at Christmas (and other times) or who give money to support organizations like UNICEF. It's not all bad. But I suspect most of those people would volunteer even if Christmas didn't exist. I'm not sure it's a motivator for selflessness among those who are already selfless.
So the next time you proudly look at all of those presents you piled under the tree for your kids, ask yourself what message this is sending them. Are you really teaching them about giving, or are you teaching them that the most important thing in life is to be excited about getting a lot of stuff?