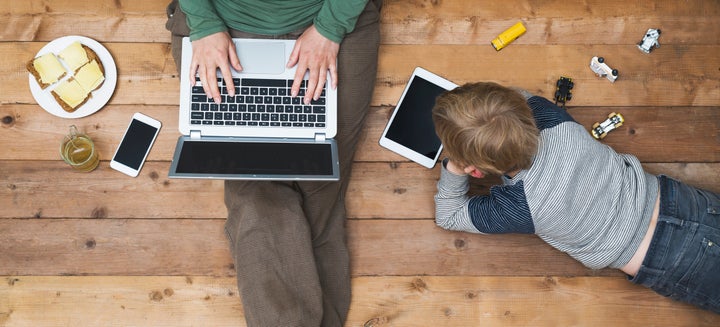 Screen time is a major concern for many mothers and fathers, particularly parents of tweens and teens who live in a truly digital world. How much is OK, they wonder? And where should they draw the line?
A new survey suggests that parents might want to direct at least a bit of that scrutiny inward, taking a harder look at their own screen media usage and the kind of message it sends to their kids.
The survey ― published in a new report by the non-profit Common Sense Media on Tuesday ― found that parents of tweens and teens spend an average of more than nine hours a day using screens themselves, only a portion of which is for work.
Parents said they spent an average of three-plus hours a day watching TV or videos; roughly an hour using social media and another hour or so browsing websites; more than an hour playing video games; 15 minutes using e-readers and another 45 minutes or so doing other odds and ends on their computer or phone.
All together, that came to roughly 7 hours and 45 minutes of personal screen time usage every day, in addition to an hour and 40 minutes of work-related screen use.
The new, nationally-representative survey ― which was conducted last summer and included nearly 1,800 parents of children age 8 to 18 living in the United States ― found interesting differences in parents' answers based on their ethnicity, though it's not yet unclear what significance, if any, those differences hold. Latino parents, for example, tended to be more aware of their children's media use, and more concerned about it than both black and white parents.
But perhaps the most interesting finding was that 78 percent of the parents surveyed said they considered themselves positive role models when it comes to their own technology use ― a point Common Sense president and COO Amy Guggenheim Shenkan referred to as the "parental paradox."
"Parents are spending a lot of time with media themselves, yet more than half of them are worried about their kids being addicted to technology and they have a lot of concerns about what their kids are doing," she told The Huffington Post.
Indeed, half of the parents said they worried that their kids' social media use hurt their physical activity levels, and roughly 35 percent said it took a toll on their ability to focus and communicate face-to-face. Forty-three percent of parents said they were "moderately" or "extremely" worried about their kids spending too much time online.
Shenkan said, however, that the new survey isn't about shaming parents. It's about capturing a better sense of their own media use and perceptions, both of which she believes have been under-studied. With that information, parents can take stock of their own media use and really "pay attention to what we're doing," she said.
Shenkan suggested that the report could serve as a kind of wake-up call to parents to not only cut down on digital multitasking ― say, working on a computer while the TV plays in the background and answering frequent texts ― but to use screens with their tweens and teens when possible. That's something that used to be far easier before everyone was able retreat to their corners with their own separate devices, she admitted. Shenkan also encourages parents to institute and defend screen-free "sacred spaces" in their lives, whether it's saying there are no devices allowed at the dinner table, or discouraging screen-time before bed.
Because, after all, no one is saying screens are a bad thing.
Nearly all parents in the survey ― 94 percent ― said they believe technology helps support their children's education, while roughly three-quarters said it helps expose them to other cultures and express their beliefs and creativity.
"This is not meant to be 'judge-y,'" Shenkan emphasized. "We know that media has the power to entertain as well as educate. So let's actually make proactive decisions about what we're actually consuming."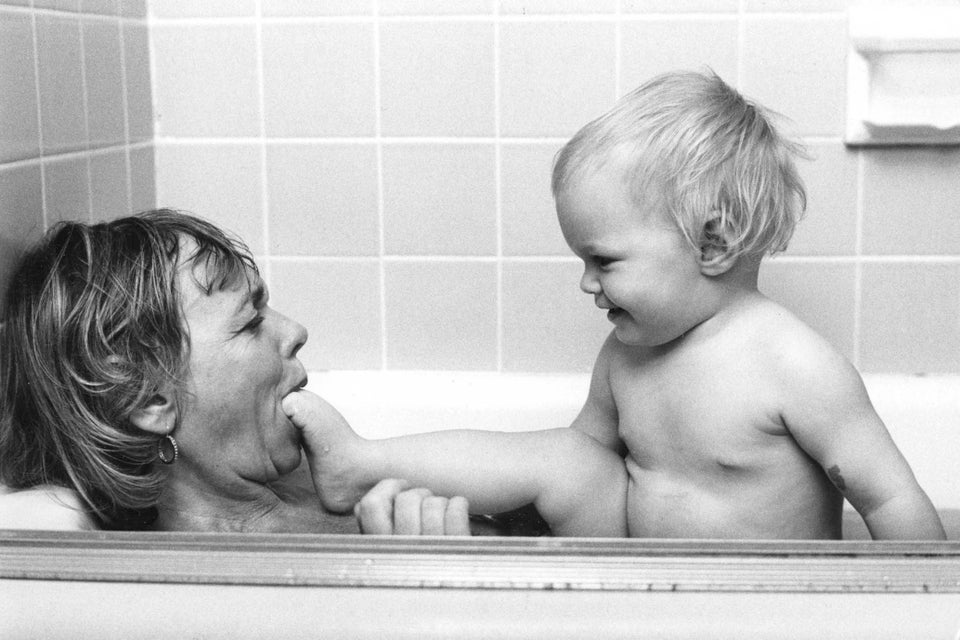 Motherhood 50 Years Ago
Related