Like so many other parents that have come before us, our little girls love princesses. Lately it has been Sophia the First. My husband probably didn't think when he was 23 that by the time he was 33 he would know all the plot lines for every episode of this show and actually requesting new episodes be created. However, here we are and we love it. And of course like any parent, we spend a lot of time at Target which entails a trip to the bakery for our free Kid's Cookie. Upon visiting the bakery, M always sees the Barbie doll cake and with big eyes asks if we can get it (every.single.time). So of course for her 3rd birthday we decided to do a Sophia theme and I decided she needed to have a doll cake. Except I promised myself back in July that I wouldn't buy my birthday cakes anymore (see my post about that here).
What is a mom to do?
Bake it myself!
I spent my evenings scoring
Youtube
and
Pinterest
for ways to make this easier for ol' (full time working) mom, plus thanks to some tips from my mommy-friends I was able to create what I consider a non-Pinterest Fail and my husband did not even order a back up cake (like he did for A's birthday in July). Happy birthday my dear M, we love you!
*One thing to note. I was not able to find a Barbie doll sized Princess Sophia, so instead purchased a 9 inch doll. This makes for a bigger cake. If you have a Barbie-sized doll you will need to alter the directions a bit, using less layers (less round cakes).
Equipment List:
2 containers of white frosting
3 boxes of cake mix (I did red velvet) and the ingredients to cook them
Make 2 boxes of the cake mix according to the package directions for the 9 in round baking pans. That will give you 4 rounds when you are done if you are keeping track. Take the cooled rounds and on one plate put a piece of wax paper down, place one round, wax paper, then one more round. Do the same for another plate and then place them in the refrigerator.
Make the last box of cake mix and pour into a well sprayed 2 liter Pyrex bowl. Do not mix the cake in the same bowl you intend to cook it in. Then place the bowl in a cake pan and wrap around the bowl with wet towels. The wet towels will prevent the outside of this cake from burning while the inside cooks. You will want to cook the cake at 325ºF and I did it for 30 minutes, checked on it (I used a chop stick to poke the middle each time, don't worry about holes as it will get cut out in the end anyways) and then put in for another 20 minutes, followed by another 25 minutes. Finally it was done. Let cool, remove from bowl and place in the refrigerator.
Now you are almost ready to cut and frost. First, take all your parts and put them in your freezer for 45 minutes. This will help when you cut and frost. This is very important!! (Shout out: Thank you to my mommy friend who passed along these words of wisdom!)

While those are freezing you can be:
Taking out the serving plate. Cover half with one piece of wax paper and the other half with another piece of wax paper. This will catch all the crumbs, frosting, mess, etc. and then you can slowly remove it at the very end.
Using the star tip for a cake bag, fill it with purple frosting and set aside. Using the round tip for a cake bag, fill it with white frosting and set aside.
Take off Sophia's clothes and wrap her in saran wrap. Put her hair in a ponytail and make sure her arms are up.

Once the cakes are done freezing:
Use your cutting knife to cut the tops off the 4 round cakes. This will help them stack nicely. (Tip: Keep the tops in tack on a plate as you might want to use pieces of them later).
Now time to stack the cakes. Use one can of white frosting for this. Place one 9-inch cake on serving plate; spread thin layer of frosting over top. Top with second 9-inch cake; spread with thin layer of frosting. Then I cut out the circle in the center (measure exact diameter with your doll) and pulled out that cake hole. Repeat with third layer and forth layer, and cut of another circle for those two layers. I found cutting hte circles for two cakes and pulling them out was easier then cutting down all four layers of the cake and attempin to pull out the center. Lastly, is the Pyrex bowl cake. I cut out my hole before placing it on top of that 4th round. After you cut out the whole, place the Pyrex bowl cake on top of the 4th round, cut side down. Trim side of cake if necessary (I did not find is necessary).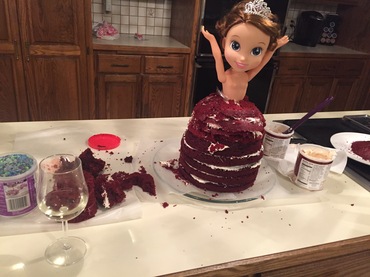 Note: Wine might be needed for this project.
I then put the doll in, but hindsight recommend doing that AFTER this step. So ignore my picture above showing that the cake is not iced yet. You will want to spread thin layer of frosting over side and top of layered cake to seal in crumbs. I removed excess frosting using a piece of paper held at a 45 degree angle from the bottom moving upward. Don't use a ton of frosting to seal the crumbs if you can help it. This crumb catcher is just meant to catch crumbs and help the star tip frosting stick better. Then Freeze entire cake 30 t to set frosting (or refrigerate for 45 minutes if you don't have room in freezer is fine- I did that and worked like a charm)
After that...
THEN
, put your saran wrapped drop with her arms up and hair up into the cake hole. I ended up using some of the tops I cut off to fill in a few areas are her waste and use the frosting as a "glue" to put them in place. Then using the star tip with purple frosting in your cake bag, go around the entire cake, bottom to top, including the body of the doll. Follow with the round tip with white frosting in the cake bag to create the decorate of the flower and skirt if desired. Then, slowly pull the saran from each side out from under the cake. Store cake in the refrigerator (I kept mine overnight).