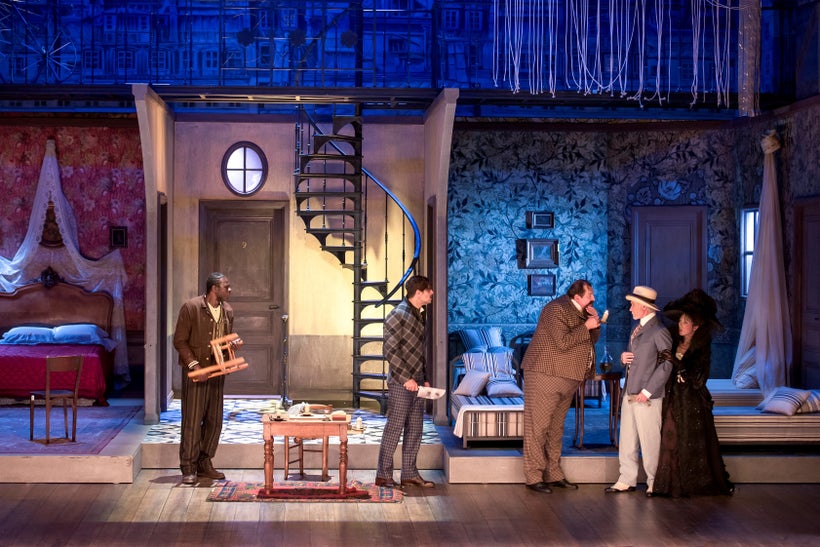 While sitting in the Jardin du Palais-Royal—an unexpected spot of tranquility in the center of Paris, just across from the side entrance to the Louvre—on my last trip, I realized that over all these years and all these Paris visits I had never entered the Comédie-Française. Comprising the southwest corner of the Palais-Royal complex, this is the historic home of Molière, Racine, Corneille and hundreds of modern playwrights—the term "modern" being relative when you are in your 337th year.
Mais oui: the company was formed in 1680, incorporating the remnants of the troupe of Molière (who died in 1673). After 120 seasons, in 1799 just after the Revolution, the players were invited to move into Palais-Royal; the present-day auditorium, the Salle Richelieu, was rebuilt (apparently in the original style) after a fire in 1900. Given the abundance of evenings theatrical that we drama critics are compelled to indulge in, I reasoned that a visit to what is informally known as la maison de Molière was in order.
Nothing was on in the historic house—the Comédie has two offsite venues as well—on the few remaining days of that trip, but when business took me back to Paris this weekend I determined to march down those theatrically-hallowed aisles. Seeing that my choices were one comedy or one tragedy, I chose—naturellement—the comedy. It's the Comédie-Française, after all…
The play on tap was pure farce, a "new" play from 1894. Georges Feydeau and Maurice Desvallières' L'hôtel du Libre-Échange is classic farce. You do not know it, perhaps? It's the one about the Frenchman plotting an assignation with his best friend's wife, except that when they take a room at the intimate little hotel of the title they discover that just about everyone they know—including the husband they hope to cuckold—is on the premises. This has played round and round the world; Broadway has seen at least two adaptations, Peter Glenville's well-received Hotel Paradiso in 1957 (with Bert Lahr leading the comedians) and the less well-received A Little Hotel on the Side from Tony Randall and his National Actors Theatre in 1982.
L'hôtel du Libre-Échange, at Comédie-Française, is played at antic pace in a production directed by Isabelle Nanty. It is difficult to judge, precisely. My comprehension of French is halfway adequate, as long as the speaker speaks slowly; but Comédie-Française members, performing a classic French farce, proceed at rapid pace. Except when they have one-word lines. It should be added that one of the droll plot points—that one character suffers a severe speech impediment when it rains, thus preventing him from proverbially spilling the beans—doesn't quite come through without the explanatory dialogue. The show played very well, and the audience—a well-behaved, cultured crowd containing a sizable contingent of students (not as school groups, but seemingly because they wanted to be there)—responded enthusiastically, with frequent stretches of hysterics.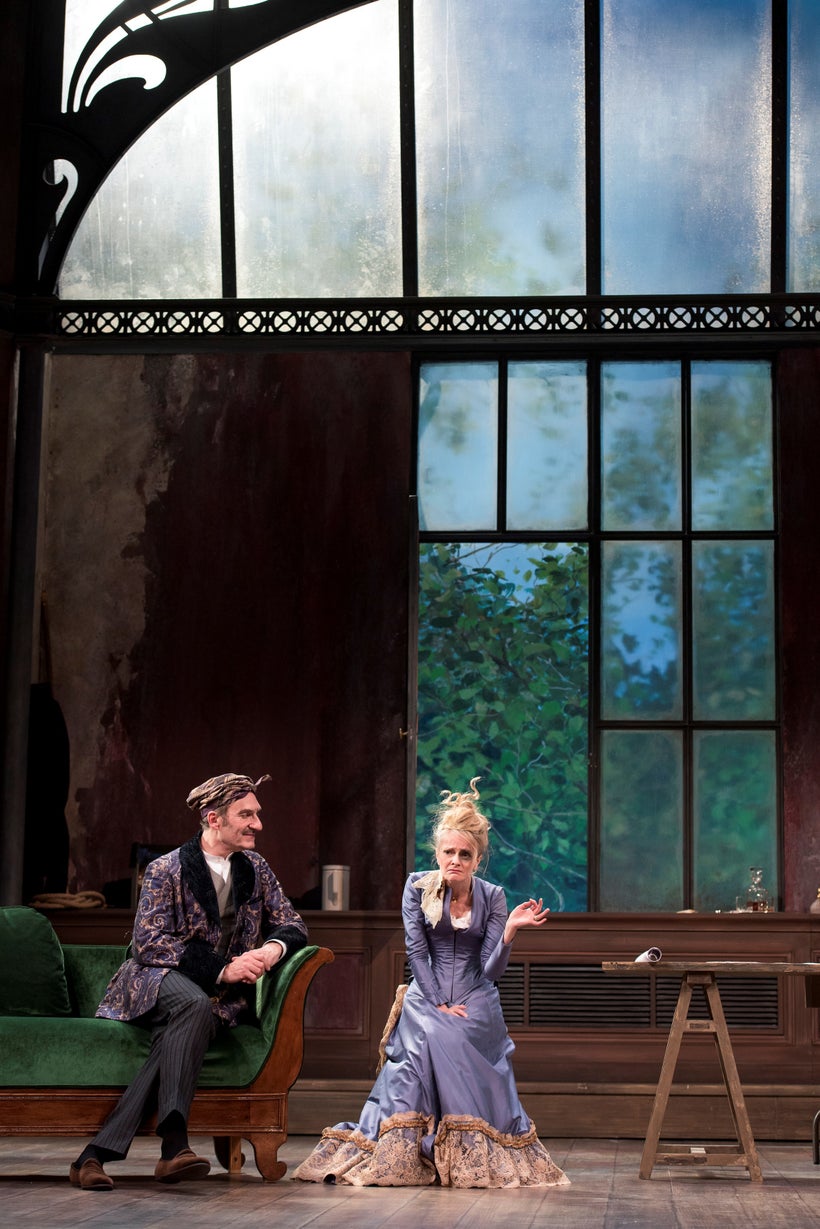 Michel Vuillermoz stands center as the hapless M. Pinglet; neither the great M. Lahr nor the mannered M. Randall, but authentically French. Coraly Zahonero and Jérôme Pouly add to the fun as the inamorata and her husband. Laurent Lafitte offers buffoonery as the hotel manager, along with vaudevillish musical interludes during scene changes; and Pauline Clément and Julien Frison continually brighten the scene as a glint-in-her-eye housemaid and the awkward student she has that eye firmly glinted upon.
Comédie-Française casts from an in-house repertory company consisting of members-for-life (sociétaires) and newcomers (pensionnaires), who seem to be earning points towards tenure. Vuillermoz is listed as the 515th member of the company; Zahonero is 504. The first sociétaire, one Catherine De Brie, entered the company in 1658—so it's quite a list, and quite an honor. Anne Kessler (number 488, and also an accomplished stage director) plays the relatively small role of Pinglet's wife. Relatively small, yes, but judging by the audience reaction she seems to be a great favorite. There are other actors in small roles who are also, apparently, pillars of the Comédie-Française; it's one of those "leading role today, supporting role tomorrow" sorts of places.
The longest explosion of hilarity came in the final act, when Kessler went through a veritable fit of pantomime. Laughing, crying, surprised, startled, choking, grimacing et al. Unable to follow the plot as I was, she was nevertheless très amusant; something like our Angela Lansbury, Tammy Grimes and Dorothy Loudon rolled into one (and that's some combination).
The farce staging was fast-paced and funny, language or no; and the end applause went on for ten minutes or so. Really. Let it be added that the three-act play was performed without interval, in a 2:25 stretch. (Try that in New York…)
As for the house, the Salle Richelieu is a grand old palace. Capacity is about 1,100, with a fair-sized orchestra, four horseshoe rings and eight proscenium boxes. The walls are white with rich gold trim everywhere and rich red drapes, while the seating is plush—and I do mean plush. The chairs are wide and well-padded, cushion and back, with more than sufficient leg room; you feel like you are sitting in living room armchairs. This is also a theatre where people do not drink or eat in the auditorium, and isn't that a pleasure compared to all those souvenir sippy cups with ice a-clinking which have become increasingly common along 45th Street?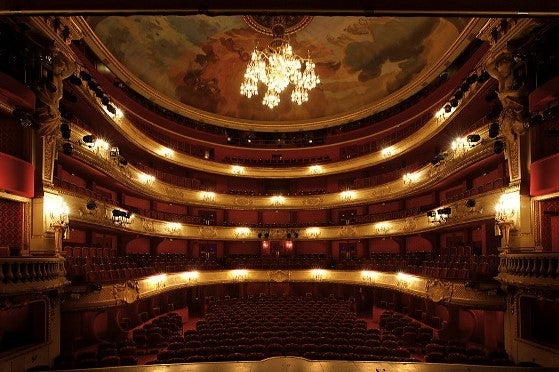 The Comédie-Française. Theatergoers, add it to your list of attractions de Paris.
The Comédie-Française production of "L'hôtel du Libre-Échange" opened May 20, 2017 and continues through January 1, 2018 at the Salle Richelieu
Calling all HuffPost superfans!
Sign up for membership to become a founding member and help shape HuffPost's next chapter
This post was published on the now-closed HuffPost Contributor platform. Contributors control their own work and posted freely to our site. If you need to flag this entry as abusive,
send us an email
.