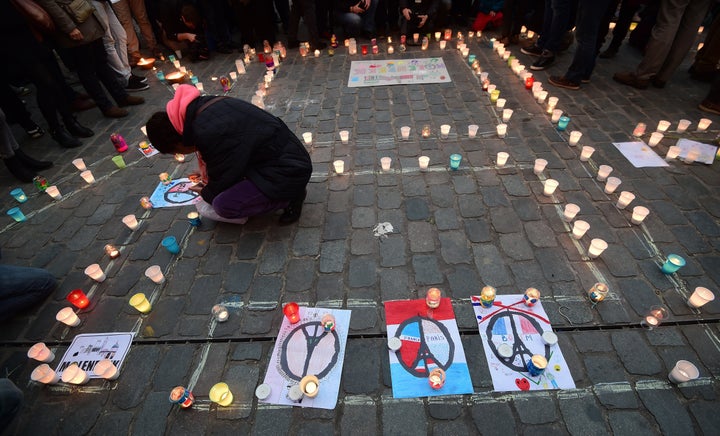 As France and Belgium continue their manhunt for additional assailants who took part in Friday's tragic attacks in Paris, hundreds of people flocked to Molenbeek, the neighborhood in Brussels where at least two of the attackers lived, to honor the victims with a candlelight vigil.
The vigil was organized via Facebook by De Vaartkapoen, a local community group. "We will reunite in Molenbeek's communal square to deposit hundreds of candles as a homage to the victims of terrorism and political violence, whether they be in Paris or elsewhere in the world," the event page read in French and Dutch. "We will show that we are a friendly community and that we do not accept the climate of anxiety that has been created."
Several photos and videos also showed Mohamed Abdeslam, the brother of two of the Paris attackers, lighting candles on the family apartment's balcony to show his support. Mohamed's brother Brahim Abdeslam died in a suicide attack in the French capital Friday, while Belgian authorities are still searching for Salah Abdeslam, Mohamed's other brother.
Mohamed told media outlets Monday that his family was shocked by his brothers' actions, and on Tuesday he told French television he believed that Salah should turn himself in to authorities. The Abdeslam brothers are all French nationals.
Since Friday's attacks, Belgian police have increased their surveillance in Molenbeek, an immigrant neighborhood that has gained notoriety in recent years for its ties to Islamic radicalism. Locals say the reputation is unfounded.
Attendees of the Molenbeek vigil took to social media to share photos and videos. Many used the hashtags #NousSommesUnis and #UnisContreLaHaine, which can be translated to #WeAreUnited and #UnitedAgainstHatred.
PHOTO GALLERY
Inspiring Reactions To Paris Attacks
Calling all HuffPost superfans!
Sign up for membership to become a founding member and help shape HuffPost's next chapter