PARIS -- The French Ministry of Education has sent suggestions to educators on how to discuss the events of Nov. 13 with their students, but some parents have taken the matter into their own hands. In Paris' 11th arrondissement, one mom, Kaoru Watanabe, invited all the children from the neighborhood to draw their emotions.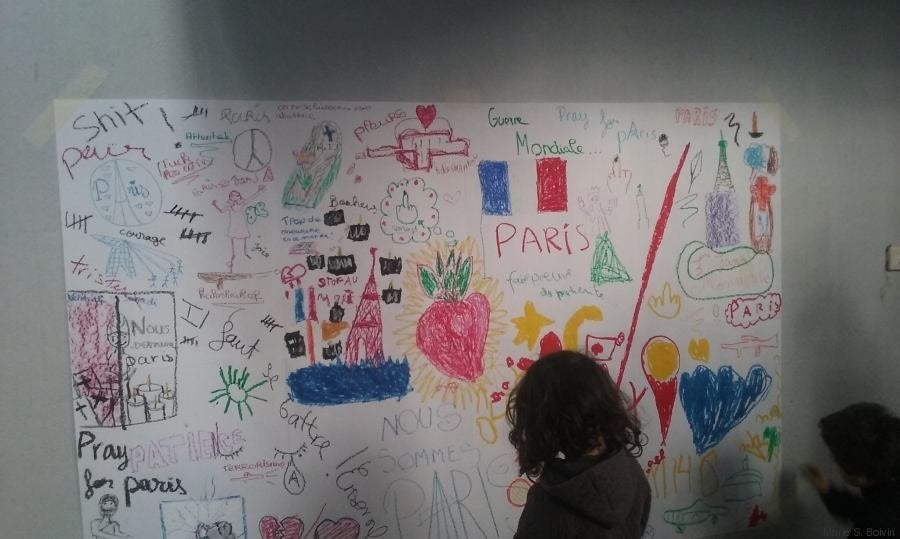 Among the images were broken hearts and gravestones -- but also suns, whole red hearts and the Peace for Paris drawing by Jean Jullien. There seem to be as many drawings as there have been emotions in the days following the attacks. These drawings, more than anything, allow these children to express the impossible.
"I was with my two girls at a friend's house when we heard the news," Watanabe, who lives on Rue de Charonne, told HuffPost France. "That night, there were families from the building outside with their kids. They didn't see anything, but they heard what was happening. They had to walk back to their homes from across the neighborhood."
"The children in the building are really close-knit, and I felt that they couldn't express everything they felt," she went on. "They were stressed. For instance, my 4-year-old daughter doesn't want us to watch TV anymore."
To offer a way to release these feelings, Watanabe decided to use a technique she knows well: art therapy.
"I offer a kind of mediation through art, when there are difficult events to work through," said Watanabe, who is the creator of the website Ki-Wa, meaning "Joy and Harmony" in Japanese. She said she had already used this technique in her building before, with success.
Marie Sophie Boivin, one mother from the neighborhood, joined Watanabe right away. "It's my oldest daughter who told me that her friend was organizing this," Boivin told HuffPost France. "Rather than us all staying closed up in the apartment, we wanted everyone to get together so that they could draw. It's something they do pretty naturally."
Watanabe invited nine children to her apartment and gave them pastels to draw with. "I told them they could work alone or in a group, and they preferred to work collectively. They said they needed to be together," she said. "They're all between 4 and 13 years old. They don't understand what's happening, but they feel the fear or the anger. It's their neighborhood, and they're very sensitive. Instead of hanging on to their emotion, having developed a kind of trauma, it's much better that they express it, in order to heal themselves."
"My 7-year-old daughter drew a tombstone with people crying, but also with many bouquets of flowers on the grave. This is her way of saying, 'Whatever happens, there will always be joy,'" Boivin said. "The reaction of each child depends greatly on their age. A little 12-year-old boy wrote 'world war,' and my 14-year-old daughter, Violette, is much more moved. She realizes more than her younger sister."
This fresco is still in Watanabe's home. She's hoping to offer it to the mayor of her arrondissement.
"The kids were so proud of themselves. They seemed proud and united," she said. "They're just children. They want peace, love. They need to be able to live with some calm."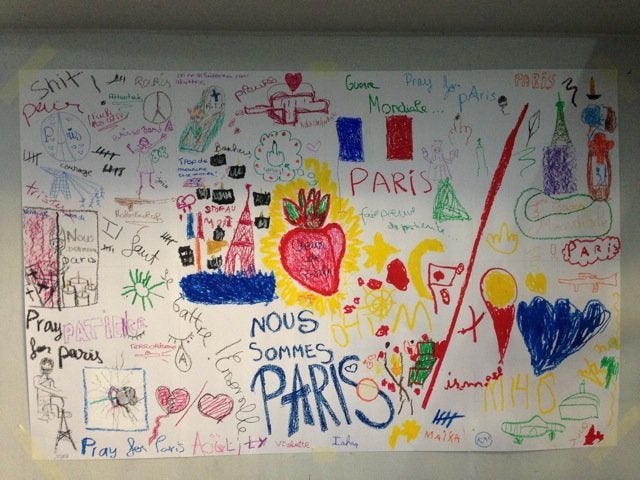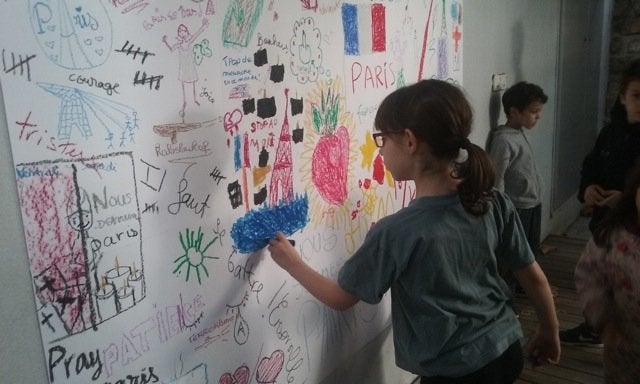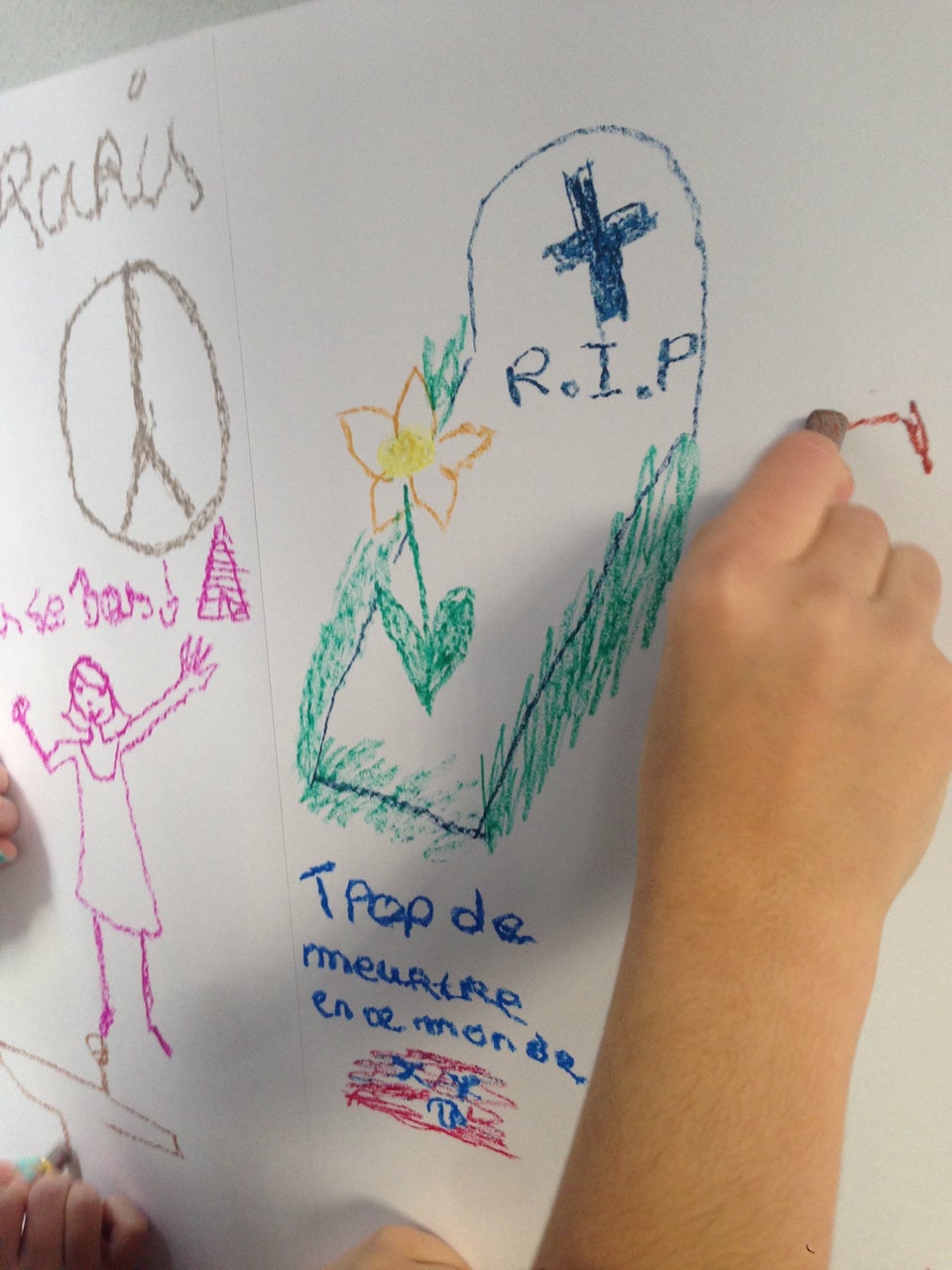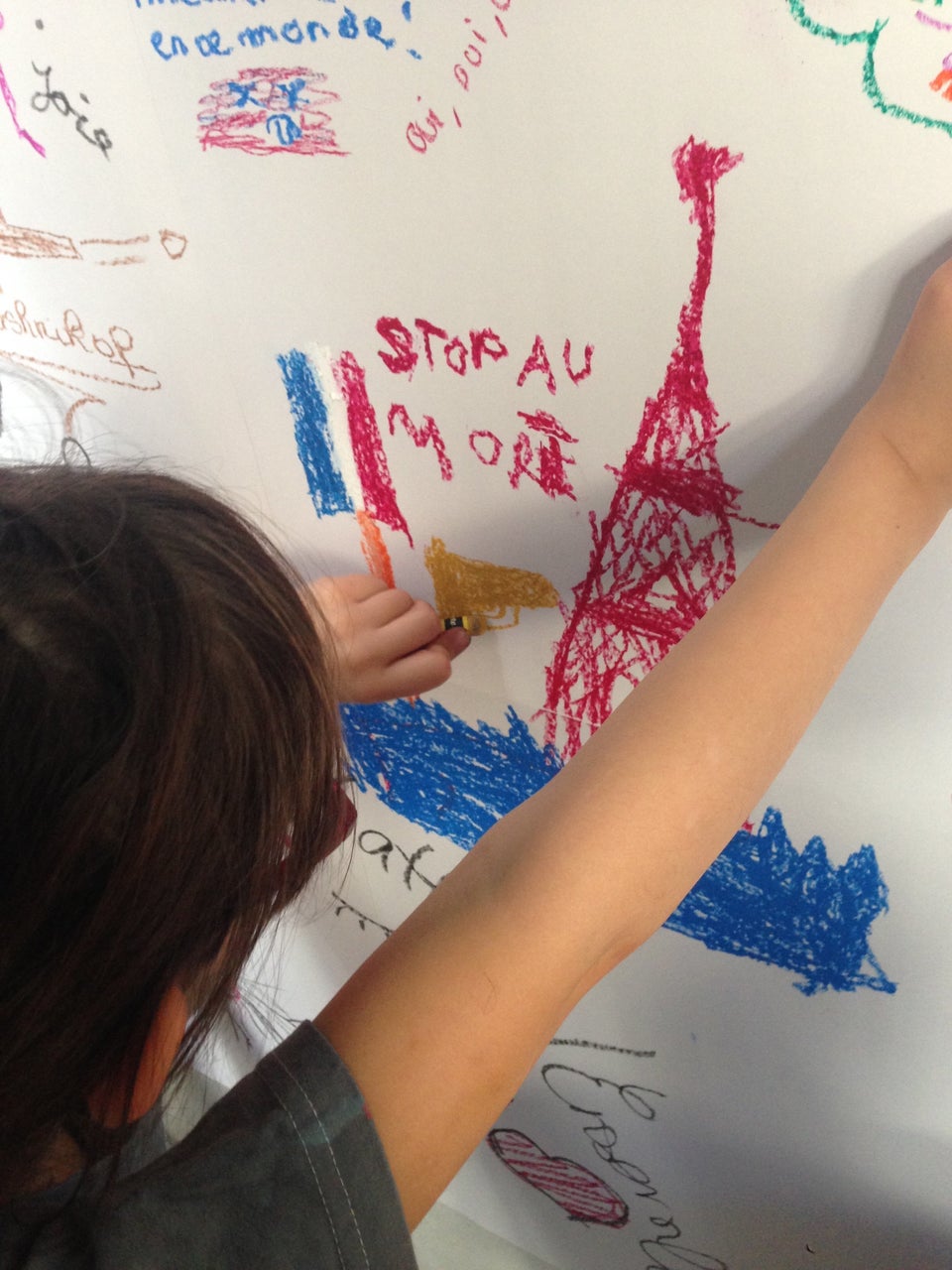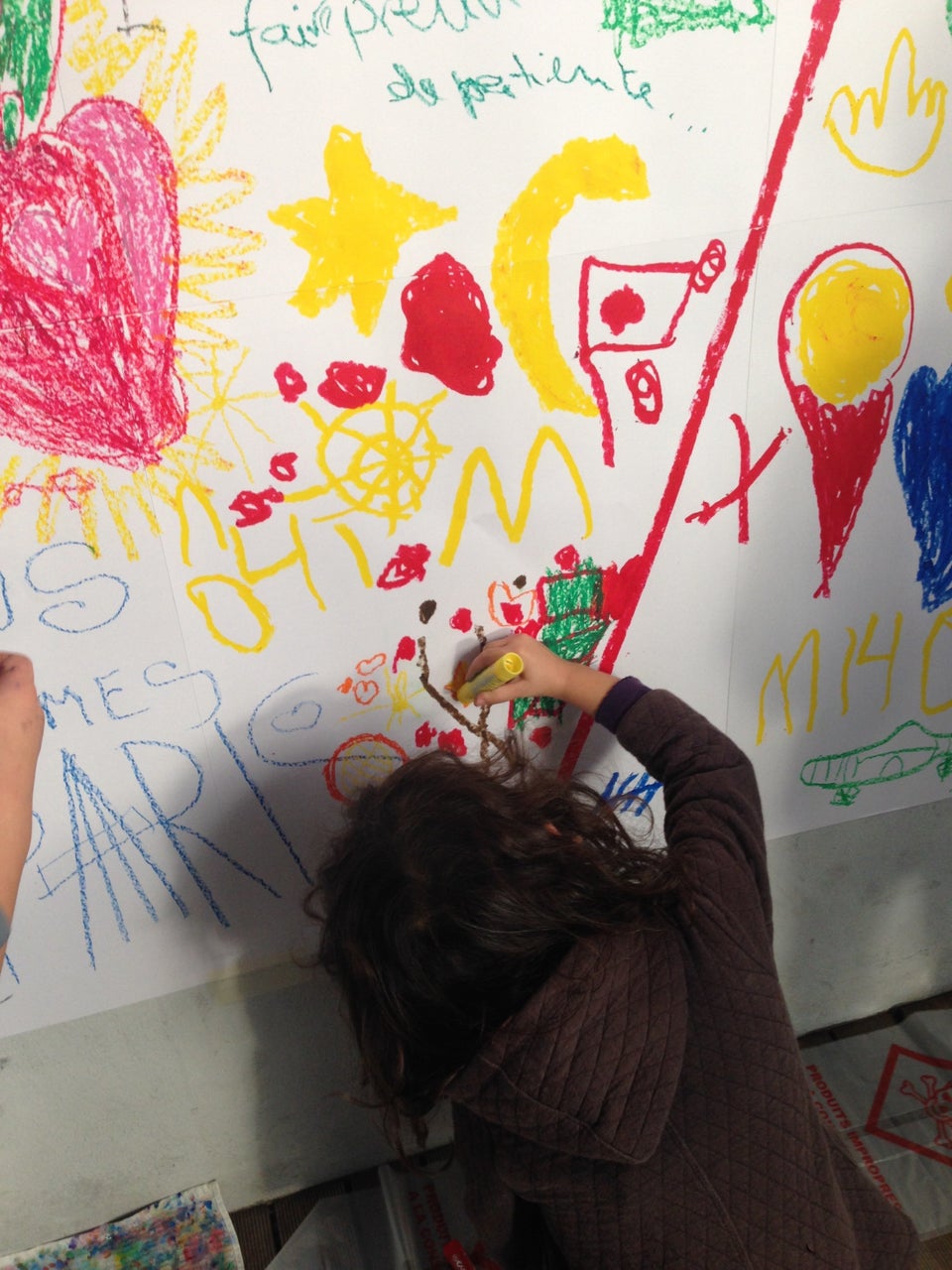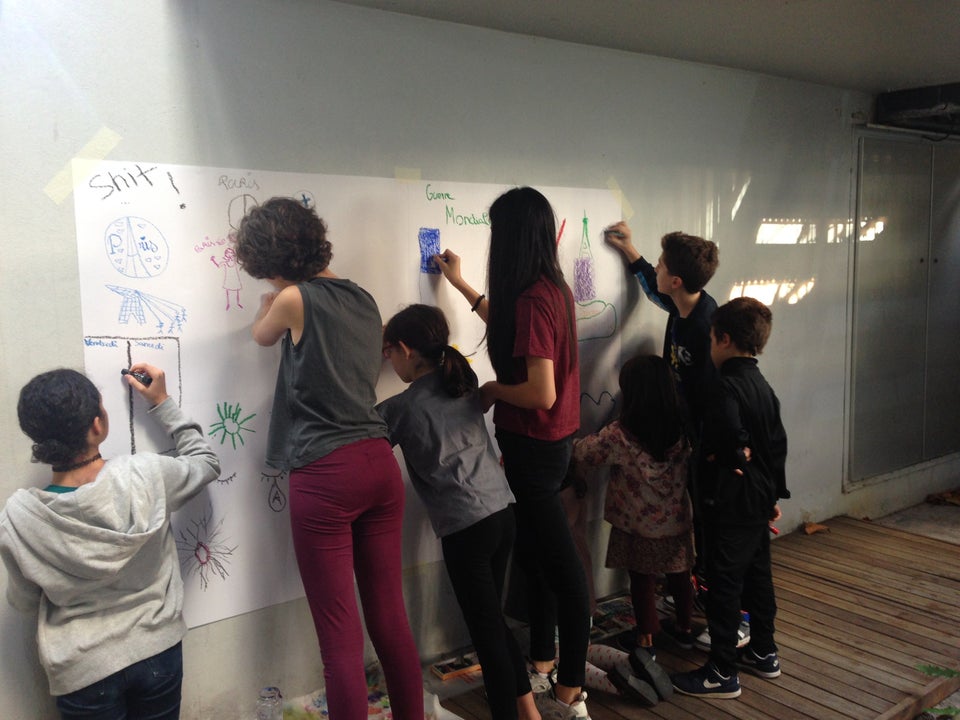 Read More Paris Coverage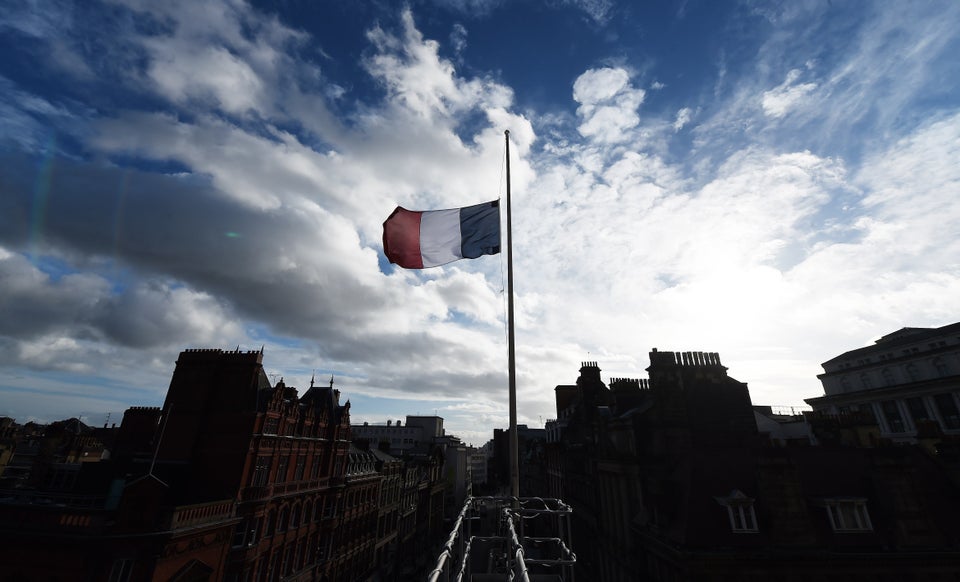 Inspiring Reactions To Paris Attacks
Popular in the Community